Date: August 5, 2010
From: Kristine Ashton-Magnuson
ROCKSTAR ENERGY DRINK UPROAR FESTIVAL
LAUNCHES AUGUST 17
FESTIVAL SPONSORS' ACTIVITIES AND CONTESTS ANNOUNCED

AVENGED SEVENFOLD'S NEW ALBUM 'NIGHTMARE' DEBUTS AT NUMBER 1

FOUR UPROAR ARTISTS HOLD TOP 10 SLOTS AT ACTIVE ROCK RADIO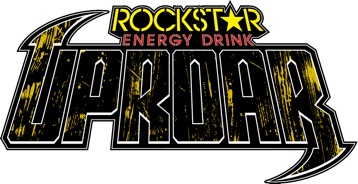 The first annual Rockstar Energy Drink UPROAR Festival will launch in just under two weeks with a stellar active rock lineup including multi-platinum headliner Disturbed, who will release their Asylum CD August 31, following three consecutive #1 album debuts; and multi-platinum co-headliner Avenged Sevenfold, whose newly-released Nightmare just debuted at #1 on the "Billboard 200" album chart with 163,000 copies sold. In addition, the main stage will feature Stone Sour, set to release Audio Secrecy September 7, and Halestorm, touring in support of their self-titled debut CD. The potent rock lineup for the touring music and lifestyle jaunt also features performances from Jägermeister Second Stage headliners Hellyeah (whose new CD Stampede recently debuted at #8 on the "Billboard 200" album chart), as well as Airbourne, Hail The Villain, New Medicine and the local Jägermeister-sponsored opener in each city.
UPROAR features four artists with current Top 10 R&R active rock songs: #1 Disturbed's "Another Way To Die," #3 Avenged Sevenfold's "Nightmare," #5 Hellyeah's "Hell Of A Time" and #8 Stone Sour's "Say You'll Haunt Me." Hail The Villain and Halestorm hold slots in the Top 40 at active rock: #22 Hail The Villain's "Take Back The Fear" and #33 Halestorm "Familiar Taste Of Poison."
The late summer trek will visit arenas and amphitheatres across North America and is being produced by John Reese, John Oakes and CAA in conjunction with Live Nation. The Rockstar Energy Drink UPROAR Festival will feature a full afternoon and night of activities, including a concourse midway filled with vendors and activities. Tickets for all shows are available now at www.RockstarUproar.com and www.LiveNation.com.

As previously announced, the Rockstar Energy Drink UPROAR Festival has formed a partnership with Child Find of America, a national not-for-profit organization dedicated to the prevention and resolution of child abduction (1-800-I-AM-LOST). UPROAR and mGive mobile giving have created a text-to-donate campaign to benefit Child Find of America that will continue throughout the year. Text "FIND" to 50555 to donate $5 to Child Find of America.
To enhance the festival experience, Rockstar Energy Drink UPROAR Festival sponsors are offering a variety of activities and contests, which are detailed below.
Rockstar Energy Drink: Rockstar Energy Drink is offering a MEGA Rockstar Prize Pack which includes a Rockstar Energy Drink Skateboard, Rockstar Energy Drink Wakeboard, a one-year supply of Rockstar Energy Drink and a $100 gift card to spend at www.DiNGLIFE.com! To enter, go to: http://contests.rockstaruproar.com/uproarcontest01.

ROCKSTAR is the world's most powerful energy drink. Enhanced with the potent herbal blend of guarana, ginkgo, ginseng and milk thistle, ROCKSTAR is formulated to provide an incredible energy boost for those who lead active and exhausting lifestyles — from athletes to rock stars. ROCKSTAR Energy Drink is available in fourteen amazing flavors: Original, Sugar Free, Zero Carb, Juiced Mango, Juiced Guava, Juiced Pomegranate, Tropical Punched, Punched Citrus, Energy Cola, Recovery Lemonade, Roasted Mocha, Roasted Latte, Roasted Light Vanilla, and Roasted Espresso. ROCKSTAR ENERGY SHOTS are available in Wild Berry and Tropical Punch flavors, and coming in 2010 — ROCKSTAR ENERGY GUM. ROCKSTAR ENERGY DRINK is available at convenience and grocery retail outlets across the United States, Canada, Australia, Austria, Belgium, France, Ireland, New Zealand, Japan, Germany, Switzerland, Finland, Spain, The Netherlands, the United Arab Emirates, and throughout the United Kingdom.

Best Buy Musical Instruments: Best Buy Musical Instruments connects fans to the music this summer on the road with the Rockstar Energy Drink UPROAR Festival. At each venue, the Best Buy Musical Instruments pop-up store will feature musical instruments, CDs and scheduled signings where fans can meet the bands. Additionally, Best Buy MI brings the tour in-store with special band appearances and opportunities to win free festival tickets. To learn more about Best Buy Musical Instruments, check us out online at www.bestbuy.com/rockstaruproarfestival.

Jägermeister USA: Jägermeister, the #1 selling imported liqueur in the United States and the top shot brand in the country, is taking the show on the road this summer with the Jägermeister Mobile stage at the Rockstar Energy Drink UPROAR Festival. The one of a kind Jägermeister Mobile Stage is the exclusive festival stage at UPROAR and will host top acts such as Hellyeah, Airbourne and many more.

Visit the Jägermeister area, better known as Jäger World, to get in on the fun, take a picture with the world famous Jägerettes, meet some of the bands and for the chance to win an iconic Jägermeister Tap Machine. Must be 21 or over to enter.

Schecter Guitars: Schecter Guitars® helps beat the summer heat with two of the coolest bands on the 2010 UPROAR Festival. Join Schecter Guitars® as the official Rockstar Energy Drink UPROAR Festival guitar sponsor along with fellow endorsees, Disturbed and Avenged Sevenfold, as they bring crushing tone across the states. For almost 35 years Schecter Guitars® has offered high quality instruments at affordable prices and has solidified its status as one of the world's premier guitar companies. Check one out and see why all of your favorite artists choose Schecter Guitars® on the road and in the studio!

As part of an online contest held earlier this summer, Schecter Guitars will also provide a lucky fan with a trip for two to the 2010 Rockstar Energy Drink UPROAR Festival in Los Angeles as part of the "Guitars Off Our Back" Sweepstakes. The winner will receive VIP treatment at the September 17 Irvine, CA show, $500 spending cash, and the guitars Disturbed and Avenged Sevenfold play on stage that night.

Skull Candy featuring their "2xl Disturbed buds": 2XL Headphones are causing a ruckus at the Rockstar Energy Drink UPROAR Festival this summer. Come to the 2XL tent to try your luck at Plinko and score some extra swag. Be sure to check out a set of limited custom Disturbed headphones while milling through the tent. Check us out at each of the festival stops and visit us online at www.2XL.com.

The Marines: Come by the Marines tent in select markets and show your strength at the chin-up bar. Also, enter to win various prizes including a pair of upgraded tickets courtesy of the United States Marine Corps. The Few, The Proud, The Marines.

D'Addario Guitar Strings/Evans Drumheads/Planet Waves: D'Addario Guitar Strings, Evans Drumheads and Planet Waves music accessories are on tour this summer with the Rockstar Energy Drink UPROAR Festival. Check out the D'Addario, Evans and Planet Waves Ultimate Band Giveaway on www.rockstaruproar.com/contests and enter your band to win everything you need to go on tour.

Zoom: This summer, Zoom is bringing its diverse line of innovative audio products on tour with the Rockstar Energy Drink UPROAR Festival. World-renowned for its handy audio and video recorders, Zoom will be showcasing its Q3 Handy Video Recorder and the new H1 Handy Recorder throughout the tour. UPROAR and Zoom will also sponsor a contest in which five lucky winners will become "pit reporters" receiving a limited edition Zoom Q3 Video Recorder, a ticket upgrade with press pit access to film the show up close, a limited edition tour poster, a signed program from all the bands and more. Go to www.soundmakesthemovie.com to see exclusive artist videos and learn more about the Q3.

Bleeding Star Clothing: Many people follow trends, few people set trends, and even less create an entire culture! Bleeding Star Clothing has become a veteran of rock influenced alternative street fashion. Starting up in 2004, Bleeding Star has spent the last five years essentially becoming a household name in the alternative scene. Bleeding Star has been known for breaking the rules, and going above and beyond expectations. We're an independent art-based fashion line, but our quality of artwork and production has continually set the standards and raised inspiration. We are packing up and hitting the road as a sponsor of the Rockstar Energy Drink UPROAR Festival, so we can show all you crazy folks first hand just what we've got to offer. Be sure to spot be our tent and check out our newest 7 Deadly Sins line; our most provocative line to date!

Zippo: Be sure to stop by the Zippo booth to purchase a limited edition UPROAR Zippo lighter. These lighters will only be available at the festival.

Based in Bradford, PA, and distributed in more than 152 countries worldwide, Zippo has produced nearly 475 million windproof lighters since its founding in 1932. Although best known for its iconic refillable windproof lighter, the Zippo product line also includes lighter accessories, butane candle lighters, lifestyle products for men, and an outdoor line of products and accessories introduced earlier this year. Zippo owns W.R. Case and Sons Cutlery Company, one of America's oldest and finest cutlery manufacturers; Zippo Fashion Italia, maker of Italian fashion leather goods; and substantially all of the assets of Ronson Consumer Products Corporation. For more information about Zippo, visit www.Zippo.com.

Metal Mulisha: Come by the Metal Mulisha trailer to get autographs from the best FMX riders in the world! We will also have exclusive merchandise just for the tour! This is a tour that you will never forget.

Krank Amplification: Krank Amps is proud to be the official guitar and bass amp sponsor on the loudest tour of 2010, the Rockstar Energy Drink UPROAR Festival! Come by the Best Buy pop up store between bands and rock the amps firsthand to see why thousands of players all over planet have become certifiable Krank Addicts!

Sennheiser: Sennheiser delivers the ultimate audio experience for people who crave true-to-life sound and put the same high demand on their gear as they do on themselves. Sennheiser will feature its array of premium headphone and microphone products at the Rockstar Energy Drink UPROAR Festival. Sound enthusiasts and musicians are invited to demo Sennheiser products at the Best Buy presentation at the festival ground. Sennheiser products allow discerning listeners to "own" their personal listening experiences, if you are into sound, Sennheiser is your choice. A leader in audio technology for over 65 years, Sennheiser understands the desires and demands of audio professionals and enthusiasts.

THQ: WWE® SmackDown® vs. Raw® 2011 joins the Rockstar Energy Drink UPROAR Festival this summer to showcase destiny-defining moments, the latest WWE Superstars, WWE Divas, match types like Hell in a Cell and Tables, Ladders and Chairs, as well as a new physics system for uber-realistic and unpredictable matches. Be among the first ever to play WWE® SmackDown® vs. Raw® 2011, THQ's annual WWE videogame blockbuster! Stop by the Best Buy booth to play the videogame and take advantage of a special pre-order offer. WWE® SmackDown® vs. Raw® 2011 will be available on October 26, 2010. For more information, please visit wwe.thq.com.

SABIAN: SABIAN is globally renowned as the world's leading designer and maker of musical cymbals. This award-winning company offers cymbals and sounds for every musical application, playing level and price point. Today's most influential drummers are guaranteed to blow away audiences with their high-powered, aggressive rock at this year's Rockstar Energy Drink UPROAR Festival. Headliners Mike Wengren (Disturbed) and Mike Portnoy (Avenged Sevenfold), along with Roy Mayorga (Stone Sour) and Vinnie Paul (Hellyeah) all play SABIAN because sound matters.

Known for combining centuries-old traditional craftsmanship with modern innovation, SABIAN ensures quality and value in every cymbal. Headquartered in Meductic, New Brunswick, Canada, and with offices in the US, the UK, Europe and the Far East, SABIAN is also the world's largest cymbal maker. For further information about SABIAN or its products, please visit the company online at www.SABIAN.com.

Shirts For A Cure: Shirts For A Cure is heading back out on the road this fall with the 2010 Rockstar Energy Drink UPROAR Festival. Stop by our booth in the main concourse to check out our new shirt offerings and pick up one of our new f*ck cancer wristbands. As with everything we offer, 100% of the proceeds go directly to fighting breast cancer.

www.DiNGLIFE.com: DiNGS are custom skins for your iPhone, Blackberry, laptop, iPod, Wii, X-Box 360, as well as hundreds of other cell phones, game consoles and devices. DiNG Skins provide a thin, stylish, protective vinyl skin cover with exclusive artwork available from hundreds of bands including Disturbed, Avenged Sevenfold, Hellyeah, tattoo artist, and more. DiNG skins are easy to apply and leave no sticky residue when removed.

Pilfer Clothing: PILFER is a dynamic lifestyle clothing line that combines the ethos of heavy music with baby soft cotton and freakish designs that are sourced from the planet Krypton! Wearing Pilfer will change your sex life, your positivity and move you to a place you never thought existed! PILFER is new, now and needed. Check it out at www.PilferClothing.com

Guitar Player: The galaxy's most respected, credible, and stylistically diverse guitar magazine since 1967 is thrilled to be part of the Rockstar Energy Drink UPROAR Festival as publisher of the official program. For more than 40 years, GUITAR PLAYER has taught obsessed guitarists how to sound better and play better with insightful artist interviews, how-to lessons, and gear reviews. We also promote unsigned guitarists with our annual GUITAR PLAYER's GUITAR SUPERSTAR competition. Join the GUITAR PLAYER community at http://www.guitarplayer.com.

Castiv Media: Castiv Media is proud to join the Rockstar Energy Drink UPROAR Festival. Our new product Guitar Sidekick™ is sure to appeal to the guitar players in the crowd. It allows you to mount your iPhone directly on your guitar and access in iTunes over 400 apps including video lessons, tuners, metronomes, recorders, tabs and chord charts. Learning guitar has never been more accessible.

CANADIAN SPONSORS

Jägermeister Canada: Jägermeister Canada is pumped about being a partner on the Rockstar Energy Drink UPROAR Festival. The dynamics of the tour — indoor arena and outdoor JägerMusic stage — is fresh and a great way to reach consumers in a unique environment. Our now infamous JägerWorld footprint allows consumers to come chill in our bar and hang with our lovely Jägerettes all day & night. The biggest win for us is that the tour is homegrown friendly, JägerMusic Canadian sponsored artists will be given the opening slots for each date…and we're honoured to have our chainsaw wielding friends in White Cowbell Oklahoma providing direct support to our stage's headliner Hellyeah!

Ernie Ball: Ernie Ball Music Man will be bringing out their state of the art mobile stage on all Canadian UPROAR dates. Equipped with a 40,000 watt sound-system, the stage will play host to many of today's biggest and best metal bands.

Widely considered the premier guitar string brand, Ernie Ball was the first to offer "rock and roll" guitar strings by revolutionizing the market and offering many of today's standard gauge combinations including (9-42, 10-46). Played by the likes of Eric Clapton, Jimmy Page, Metallica and more, Ernie Ball strings are world renowned for their vibrant tone, smooth feel, and exceptional playability. The company also manufactures Music Man instruments, including the iconic Sting Ray bass, Axis, Silhouette, and more. Ernie Ball Music Man products are available in over 110 countries around the world. For more information contact the Ernie Ball Company at (800)-543-2255, or visit their websites at www.ernieball.com & www.music-man.com.
The current Rockstar Energy Drink UPROAR Festival tour dates are as follows:
Date
City
Venue
Tue 8/17
Minneapolis, MN
Target Center
Wed 8/18
Kansas City, KS
Capitol Federal Park at Sandstone
Fri 8/20
Omaha, NE
WestFair Amphitheater
Sat 8/21
Chicago, IL
First Midwest Bank Amphitheatre
Sun 8/22
Buffalo, NY
Darien Lake Performing Arts Center
Tue 8/24
Columbus, OH
LC Outdoor Amphitheatre

(no Hellyeah)

Wed 8/25
Toronto, ON
Molson Canadian Amphitheatre

(no Airbourne)

Fri 8/27
Scranton, PA
Toyota Pavilion at Montage Mountain
Sat 8/28
Saratoga Springs, NY
Saratoga Performing Arts Center
Sun 8/29
Holmdel, NJ
PNC Bank Arts Center
Tue 8/31
Washington, DC
Jiffy Lube Live
Wed 9/1
Charlotte, NC
Verizon Wireless Amphitheater
Fri 9/3
Birmingham, AL
Verizon Wireless Music Center
Sat 9/4
Atlanta, GA
Aaron's Amphitheatre at Lakewood
Sun 9/5
Tampa, FL
1-800-ASK-GARY Amphitheatre
Wed 9/8
Tulsa, OK
BOK Center
Fri 9/10
Dallas, TX
Superpages.com Center
Sat 9/11
Corpus Christi, TX
Concrete Street Amphitheater
Sun 9/12
Houston, TX
Cynthia Woods Mitchell Pavilion
Tue 9/14
Denver, CO
Comfort Dental Amphitheatre
Wed 9/15
Salt Lake City, UT
USANA Amphitheatre
Fri 9/17
Irvine, CA
Verizon Wireless Amphitheater
Sat 9/18
San Diego, CA
Cricket Wireless Amphitheatre
Sun 9/19
Tempe, AZ
Tempe Beach Park Amphitheatre
Tue 9/21
Bakersfield, CA
Rabobank Arena
Wed 9/22
Sacramento, CA
Sleep Train Amphitheatre
Fri 9/24
Spokane, WA
Greyhound Park
Sat 9/25
Seattle, WA
White River Amphitheatre
Sun 9/26
Vancouver, BC
Pacific Coliseum

(no Airbourne)

Tue 9/28
Edmonton, AB
Rexall Place

(no Airbourne)

Wed 9/29
Calgary, AB
Saddledome

(no Airbourne)

Thur 9/30
Saskatoon, SK
Credit Union Centre

(no Airbourne)

Sat 10/2
Winnipeg, MB
MTS Centre

(no Airbourne)

Sun 10/3
Fargo, ND
Fargodome
Mon 10/4
Madison, WI
Alliant Energy Center Memorial Coliseum
---
The Rockstar Energy Drink UPROAR Festival is made possible through the support of sponsors including Rockstar Energy Drink, Best Buy Musical Instruments, Jägermeister USA, Jägermeister Canada, Schecter Guitars, Skull Candy featuring their "2xl Disturbed buds," The Marines, D'Addario, Evans Drumheads, Planet Waves, Zoom, Bleeding Star Clothing, Zippo, Metal Mulisha, Krank Amplification, Sennheiser, THQ, SABIAN, Shirts For A Cure, www.DiNGLIFE.com, Pilfer Clothing, Guitar Player Magazine, Castiv Media, Ernie Ball, Warner Bros. Records, Roadrunner Records, Photo Finish Records, Atlantic Records and Epic Records.
Publicity Contacts
Rockstar Energy Drink UPROAR Festival
Kristine Ashton-Magnuson/ASHTON-MAGNUSON MEDIA
kristine@am-media.net
(818) 996-2496

Liz Morentin/LIVE NATION
lizmorentin@livenation.com
(310) 975-6860