Date: October 11, 2010
From: Kristine Ashton-Magnuson
ROCKSTAR ENERGY DRINK UPROAR FESTIVAL
TOPS 317,000 IN ATTENDANCE
AND GARNERS CRITICAL ACCLAIM
FOR 35-DATE INAUGURAL NORTH AMERICAN TREK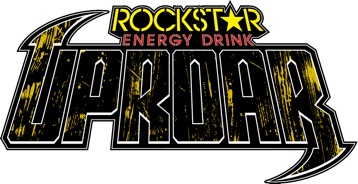 The inaugural Rockstar Energy Drink UPROAR Festival wrapped October 4, boasting over 317,000 in attendance at 35 shows across the U.S. and Canada. The event also garnered widespread critical acclaim, and plans are already underway for UPROAR 2011.
"In a very difficult touring environment, the Rockstar Energy Drink UPROAR Festival was a major success," says tour producer John Reese. "We had amazing bands on the tour and made an impact with creating awareness and raising funds for Child Find of America. We look forward to 2011."
"Rockstar Energy Drink UPROAR Festival had a very successful first run with its 2010 inaugural tour," concurs tour producer and marketing director John Oakes. "From coast to coast, all the bands put on an amazing show every night. Thanks to all who attended; we'll see you next year!"
The Rockstar Energy Drink UPROAR Festival's stellar active rock lineup included multi-platinum headliners Disturbed and Avenged Sevenfold—who each had CDs debut at #1 during UPROAR—along with Stone Sour and Halestorm on the main stage. The potent rock lineup for the touring music and lifestyle jaunt also featured performances from Jägermeister Second Stage headliners Hellyeah, as well as Airbourne, Hail The Villain, New Medicine and a local Jägermeister-sponsored opener in each city.
Here's a sample of some of the critical acclaim for the 2010 Rockstar Energy Drink UPROAR Festival:
"…one of the most electric tours of the year…What do you get when you put Disturbed, Avenged Sevenfold, Stone Sour, Halestorm, Hellyeah, Airbourne, Hail The Villain and New Medicine all together on a single bill? One sick-ass motherfucking concert, that's what."

—Revolver, September/October 2010

"Hard rock in the summer is a winner, and this lineup will resonate with headbangers."

—Ray Waddell, Billboard, May 15, 2010

"Uproar may be on its inaugural jaunt, but it's got the elements that all legendary festivals are made of…"

—Rick Florino, ArtistDirect.com, September 14, 2010

"Forget Coachella. Disregard Bamboozle and Warped Tour. Abandon Bonnaroo, Lollapalooza, South by Southwest and even Ozzfest. A new festival has made its way into the touring circuit and is refusing to be ignored. The Rockstar Energy Drink Uproar Festival, although only in its first year, packed a head-banging punch…"

—Allie Daugherty, SDSU Daily Aztec, September 21, 2010

"Featuring two stages as well as kiosks and merch tables, the festival brought together nine punk, metal and straight-ahead loud rock acts for a day of grinding guitars, tuned-down bass, thundering drums and screaming singers…"

—Lisa Wilton, Calgary Sun, September 30, 2010

"…nearly 10,000 fans turned out for Uproar, many of them sporting A7X shirts, whether fresh and clean threads sold at tents here or torn and tattered T-shirts purchased from the band's dirty merch table a decade ago…Uproar was an all-afternoon rock fest that also featured co-headliner Disturbed along with Stone Sour, Halestorm, Hellyeah and more."

—Kelli Skye Fadroski, Orange County Register, September 18, 2010

"The high-octane heavy metal marathon entertained thousands of black-clad, tattooed metalheads starting in the late afternoon and carrying on well into the evening, with one volume-loving band after another taking to two stages."

—Josh McAuliffe, Scranton Times-Tribune, August 28, 2010

"Thousands of metal fans from across Northeastern Pennsylvania descended on the Toyota Pavilion at Montage Mountain like a lion on its prey for the Rockstar Energy Drink Uproar Festival…Fans moshed and headbanged to more than eight hours of aggressive rock music from nine upcoming and established names in the genre."

—Rich Howells, Go Lackawanna (Wilkes-Barre, PA), August 29, 2010

"Finally, a festival that ripped from front to back!"

—Steve Bowe & Gus Griesinger, BackstageAxxess.com, August 28, 2010
For more information, go to www.RockstarUPROAR.com.
---
The 2010 Rockstar Energy Drink UPROAR Festival was made possible through the support of sponsors including Rockstar Energy Drink, Best Buy Musical Instruments, Guitar Player Magazine, The Marines, Zippo, Skull Candy featuring their "2xl Disturbed buds," Jägermeister USA, Jägermeister Canada, www.DiNGLIFE.com and Schecter Guitars.