Date: June 29, 2011
From: Kristine Ashton-Magnuson
ADDITIONAL TOUR DATES ANNOUNCED FOR
ROCKSTAR ENERGY DRINK UPROAR FESTIVAL
FEATURING HEADLINERS AVENGED SEVENFOLD
AS WELL AS THREE DAYS GRACE, SEETHER, BULLET FOR MY VALENTINE, ESCAPE THE FATE, SEVENDUST, BLACK TIDE, ART OF DYING AND THE BLACK CLOUD COLLECTIVE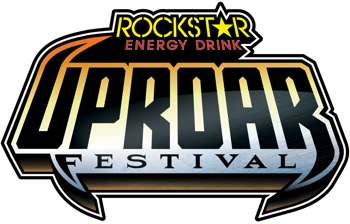 Additional tour dates have been revealed for the 2011 Rockstar Energy Drink UPROAR Festival featuring multi-platinum headliner Avenged Sevenfold, along with main stage artists Three Days Grace, Seether, Bullet For My Valentine and Escape The Fate. The North American touring music and lifestyle festival also includes Best Buy Music Gear Stage headliners Sevendust, as well as Black Tide, Art Of Dying and The Black Cloud Collective.
The Rockstar Energy Drink UPROAR Festival launches August 26 in Camden, NJ and will criss-cross North America before wrapping October 14 (see below for current tour dates). The newly announced shows include: Virginia Beach, Detroit, Chicago, St. Louis, Seattle, Denver, Albuquerque, Phoenix, Sacramento and San Francisco.
The all-day festival will run from 2pm-11pm in most cities, and tickets are affordably priced between $20 and $69.99. Tickets for several of the shows are on sale now (see below for full list of on-sale dates), and early bird pre-sale ticket packages will be available for the newly announced tour dates. Tickets for the newly announced dates go on sale beginning July 8 in select markets. Go to www.RockstarUproar.com and www.LiveNation.com for full details and to purchase tickets.
As previously announced, a portion of the proceeds from each Rockstar Energy Drink UPROAR Festival ticket sold will benefit Child Find of America and the Road 2 Recovery Foundation. More information on Child Find of America and the Road 2 Recovery Foundation can be found at www.RockstarUPROAR.com/causes.
This marks the second year that the Rockstar Energy Drink UPROAR Festival has joined forces with Child Find of America. "We're incredibly honored that the Rockstar Energy Drink UPROAR Festival is continuing their partnership with Child Find of America in 2011," said Mark Delluomo, Director of Operations, Child Find of America, Inc. "Last year's tour promoted safety and awareness as well as raising over $40,000 which went directly to program costs. All of us at Child Find are very grateful to the producers, bands and fans who so generously contributed. We're also excited that UPROAR has given us another opportunity to let thousands of rock fans know more about us through their website, programs and press releases. Traffic to Child Find's website and Facebook cause page spiked over the course of the tour and continues to be vigorous. Many people still don't realize Child Find not only investigates and resolves cases, but also has programs that work to promote safety and prevent abductions. For example, we're really proud of the Parent Help and Parent Help for Military Families programs which are designed to help dads and moms parenting apart to problem-solve their challenges — including such issues as visitation, custody and child support. This kind of publicity can change all that."
The current Rockstar Energy Drink UPROAR Festival tour dates are as follows. Additional dates will be announced in the coming weeks.
Date
Tour Market
Venue
Tickets On Sale
Fri. 8/26
Camden, NJ
Susquehanna Bank Center
on sale now
Sat. 8/27
Scranton, PA
Toyota Pavilion
on sale now
Sun. 8/28
Boston, MA
Comcast Center
on sale now
Wed. 8/31
Washington, DC
Jiffy Lube Live
on sale now
Thu. 9/1
Virginia Beach, VA
Verizon Wireless Amphitheatre
7/8*
Sat. 9/3
Tampa, FL
1-800-ASK-GARY Amphitheatre
on sale now
Sun. 9/4
Biloxi, MS
Mississippi Coast Coliseum
on sale now
Mon. 9/5
Houston, TX
Cynthia Woods Mitchell Pavilion
on sale now
Fri. 9/9
Detroit, MI
DTE Energy Music Centre
7/15*
Sat. 9/10
Buffalo, NY
Darien Lake Performing Arts Center
on sale now
Sun. 9/11
Hartford, CT
Comcast Theatre
on sale now
Wed. 9/14
Toronto, ON
Molson Canadian Amphitheatre
on sale now
Fri. 9/16
Pittsburgh, PA
First Niagara Pavilion
on sale now
Sat. 9/17
Indianapolis, IN
Verizon Wireless Amphitheatre
on sale now
Sun. 9/18
Chicago, IL
First Midwest Bank Pavilion
7/15*
Wed. 9/21
Cleveland, OH
Blossom Music Center
on sale now
Fri. 9/23
Omaha, NE
WestFair Amphitheater
on sale now
Sat. 9/24
Kansas City, MO
Sandstone Amphitheater
on sale now
Sun. 9/25
St. Louis, MO
Verizon Wireless Amphitheatre
on sale now*
Sat. 10/1
Seattle, WA
White River Amphitheatre
8/5*
Wed. 10/5
Denver, CO
Comfort Dental Amphitheater
7/23*
Fri. 10/7
Albuquerque, NM
Hard Rock Pavilion
7/22*
Sat. 10/8
Phoenix, AZ
Ashley Furniture HomeStore Pavilion
7/22*
Sun. 10/9
San Diego, CA
Cricket Wireless Amphitheatre
on sale now
Thu. 10/13
Sacramento, CA
Sleep Train Amphitheatre
7/15*
Fri. 10/14
San Francisco, CA
Shoreline Amphitheatre
7/15*
*indicates newly announced tour date
The Rockstar Energy Drink UPROAR Festival is made possible through the support of sponsors including Rockstar Energy Drink, Best Buy Music Gear, Ernie Ball, Guitar Player Magazine, Schecter Guitars, Jägermeister Canada, KICKER Performance Audio, Zippo, Vertical-Xtreme, Air Force Reserve, KRANK Amps, Army Reserves, Fearless Music, NoCover.com and No Cover Event Guide, and others.
---
About Rockstar Energy Drink UPROAR Festival
The Rockstar Energy Drink UPROAR Festival is produced by John Reese, John Oakes, CAA's Darryl Eaton and Ryan Harlacher and Live Nation's Perry Lavoisne. Reese and Eaton co-founded and continue to produce the Rockstar Taste Of Chaos, now in its seventh year and the only worldwide traveling music/lifestyle festival. They also co-produce the Rockstar Energy Drink Mayhem Festival, now in its fourth year and the largest heavy music traveling festival in America. The team has also produced many other successful music/lifestyle festivals and concert tours including the Samsung Music as A Weapon Festival and the Curiosa Festival, among others.
About Live Nation Entertainment
Live Nation Entertainment is the world's leading live entertainment and eCommerce company, comprised of four market leaders: Ticketmaster.com, Live Nation Concerts, Front Line Management Group and Live Nation Network. Ticketmaster.com is the global event ticketing leader and one of the world's top five eCommerce sites, with over 26 million monthly unique visitors. Live Nation Concerts produces over 20,000 shows annually for more than 2,000 artists globally. Front Line is the world's top artist management company, representing over 250 artists. These businesses power Live Nation Network, the leading provider of entertainment marketing solutions, enabling over 800 advertisers to tap into the 200 million consumers Live Nation delivers annually through its live event and digital platforms. For additional information, visit www.livenation.com/investors.
Publicity Contacts:
Rockstar Energy Drink UPROAR Festival
Kristine Ashton-Magnuson
ASHTON-MAGNUSON MEDIA
kristine@am-media.net
(818) 996-2496
Live Nation
Liz Morentin
lizmorentin@livenation.com
(310) 975-6860