Date: July 19, 2011
From: Kristine Ashton-Magnuson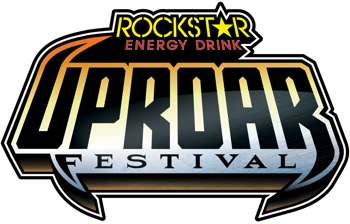 Check out Episode 3 of UPROAR TV, featuring bands from this year's tour talking about the new Best Buy Music Gear Battle Of The Bands Powered by Ernie Ball.
Watch the clip here: www.youtube.com/watch?v=yTI3oaQ-rm8.
The Rockstar Energy Drink UPROAR Festival features multi-platinum headliner Avenged Sevenfold, along with main stage artists Three Days Grace, Seether, Bullet For My Valentine and Escape The Fate. The North American touring music and lifestyle festival also includes Best Buy Music Gear Stage headliners Sevendust, as well as Black Tide, Art Of Dying and Hell Or Highwater.
The all-day Rockstar Energy Drink UPROAR Festival launches August 26 in Camden, NJ and will criss-cross North America before wrapping October 14. Tickets are affordably priced between $20 and $69.99. Go to www.RockstarUproar.com and www.LiveNation.com for current tour dates and to purchase tickets.