Date: August 23, 2011
From: Kristine Ashton-Magnuson
ROCKSTAR ENERGY DRINK UPROAR FESTIVAL:
BAND PERFORMANCE TIMES AND SIGNING TIMES REVEALED,
FESTIVAL SPONSORS' ACTIVITIES AND CONTESTS ANNOUNCED
EPISODE 5 OF UPROAR TV NOW AVAILABLE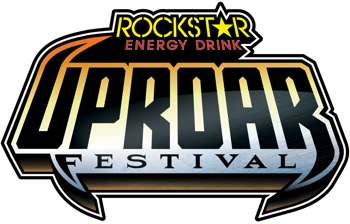 Additional details were announced today for the second annual Rockstar Energy Drink UPROAR Festival, which launches this Friday, August 26 in Camden, NJ. Band performance times and signing schedules for individual tour dates are available by clicking the "Details" link for each tour date at www.RockstarUPROAR.com/tour-dates.
At each show during the seven-week tour, the festival area will feature a variety of activities, vendors and contests throughout the afternoon and evening. Fans that arrive early will also have the chance to meet some of their favorite bands at the Best Buy Music Gear Tent and Rockstar Energy Drink Tent.
The music at the Rockstar Energy Drink UPROAR Festival kicks off with the local winner of the Best Buy Music Gear Battle Of The Bands Powered by Ernie Ball, followed by Hell Or Highwater, Art of Dying, Black Tide and Sevendust on the Best Buy Music Stage. The show moves inside with Escape The Fate launching the mainstage performances. Next up is the Sullen Art Collective's Miss UPROAR 2011 Model Search competition, and then the rock continues with performances from Bullet For My Valentine, Seether, Three Days Grace and headliners Avenged Sevenfold.
Check out Episode 5 of UPROAR TV, which includes this year's bands talking about what to expect at the Rockstar Energy Drink UPROAR Festival and why fans should come early: http://www.youtube.com/watch?v=7d0gSCv4WJw.
In addition, here's a list of various onsite activities, contests and promotions offered by the sponsors of this year's Rockstar Energy Drink UPROAR Festival:
Rockstar Energy Drink

Sample Rockstar Energy Drink at the booth and catch Art of Dying, Black Tide and Escape The Fate doing daily autograph signings. Rockstar is the world's most powerful energy drink. Enhanced with the potent herbal blend of Guarana, Ginkgo, Ginseng and Milk Thistle, Rockstar is formulated to provide an incredible energy boost for those who lead active and exhausting lifestyles — from athletes to rock stars. Rockstar Energy Drink is available in eighteen amazing flavors: Original, Sugar Free, Zero Carb, Juiced Mango Orange Passion Fruit, Juiced Guava, Juiced Pomegranate, Tropical Punched, Punched Citrus, Roasted Mocha, Roasted Latte, Roasted Light Vanilla, Roasted Espresso, Energy Cola, Recovery Lemonade, Recovery Grape, Recovery Orange, Pink, and 2X. Rockstar Energy Drink is available at convenience and grocery retail outlets across the United States, Canada, Australia, Austria, Belgium, France, Ireland, New Zealand, Japan, Germany, Switzerland, Finland, Spain, The Netherlands, the United Arab Emirates, Greece, Mexico, the Philippines and throughout the United Kingdom. Rockstar Energy Drink supports the active Rockstar lifestyle. In Motocross, Music, Supercross, FMX, Off Road Racing, MotoGP, Road Racing, Rally Racing, Rallycross, Snowboard, Snowmobile, Ski, Surf, Skate, Wake, MMA, Boxing, Bull Riding, BMX, and BMX Racing. Go to www.rockstar69.com or www.facebook.com/rockstar for athlete, music, and event updates. Check out videos, profiles, and product information.

Best Buy Music Gear

Buy the CD, meet the bands! Three Days Grace, Seether, Bullet For My Valentine and Sevendust will be signing at the Best Buy Music Gear Tent daily (find the schedule in the Tour Dates section at www.RockstarUPROAR.com). Check out lots of cool gear from Krank, Castiv, Zoom, Rocksmith USA, Ernie Ball and Schecter being sold at the Best Buy Music Gear booth. Be sure to check out an acoustic set from Art of Dying at the booth every day and catch the bands playing on the Best Buy Music Gear Stage powered by Ernie Ball!

Ernie Ball

Come hang out at Ernie Ball's Tent Village and discover what guitarists across the globe are raving about. This is your chance to demo Rocksmith, the groundbreaking video game that lets you use any REAL guitar of your choosing, while creating a marriage between instrument and video game that has never been seen before. So swing by the Ernie Ball booth, get your hands on a real 6 string instrument, and show us what you've got! While you're there, take a minute to play the world famous Ernie Ball bean bag toss game to stake your claim for tons of cool prizes, including Ernie Ball strings and accessories.

Zoom

This summer, Zoom is bringing its diverse line of innovative products on tour with the Rockstar Energy Drink UPROAR Festival. World-renowned for its handy audio and video recorders, as well as its guitar effects pedals, Zoom will be showcasing its Q3HD Handy Video Recorder and the G2.1DM Dave Mustaine Signature Edition Pedal throughout the tour. UPROAR and Zoom will also sponsor an online sweepstakes in which ten winners throughout the tour will receive a Zoom Q3HD Video Recorder and a ticket upgrade with pit reporter access to film the show up close. Go to www.zoomfx.com to see exclusive artist videos and learn more about the Q3HD.

Schecter Guitars®

Schecter Guitars® are back and better than ever for the 2011 Rockstar Energy Drink UPROAR Festival. Join Schecter Guitars®, the official Rockstar Energy Drink UPROAR Festival guitar sponsor, along with Schecter endorsees Avenged Sevenfold and Seether, as they bring crushing tone across the states. This year Schecter has upped the ante as they bring their new 32' custom coach to every stop of the tour. Fans can demo new models at an all-new listening station and enter an exclusive on-site UPROAR contest for a chance to win a Hellraiser Special each week of the tour. For almost 36 years Schecter Guitars® has offered high quality instruments at affordable prices and has solidified its status as one of the world's premier guitar companies. Check one out and see why all of your favorite artists choose Schecter Guitars® on the road and in the studio!

Rocksmith Canada & USA

It's time to pick up your guitar, plug in your cord and turn up the volume, because this coming October, Play (really) Means Play with the launch of Rocksmith, Authentic Guitar Games. The music gaming category is about to dramatically change with the FIRST game that offers an authentic guitar experience…designed for any REAL electric guitar. Published and created by Ubisoft, one of the leading game developers in the world (and creator of such titles as Assassin's Creed, Tom Clancy's Ghost Recon, Prince of Persia and Just Dance), Rocksmith delivers an underlying message that is real and authentic…no plastic toys, no color coding and no "fantasy" game play. This game is about delivering real benefits, it's about getting you Stage Ready! AC/DC couldn't have said it any better when they sang out, "For those about to rock, we salute you." It's time to salute and celebrate the guitar, the music, the bands, the guitar legends, guitar culture and the first REAL guitar game. To play the guitar is every guy's fantasy, but Rocksmith is no fantasy. Check us out in the Ernie Ball tent on all the US dates and in Canada next to Jägermeister.

Krank Amps

Krank Amps is once again thrilled to be a sponsor of the Rockstar Energy Drink UPROAR Festival! This year's lineup is really strong and we're happy to be part of an awesome brand and affiliated with so many other great companies who help make this one of the year's best touring events. We're looking forward to a Krankin' tour this fall!

Zippo

Based in Bradford, PA, and distributed in more than 152 countries worldwide, Zippo has produced nearly 475 million windproof lighters since its founding in 1932. Although best known for its iconic refillable windproof lighter, the Zippo product line also includes lighter accessories, butane candle lighters, lifestyle products for men, and an outdoor line of products and accessories introduced earlier this year. Zippo owns W.R. Case and Sons Cutlery Company, one of America's oldest and finest cutlery manufacturers; Zippo Fashion Italia, maker of Italian fashion leather goods; and substantially all of the assets of Ronson Consumer Products Corporation. For more information about Zippo, visit www.Zippo.com.

Kicker

Stop by the booth and have an "audio intervention." Trade in your current ear buds and upgrade to a pair of Kicker ear buds for free! Up to 25 sets of ear buds available per day.

Castiv Media

Castiv is thrilled to be part of the Rockstar Energy Drink UPROAR Festival for a second year! This will be a great opportunity to show our products and how technology can rock.

Guitar Player Magazine

The galaxy's most respected, credible, and stylistically diverse guitar magazine since 1967 is thrilled to be part of the Rockstar Energy Drink UPROAR Festival as publisher of the official program. For more than 41 years, GUITAR PLAYER has taught obsessed guitarists how to sound better and play better with insightful artist interviews, how-to lessons, and gear reviews. Join the GUITAR PLAYER community at http://www.guitarplayer.com.

Jägermeister Canada

Jägermeister, which translates to "master hunter," is one of the top shot brands in the world and sold in more than 80 countries worldwide. The liqueur is based on a secret recipe of 56 herbs, blossoms, roots and fruits from around the world. Jägermeister, with the distinctive square bottle, was developed in 1934 in Germany. The brand quickly gained global fame through its innovative marketing, unique taste profile and its association with good times. Jägermeister, which is dedicated to music not underage drinking, is proud to be part of the music scene and an active supporter of up-and-coming musicians worldwide.
Jägermeister Liqueur 35% Alc./Vol. Distributed by PMA Canada, Oakville

Rock-n-Roll GangStar

Kick ass rock-n-roll inspired apparel from Los Angeles with a vintage modern rock and metal vibe. Quality kick ass gear with cool prices for the Rockstar Energy Drink UPROAR Festival: t-shirts, denim wear, hats, bandanas, and more!

LifeStyles Condoms

Based out of Red Bank, NJ, LifeStyles Condoms was launched in 1985 as a U.S. based consumer products division of Ansell Limited, a global leader in healthcare barrier protective products with operations in the Americas, Europe and Asia. With over 20 styles of condoms and an assortment of other pleasure products on the market, LifeStyles and its affiliates are some of the leading distributors of sexual health goods in the US and Canada. More information on LifeStyles can be found at www.lifestyles.com, as well as www.facebook.com/LifeStylesUSA and www.twitter.com/LifeStylesUSA. For more information on Ansell and its other products, please visit www.ansell.com.

Vertical Xtreme

Vertical Xtreme is getting UPROAR high! Experience the thrill as we bring you one of the most exciting adrenaline rushes you've ever experienced. With over 25 feet of air beneath you, get as high as you can while rockin' gravity defying maneuvers! Vertical Xtreme will also be giving you exclusive access to the show and other goodies. Make sure you stop at the Vertical Xtreme area for backstage access and other cool prizes!

The Marines

Come by the Marines tent in select markets and show your strength at the chin-up bar. Also, enter to win various prizes including a pair of upgraded tickets courtesy of the United States Marine Corps. The Few, The Proud, The Marines

BOSS

"BOSS is pleased to be part of the Rockstar Energy Drink UPROAR Festival, supporting live music and the fabulous bands and artists in the tour. Many of the artists are BOSS users, and we look forward to exposing the BOSS brand even more," says Paul Youngblood, Director of BOSS, VP BOSS & Guitar Products. BOSS, a division of Roland Corporation, has achieved legendary status among guitarists by offering a diverse, world-leading product lineup that includes compact effects processors, multi-effects processors, digital recorders, rhythm machines, metronomes, tuners, and more. For more information, visit http://www.BossUS.com.

Sullen

Meet the girls of Miss UPROAR at the Sullen booth and check out all the cool Sullen gear! Based out of Huntington Beach, California, Sullen is an Art-Driven Lifestyle Apparel brand that integrates like minded sub cultures within one platform.
The Rockstar Energy Drink UPROAR Festival tour dates are as follows:
Date
Tour Market
Venue
Fri. 8/26
Camden, NJ
Susquehanna Bank Center
Sat. 8/27
Scranton, PA
Toyota Pavilion
Sun. 8/28
Boston, MA
Comcast Center
Wed. 8/31
Washington, DC
Jiffy Lube Live
Thu. 9/1
Virginia Beach, VA
Verizon Wireless Amphitheatre
Sat. 9/3
Tampa, FL
1-800-ASK-GARY Amphitheatre
Sun. 9/4
Biloxi, MS
Mississippi Coast Coliseum
Mon. 9/5
Houston, TX
Cynthia Woods Mitchell Pavilion
Fri. 9/9
Detroit, MI
DTE Energy Music Centre
Sat. 9/10
Buffalo, NY
Darien Lake Performing Arts Center
Sun. 9/11
Hartford, CT
Comcast Theatre
Tue. 9/13
Montreal, QC
Parc Jean Drapeau

***

Wed. 9/14
Toronto, ON
Molson Canadian Amphitheatre

***

Fri. 9/16
Pittsburgh, PA
First Niagara Pavilion
Sat. 9/17
Indianapolis, IN
Verizon Wireless Amphitheatre
Sun. 9/18
Chicago, IL
First Midwest Bank Pavilion
Tue. 9/20
Grand Rapids, MI
Van Andel Arena
Wed. 9/21
Cleveland, OH
Blossom Music Center
Fri. 9/23
Omaha, NE
WestFair Amphitheater

**

Sat. 9/24
Kansas City, MO
Sandstone Amphitheater
Sun. 9/25
St. Louis, MO
Verizon Wireless Amphitheatre
Wed. 9/28
Calgary, AB
Scotiabank Saddledome

*

Thu. 9/29
Edmonton, AB
Rexall Place

*

Sat. 10/1
Seattle, WA
White River Amphitheatre
Sun. 10/2
Spokane, WA
Spokane Arena
Tue. 10/4
Salt Lake City, UT
USANA Amphitheater
Wed. 10/5
Denver, CO
Comfort Dental Amphitheater
Fri. 10/7
Albuquerque, NM
Hard Rock Pavilion
Sat. 10/8
Phoenix, AZ
Ashley Furniture HomeStore Pavilion
Sun. 10/9
San Diego, CA
Cricket Wireless Amphitheatre
Thu. 10/13
Sacramento, CA
Sleep Train Amphitheatre
Fri. 10/14
San Francisco, CA
Shoreline Amphitheatre
* Sevendust will not be performing at these shows
** Seether will not be performing at this show
*** Protest The Hero will headline the second stage; Sevendust will not be performing
The Rockstar Energy Drink UPROAR Festival is made possible through the support of sponsors including Rockstar Energy Drink, Best Buy Music Gear, Ernie Ball, Zoom, Schecter Guitars, KRANK Amps, Zippo, KICKER Performance Audio, Castiv, Guitar Player Magazine, Jägermeister Canada, Vertical-Xtreme, Air Force Reserve, Army Reserves, The Marines, Fearless Music, NoCover.com and No Cover Event Guide, and others.