Date: November 2, 2011
From: Kristine Ashton-Magnuson
ROCKSTAR ENERGY DRINK UPROAR FESTIVAL
WRAPS YEAR TWO
WITH OVER 324,800 IN ATTENDANCE
AT CRITICALLY PRAISED 32-DATE NORTH AMERICAN TOUR
FINALIST VOTING UNDERWAY FOR
SULLEN ART COLLECTIVE'S MISS UPROAR 2011 MODEL SEARCH

MISS UPROAR & BATTLE OF THE BANDS WRAP PARTY SET FOR NOVEMBER 17 AT HOUSE OF BLUES IN LOS ANGELES
FEATURING PERFORMANCES FROM ESCAPE THE FATE AND
2011 BEST BUY MUSIC GEAR BATTLE OF THE BANDS POWERED BY ERNIE BALL WINNER MINDSET EVOLUTION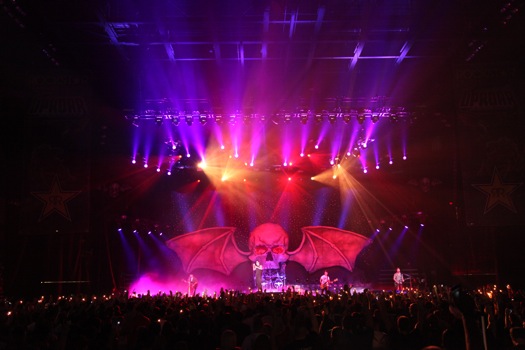 Conquering hurricanes, floods and other inclement weather, the second annual Rockstar Energy Drink UPROAR Festival stormed its way across North America during its 32-date trek. Packing houses along the way, UPROAR boasted over 324,800 in total attendance — including a peak crowd of more than 23,000 at the September 17 show at Verizon Wireless Amphitheatre in Indianapolis.
The touring music and lifestyle festival featured multi-platinum headliner Avenged Sevenfold, along with main stage artists Three Days Grace, Seether, Bullet For My Valentine and Escape The Fate. The Best Buy Music Gear Stage included headliners Sevendust, as well as Black Tide, Art Of Dying and Hell Or Highwater. The tour's festival area also offered a variety of activities, vendors and contests. Fans who arrived early had the chance to meet some of their favorite bands at the Best Buy Music Gear Tent and Rockstar Energy Drink Tent.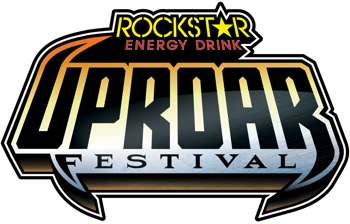 Each UPROAR show also hosted the Sullen Art Collective's Miss UPROAR 2011 Model Search competition. From November 1-9, fans can vote for their favorite Miss UPROAR tour market finalist through the Miss UPROAR Finalist Fan Vote Gallery on Facebook (https://www.facebook.com/media/set/?set=a.10150337390281829.343583.42303941828&type=3) by "liking" or commenting on the model of their choice. The top three finalists chosen by fans, Sullen Art Collective and the Rockstar Energy Drink UPROAR Festival will be flown to Los Angeles to compete for the grand prize at a special red carpet UPROAR wrap party co-hosted by Daisy de la Hoya from VH1's Daisy of Love and Sullen Angel Bernadette Macias at the House Of Blues Sunset Strip in Los Angeles on November 17. In addition, finalists will participate in a photo and video shoot with photographers David Heilser and Nicole Caldwell, stylist Sarah Ellis and hair and makeup artist Elizabeth LaGue. Sullen Art Collective's Miss UPROAR 2011 will become a Sullen Angel and will be featured in ad campaigns for Sullen Art Collective, Rockstar Energy Drink and Jägermeister Canada. The winner will also receive Sullen clothing, a year supply of Rockstar Energy Drinks and more.
The November 17 UPROAR wrap party will also feature a special performance from 2011 UPROAR band Escape The Fate; Mindset Evolution — the winner of the 2011 Best Buy Music Gear Battle Of The Bands Powered by Ernie Ball; Daisy de la Hoya and special guests. Tickets for the UPROAR wrap party go on sale Friday, November 4 at 10am PST.
Rockstar Energy Drink UPROAR Festival co-producer John Oakes reflects on this year's tour: "We encountered some obstacles with the weather this year, but the UPROAR bands, crew and fans overcame these challenges together to make 2011 another amazing tour for the Rockstar Energy Drink UPROAR Festival. We're already making plans for 2012! We were excited to join forces with Sullen Art Collective for the first annual Miss UPROAR competition and look forward to crowning a winner later this month. This year also marked the first Best Buy Music Gear Battle Of The Bands Powered by Ernie Ball and brought out some amazing talent. This year's winner — Mindset Evolution — will join us on the entire 2012 tour as part of their prize package."
Critical praise from the media for the Rockstar Energy Drink UPROAR Festival was widespread, as evidenced below:
"A hurricane of pure metal sweeps across America…"

—Rod Wilba, Kerrang!, September 17, 2011

"…a dream lineup for hard rock fans…"

—Paige Montgomery, Denver Post, October 6, 2011

"…an all-day heavy-music orgy…"

—Tim Finn, Kansas City Star, September 22, 2011

"The impressive size of Saturday's audience — about 13,000 fans spanning several generations — reflected the sound's perennial popularity…The festival ran like clockwork…"

—Bill Brownlee, Kansas City Star, September 24, 2011

"…the summer concert series heated up and saved its best for last when the second annual Rockstar Energy Drink UPROAR Festival hit Ashley Furniture HomeStore Pavilion Saturday, Oct. 8…"

—Jim Louvau, Arizona Republic, October 9, 2011

"…a virtual music marathon…"

—Joe Belcastro, Tampa Tribune, September 2, 2011

"The Rockstar Energy Drink UPROAR Festival stormed its way into town Saturday, bringing with it 10 bands and eight hours of hard-hitting rock and heavy metal…it was a well-oiled machine…the large crowd got a lot of bang for its buck…"

—Brad Patton, Wilkes-Barre Times Leader, August 28, 2011

"…a day of ear-shattering bliss…thousands of hard rock fans descended on Toyota Pavilion at Montage Mountain for the second Rockstar Energy Drink UPROAR Festival, featuring a number of the genre's luminaries…"

—Josh McAuliffe, Scranton Times-Tribune, August 29, 2011

"Not even a hurricane could stop dedicated heavy metal fans from ascending Montage Mountain on Saturday, Aug. 27 for the Rockstar Energy UPROAR Festival, which offered over nine hours of hard rock…"

—Rich Howells, Times Leader/Go Lackawanna, September 4, 2011

"Hard rock, slamming drums and screaming vocals were the rule rather than the exception this past weekend as the Rockstar Energy Drink UPROAR Festival rolled into town packed with a full bill of great bands and more tattoos than you could count…This festival offered the best of the genre and the THOUSANDS of fans packed Verizon Wireless Amphitheater and were ready to rock."

—J. Boyd, InsideSTL.com, September 29, 2011

"Virginia has been shaken this month, we had a 5.8 magnitude earthquake on August 23rd, Hurricane Irene on August 27th, but we were thoroughly rocked and brought to our knees on August 31st as the Rockstar Energy Drink UPROAR Tour came to Jiffy Lube Live in Bristow, Virginia. Nine hours (yes, nine) of total Rock. Two stages, 10 total bands. It was an unbelievable afternoon and night of music and entertainment, the likes of which I had never experienced…"

—Melissa Gibson, AllAccessMagazine.com, September 22, 2011

"…fans were treated to a smorgasbord of head-banging fuel…"

—Hali McGrath, SoundSpike.com, September 1, 2011

"Hurricane Irene may have roared in to New England like a lion but it was the Rockstar Energy Drink UPROAR Festival that left chaos in its wake. The one day mega-rock extravaganza…an all-you-could-eat-buffet of riffs, licks, and devil horns. Doubling your rock 'n' roll pleasure with two stages, the music kicked off early in the day with side stage action on the Best Buy Music Gear Stage…With bands that are worthy main stage acts in their own right, the second stage action lived up to the hype and provided some of the best music of the day giving fans more than a good reason to get there early."

—Mary Ouellette, Loudwire.com, September 1, 2011
The Sullen Art Collective Miss UPROAR 2011 finalists by market are as follows: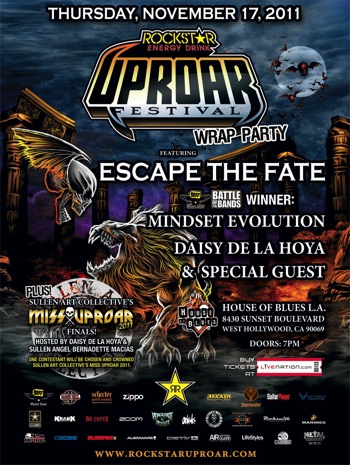 Camden, NJ: Kristie Waltman
Scranton, PA: Marissa Young
Boston, MA: Aileen Garvin
Washington, DC: Lindsay Rizzo
Virginia Beach, VA: Sarah Matthews
Tampa, FL: Stephanie Phillips
Biloxi, MS: Ashley Sites
Houston, TX: Paulina Kashina
Detroit, MI: Danielle Anderson
Buffalo, NY: Gina Alexanderson
Hartford, CT: Gianna Rovezzi
Montreal, QC: Christine Mai
Toronto, ON: Sarah Posthumus
Pittsburg, PA: Nirvana Frisko
Indianapolis, IN: Christy Mack
Chicago, IL: Kristi Michelle Sidor
Grand Rapids, MI: Jodi Bialk
Cleveland, OH: Sierra Caldwell
Kansas City, MO: Lauren Wilcox
St. Louis, MO: Candice Harper
Calgary, AB: Cat Cameron
Edmonton, AB: Kate Legassie
Auburn, WA: Candice Oftebro
Spokane, WA: Brooke Roberts
Salt Lake City, UT: Sarah Palmer
Denver, CO: Ashley Torres
Albuquerque, NM: Rachel Petrikat
Phoenix, AZ: Stephanie Pietz
San Diego, CA: Ashley Pagliuso
Sacramento, CA: Jennifer Rossa
Mountain View, CA: Toni Zeber
The Rockstar Energy Drink UPROAR Festival is made possible through the support of sponsors including Rockstar Energy Drink, Best Buy Music Gear, Ernie Ball, Zoom, Schecter Guitars, KRANK Amps, Zippo, KICKER Performance Audio, Castiv, Guitar Player Magazine, Jägermeister Canada, Vertical-Xtreme, Air Force Reserve, Army Reserves, The Marines, BOSS, Sullen, Fearless Music, NoCover.com and No Cover Event Guide, and others.