Date: June 15, 2012
From: Kristine Ashton-Magnuson
ROCKSTAR ENERGY DRINK UPROAR FESTIVAL
OFFERS $15 "EARLY BIRD" TICKETS IN MOST MARKETS
FOR THIS WEEKEND ONLY BEGINNING FRIDAY, JUNE 15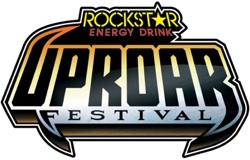 The Rockstar Energy Drink UPROAR Festival is offering a limited number of $15 "Early Bird" lawn tickets for the third annual tour which runs from August 17 in Kansas City, MO through September 30 in Albuquerque, NM. This offer is available at www.RockstarUPROAR.com and LiveNation.com from Friday, June 15 at 10:00 AM local time until Sunday, June 17 at 10:00 PM local time. Please see below for a list of participating markets.
Affordably priced pit and up-front seating is also available with ticket prices starting around $75 (plus fees). In addition, exclusive Rockstar Energy Drink UPROAR Festival meet & greet and VIP packages will be available.
The 2012 Rockstar Energy Drink UPROAR Festival main stage will feature performances from multiplatinum rock bands Shinedown, Godsmack, Staind and Papa Roach, along with breaking band Adelitas Way. In addition, the Ernie Ball Stage and Jägermeister Stage in the festival area will include performances from multiplatinum headliner P.O.D., as well as up-and-coming artists Deuce, Fozzy, Redlight King, Mindset Evolution, In This Moment, Thousand Foot Krutch, Candlelight Red and a local Battle Of The Bands winner. Go to www.RockstarUPROAR.com for full details and a list of bands performing at each show.
Regularly priced tickets are on sale now for all Rockstar Energy Drink UPROAR Festival shows listed below. Markets participating in the $15 ticket promotion are indicated by a plus sign (+):
Date
Market
Venue
Web Link
Fri. 8/17
Kansas City, MO
Capitol Federal Park at Sandstone
www.rockstaruproar.com/bonner-springs
Sat. 8/18
Little Rock, AR
Arkansas State Fairgrounds (KDJE Radio Show)
www.rockstaruproar.com/little-rock
+Sun. 8/19
St. Louis, MO
Verizon Wireless Amphitheatre
www.rockstaruproar.com/maryland-heights
Tue. 8/21
Grand Rapids, MI
Rock The Rapids (downtown)


main stage bands only

www.rockstaruproar.com/grand-rapids
+Wed. 8/22
Chicago, IL
First Midwest Bank Amphitheatre
www.rockstaruproar.com/tinley-park
+Fri. 8/24
Holmdel, NJ
PNC Bank Arts Center
www.rockstaruproar.com/holmdel
+Sun. 8/26
Mansfield, MA
Comcast Center
www.rockstaruproar.com/mansfield
+Tue. 8/28
Scranton, PA
Toyota Pavilion at Montage Mountain
www.rockstaruproar.com/scranton
+Wed. 8/29
Buffalo, NY
Darien Lake Performing Arts Center
www.rockstaruproar.com/darien-center
+Fri. 8/31
Pittsburgh, PA
First Niagara Pavilion
www.rockstaruproar.com/burgettstown
+Sat. 9/1
Saratoga, NY
Saratoga Performing Arts Center
www.rockstaruproar.com/saratoga-springs
+Sun. 9/2
Bristow, VA
Jiffy Lube Live
www.rockstaruproar.com/bristow
Wed. 9/5
Simpsonville, SC
Charter Amphitheatre at Heritage Park
www.rockstaruproar.com/simpsonville
+Fri. 9/7
Detroit, MI
DTE Energy Music Theatre
www.rockstaruproar.com/clarkston
+Sat. 9/8
Noblesville, IN
Klipsch Music Center
www.rockstaruproar.com/noblesville
+Sun. 9/9
Cleveland, OH
Blossom Music Center
www.rockstaruproar.com/cuyahoga-falls
+Tue. 9/11
Raleigh, NC
Time Warner Cable Music Pavilion at Walnut Creek
www.rockstaruproar.com/raleigh
+Wed. 9/12
Atlanta, GA
Aaron's Amphitheatre at Lakewood
www.rockstaruproar.com/atlanta
+Thu. 9/13
Tampa, FL
1-800-ASK-GARY Amphitheatre
www.rockstaruproar.com/tampa
+Sat. 9/15
Houston, TX
Woodlands Pavilion
www.rockstaruproar.com/the-woodlands
+Sun. 9/16
Dallas, TX
Gexa Energy Pavilion
www.rockstaruproar.com/dallas
+Tue. 9/18
Denver, CO
Comfort Dental Amphitheater
www.rockstaruproar.com/englewood
Wed. 9/19
Salt Lake City, UT
USANA Amphitheatre
www.rockstaruproar.com/salt-lake-city
Fri. 9/21
Spokane, WA
Greyhound Park and Events Center
www.rockstaruproar.com/post-falls
+Sat. 9/22
Auburn, WA
White River Amphitheatre
www.rockstaruproar.com/auburn
Sun. 9/23
Portland, OR
Sleep Country Amphitheater
www.rockstaruproar.com/ridgefield
Tue. 9/25
Boise, ID
Idaho Center Amphitheater
www.rockstaruproar.com/nampa
Sat. 9/29
Phoenix, AZ
Ashley Furniture HomeStore Pavilion
www.rockstaruproar.com/phoenix
+Sun. 9/30
Albuquerque, NM
Hard Rock Casino Presents: The Pavilion
www.rockstaruproar.com/albuquerque
The Rockstar Energy Drink UPROAR Festival is made possible through the support of sponsors including Rockstar Energy Drink, Ernie Ball, Jägermeister, Air Force Reserve, Air National Guard, Army, Imagen Records, Truth, Lunarpages, Matador Beef Jerky, Schecter Guitars, South Surf, Slurpee, and Zippo Lighters.
---