Date: August 21, 2012
From: Kristine Ashton-Magnuson
ROCKSTAR ENERGY DRINK UPROAR FESTIVAL
NOW UNDERWAY
NEW EPISODE OF UPROAR TV POSTED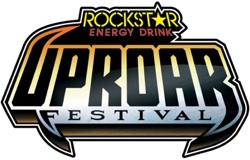 The Rockstar Energy Drink UPROAR Festival is now underway and is bringing a massive rock show to cities across the U.S. through September 30. Fans can experience the sights and sounds of the first weekend of UPROAR through the latest installment of UPROAR TV at: www.rockstaruproar.com/uproartv.
The Rockstar Energy Drink Main Stage features performances from multiplatinum rock bands Shinedown, Godsmack, Staind, and Papa Roach, along with breaking band Adelitas Way. In addition, the Ernie Ball Stage and Jägermeister Stage in the festival area will include performances from multiplatinum headliner P.O.D., as well as up-and-coming artists Deuce, Fozzy, Redlight King, Mindset Evolution, In This Moment, Thousand Foot Krutch, Candlelight Red and a local Battle Of The Bands winner. Each day also features autograph signings with UPROAR bands.
Go to www.RockstarUPROAR.com for full UPROAR details and to buy tickets.
Shinedown is lighting up the night sky with their amazing performances and spectacular production featuring pyro, video and dazzling lighting design. Shinedown's not-to-be-missed shows feature hits including "Bully"—from their new record Amaryllis—as well as their rock radio classics "45" and "Devour." Expect some surprises throughout the set as well.
In a recent interview with UPROAR's Rick Florino, Brent Smith of Shinedown gave his thoughts on the Rockstar Energy Drink UPROAR Festival lineup, noting: "To be a part of a package that's got 15 bands together and is a traveling festival is great. I'm going to do my best to get out and watch those bands." He continued, "When you look at the amount of bands on the festival and what styles they bring, it's actually a really eclectic tour. There are a lot of peaks and valleys. It's a good roller coaster ride."
Godsmack is blowing audiences away with their explosive live performances, packed with hits spanning the band's 13 year legacy, including songs from their current Live & Inspired release. Godsmack's Sully Erna explained, "It's about delivering to the audience and playing the songs…you've got to play the hits."
Fans can also look forward to once-in-a-lifetime special moments at UPROAR. At recent shows, these included:
Maria Brink

from

In This Moment

joining

Shinedown

's

Brent Smith

at his autograph signing

Rick DeJesus

from

Adelitas Way

crowd surfing during the band's main stage performance
Fans enjoying a mud pit created by early morning rain at the August 18 Little Rock show (Check out the

Arkansas Democrat-Gazette

photo gallery here: http://www.arkansasonline.com/galleries/16117/album/)

Shinedown

,

Godsmack

,

Staind

,

P.O.D.

and all the bands signing autographs around the festival grounds
To purchase tickets and for all show details, including band autograph signing times, performance times, and all the latest information, go to www.RockstarUPROAR.com.
The Rockstar Energy Drink UPROAR Festival is made possible through the support of sponsors including Rockstar Energy Drink, Family Guy, Jägermeister, Ernie Ball, Imagen Records, truth, Zippo Lighters, Schecter Guitars, Best Buy, Matador Beef Jerky, Slurpee, Army, Air Force Reserve, Air National Guard, Lunarpages, Hands That Rock, and South Surf.