Date: March 26, 2013
From: Kristine Ashton-Magnuson
SHIPROCKED 2014
ULTIMATE ROCK MUSIC CRUISE VACATION
SET FOR JANUARY 26-30, 2014
SAILING TO A PRIVATE ISLAND IN THE BAHAMAS
ONBOARD NORWEGIAN PEARL
SHIPROCKED SUMMER CAMP
SET FOR JUNE 14-16, 2013
IN WESTERN CONNECTICUT'S BERKSHIRE MOUNTAINS
Following 2012's record-breaking full ship attendance of nearly 2,500 guests from all 50 U.S. states and 20 additional countries, plans are already underway for the next ShipRocked voyage. Produced by ASK4 Entertainment, the ultimate rock music cruise vacation is set for January 26-30, 2014 out of the Port of Miami. Look for the ShipRocked 2014 band lineup and additional details to be announced in the coming weeks.
For the first time in 2014, ShipRocked will wash ashore on its own private island. Guests will spend two full days enjoying concerts and activities on a private beach on Great Stirrup Cay in the Bahamas (http://www.ncl.com/freestyle-cruise/great-stirrup-cay). The island features a large performance area on the beach with full production for rock shows and offers various island excursions such as parasailing, snorkeling, canoeing and more.
2014 also marks a vessel change for ShipRocked. The January 26-30, 2014 ShipRocked voyage will be held onboard the Norwegian Pearl, which Frommer's calls one of the "most original mainstream megaships." The Pearl features luxurious accommodations, along with 16 delicious dining options, 13 bars and lounges, casino, spa, fitness center, a chic bowling alley, rock climbing wall, sports court, two pools, waterslides, hot tubs, and much more.
"We are very excited to bring the ShipRocked family onboard the Norwegian Pearl for our fifth voyage," says ShipRocked producer Alan Koenig of ASK4 Entertainment. "NCL's tremendous support and their commitment to being the leader in entertainment cruises makes them the obvious choice as our new cruise line partner, and the Pearl is a spectacular ship with first class service and dining. We are truly looking forward to January!"
Also new for 2014, ASK4 Entertainment has partnered with Whet Travel for the next ShipRocked cruise. Since 2004, Whet Travel has created, executed and produced over 20 music and theme cruises exciting the lives of tens of thousands of clients with unique, unforgettable, outrageous cruise experiences. The Whet Travel team treats its clients like family by delivering compassionate customer service, cutting edge technology and by focusing on all the details. "The Whet Travel team is very excited to be working with ASK4 to create an over the top, rockin' experience for the ShipRocked family," says Whet Travel President Jason Beukema. "There will be nothing like this on planet earth."
As in the past, ShipRocked guests will enjoy multiple performances from every band on different stages throughout the ship, artist meet and greets, Q&A sessions, along with artist-hosted activities including contests, game shows, insane parties, theme nights and more.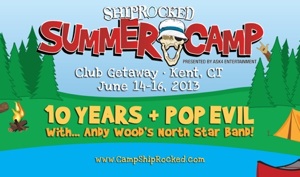 Prior to the cruise, ShipRocked alumni and newcomers can enjoy a new ShipRocked land event: ShipRocked Summer Camp. A limited number of cabins are still available for this special mid-year ShipRocked reunion set to take place June 14-16, 2013, at Club Getaway in Kent, Connecticut. This cozy all-inclusive wilderness resort overlooks a sparking lake in the beautiful Berkshire Mountains of Western Connecticut. ShipRocked Summer Camp will feature live performances from ShipRocked's own 10 Years, Pop Evil and Andy Wood's North Star Band.
ShipRocked Summer Camp offers comfortable country cabins with air conditioning, private bathrooms and daily housekeeping. The vacation package includes all meals, with buffets, barbecues and delectable dinner cuisine prepared by chefs from the nearby Connecticut Culinary Institute. Campers will have a wide selection of onsite activities to choose from each day as well. For full details, visit www.campshiprocked.com.
Check out recap videos from ShipRocked 2012 here: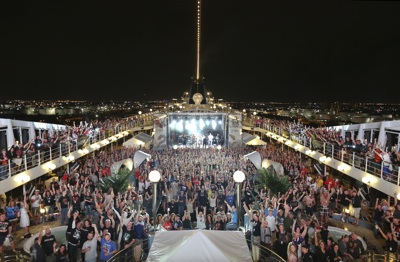 ShipRocked 2012
(Photo by Chris Bradshaw)
---
About ShipRocked
The ultimate rock music cruise vacation celebrates its fifth year in 2014. The 2012 cruise featured a full ship of nearly 2,500 guests. The 2012 Cancer Sucks ShipRocked onboard charity auction raised over $70,000 towards funding innovative medical research and finding a cure for cancer. Previous ShipRocked performers include: Godsmack, Korn, Five Finger Death Punch, Buckcherry, Geoff Tate, Queensrÿche, Fuel, Vince Neil, Helmet, Hinder, P.O.D., Hellyeah, Sevendust, Skid Row, Candlebox, Drowning Pool, 10 Years, Filter, Pop Evil, Lit, Black Stone Cherry, Another Animal, In This Moment, and many more.
www.GetShipRocked.com
About Whet Travel Inc.
Whet = EXCITEMENT! Whet Travel is a 9-year-old progressive travel company that was formed to meet the unique travel needs of music charters, large groups and young professionals. Whet Travel is the producer of The Groove Cruise—"The World's Largest Floating Dance Music Festival," the Aventura Dance Cruise—"The World's Largest Latin Dance Cruise," and the Zen Cruise—"A Transformational Journey at Sea." Whet Travel sells cruises, vacation packages, and all inclusive resorts around the world with a focus on large affinity, theme, corporate and music groups. Whet Travel has been featured in media outlets including CNN, NBC, MTV, New York Times, Travel Agent Magazine, Sirius|XM Radio, Telemundo and more.
WhetTravel.com
TheGrooveCruise.com
AventuraDanceCruise.com
TheZenCruise.com
About Norwegian Cruise Line
Norwegian Cruise Line is the innovator in cruise travel with a 46-year history of breaking the boundaries of traditional cruising, most notably with the introduction of Freestyle Cruising which revolutionized the industry by giving guests more freedom and flexibility. Today, Norwegian invites guests to "Cruise Like a Norwegian" on one of 11 purpose-built Freestyle Cruising ships, providing guests the opportunity to enjoy a relaxed cruise vacation on some of the newest and most contemporary ships at sea. Recently, the line was named "Europe's Leading Cruise Line" by the World Travel Awards for the fifth consecutive year.
Norwegian Cruise Line's largest and most innovative Freestyle Cruising ship, Norwegian Epic, debuted in June 2010 and has been named "Best Overall Cruise Ship" by the readers of Travel Weekly two years in a row and "Best Ship for Sea Days" by Cruise Critic. Norwegian Cruise Line is the official cruise line of Blue Man Group, appearing for the first time at sea on Norwegian Epic, as well as the official cruise line of Legends in Concert, The Second City®, Howl at the Moon Dueling Pianos, and Nickelodeon, the number-one entertainment brand for kids. Cirque Dreams & Dinner is also featured onboard Norwegian Epic as the first show of its kind at sea under a big top.
The Company has two 4,000-passenger vessels, Norwegian Breakaway and Norwegian Getaway, under construction for delivery in April 2013 and January 2014, along with one larger "Breakaway Plus" vessel for delivery in fall 2015. Known as New York's ship, Norwegian Breakaway will be the largest vessel to homeport year-round in the city, sailing to Bermuda for the summer beginning May 12, 2013. Norwegian Breakaway's features include hull art by legendary artist Peter Max, seafood restaurant Ocean Blue by famed New York Iron Chef Geoffrey Zakarian, bakery by Buddy Valastro, star of the TLC series Cake Boss, and fitness classes and a retrospective display from the ship's iconic godmothers, the Rockettes®. The entertainment lineup includes three Broadway shows: Rock of Ages, Burn the Floor and Cirque Dreams & Dinner: Jungle Fantasy. Sister ship Norwegian Getaway, the largest ship to homeport year-round in Miami, will sail Eastern Caribbean voyages beginning in February 2014. Sailings for both vessels are now on sale.
www.ncl.com
ShipRocked Publicity Contact:
Kristine Ashton-Magnuson
Ashton-Magnuson Media
kristine@am-media.net
(818) 996-2496