Date: June 7, 2013
From: Kristine Ashton-Magnuson
OVER A QUARTER OF A MILLION FANS TURN OUT FOR
2013 "WORLD'S LOUDEST MONTH":

WELCOME TO ROCKVILLE,
CAROLINA REBELLION,
ROCKFEST,
ROCK ON THE RANGE,
AND ROCKLAHOMA
ROCKLAHOMA AUTOGRAPHED BAND MEMORABILIA AUCTION UNDERWAY NOW
TO BENEFIT OKC TORNADO RELIEF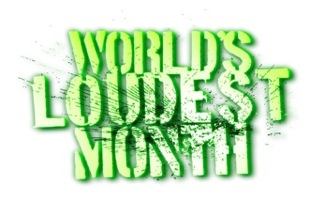 Over 278,000 fans turned out for rock festivals on five consecutive weekends across the nation as part of the World's Loudest Month, from April 27-May 26, 2013.
Created in partnership by AEG Live and Right Arm Entertainment, the World's Loudest Month features the biggest names in rock music performing in five distinct U.S. concert atmospheres. Over 100 bands performed at Monster Energy's Welcome To Rockville, Carolina Rebellion, Rockfest, Rock On The Range and Rocklahoma, solidifying the vitality of rock and metal music in America.
2013 marked the debut of the World's Loudest Month App which featured the latest band lineups, artist bios, site maps, social feeds, pictures, videos, music and much more for all the World's Loudest Month music festivals.
Here are some highlights from the 2013 World's Loudest Month festivals:
"Rock music is alive and well in America, and the World's Loudest Month proves it. It's our goal to make each WLM festival the #1 rock destination experience in its respective region. We want the World's Loudest Month to be known as the leader of rock music festivals not only across the States, but all over the world," explains Gary Spivack, Co-Executive Producer of World's Loudest Month for Right Arm Entertainment.
Monster Energy is the official sponsor of the World's Loudest Month. The World's Loudest Month also works with Revolver Magazine to bring you exclusive news, interviews and photos of all the festivals.
---
For more information about the World's Loudest Month, please contact:
Kristine Ashton-Magnuson, Ashton-Magnuson Media
kristine@am-media.net; (818) 996-2496
Chamie McCurry, AEG Live
Chamie@aeglive.com; (314) 726-8026