Date: September 19, 2013
From: Kristine Ashton-Magnuson
MONSTER ENERGY'S AFTERSHOCK FESTIVAL
SELLS OUT WITH 32,000 IN ATTENDANCE FOR
SEPTEMBER 14 & 15 ROCK FESTIVAL
AT DISCOVERY PARK NEAR DOWNTOWN SACRAMENTO
FESTIVAL FEATURED PERFORMANCES FROM
AVENGED SEVENFOLD, KORN,
FIVE FINGER DEATH PUNCH, SHINEDOWN,
MEGADETH, PAPA ROACH, VOLBEAT,
AND MANY MORE TOP ROCK BANDS
In only its second year, Monster Energy's Aftershock Festival expanded to two days and drew a sold-out crowd of 32,000 during the September 14 & 15 event at Discovery Park near downtown Sacramento, CA. Northern California's biggest summer rock festival featured unforgettable performances from Avenged Sevenfold, Korn, Five Finger Death Punch, Shinedown, Megadeth, hometown heroes Papa Roach, Volbeat and many other top rock bands.
Ticket buyers travelled from around the country for this year's Monster Energy's Aftershock Festival, which generated an estimated economic impact of around $2.6 million for the Sacramento metro area according to Mike Testa, senior vice president of sales and business for the Sacramento Convention & Visitors Bureau. Aftershock attendees booked approximately 1,500 hotel rooms in Sacramento.
At Monster Energy's Aftershock Festival, bands performed on one of three stages: Monster Energy Main Stage East, Monster Energy Main Stage West or the Ernie Ball Stage. In addition, many Aftershock ticketholders kicked off the weekend by attending the FREE Monster Energy's Aftershock Festival pre-party with Steel Panther and special guests at Ace Of Spades in Sacramento.
The festival received overwhelming praise from the media as exemplified here:
"For two days, Sacramento was rocking out…the Aftershock festival had it all…For the second year in Sacramento, Aftershock was a huge success. 32,000 people showed up for the two day event and everyone was satisfied. While bands rocked the stage, it all boiled down to the fans, who just couldn't get enough."

—Luana Munoz, Fox40 News (KTXL Sacramento), September 15, 2013

"…packed with one of the most powerful lineups we've seen for years…Historic Discovery Park, located where two rivers meet and nestled among towering maples, oaks and elms proved the perfect venue not just for Korn, but the entire mind-bending array of artists that performed from late morning into the night…Aftershock is proving itself as one of the most blistering and powerful festivals in recent memory. (Day 1 review)"

—Chris Epting, Loudwire.com, September 17, 2013

"…the two side-by-side main stages were treated to gloriously powerful, quickly alternating headliner performances by a diverse lineup leading up to the spectacular A7X finale…just when you thought the fever pitch couldn't get any hotter, Five Finger Death Punch rolled out onto the south stage in what was starting to feel, based on the gathering crowd, like the most anticipated act of the day…It is hard to imagine the 32,000+ fans getting a bigger bang for their buck than the Monster Energy 2013 Aftershock Festival…Congratulations to Aftershock on what was certainly one of the most talked about and successful festivals in recent memory. (Day 2 review)"

—Chris Epting, Loudwire.com, September 17, 2013

"Danny Wimmer Presents put all the pieces together and created a weekend festival that already rivals all others in the country. Aftershock packed in more headliners than you usually get at a festival, and allowed those bands to bring their full production, which you don't typically see at an ad-hoc venue…Aftershock had so much more. An idyllic setting on an isolated park with grass viewing areas and plenty of shade trees. Numerous gourmet food trucks. Plenty of beverage stands to minimize wait times. Band signings, hands-on musical instrument testing, a shaded VIP section on a side hill, complete with tables, chairs and hi-def video screens. The things that made Aftershock truly special are those magic moments that you can only hope for: Dave Buckner performing "Last Resort" with Papa Roach, Brian 'Head' Welch performing double duty with Love And Death and Korn, Butcher Babies' Heidi Shepherd belting out The Final Episode with Asking Alexandria, Shinedown revealing the entire Carnival of Madness stage show with circus performers, lights, pyro and video, Avenged Sevenfold going all Iron Maiden with their massive stage props and intense fire show. Bottom line: Aftershock was my favorite festival of 2013."

—Johnnie Vrana, Shockwave Magazine, September 17, 2013
Monster Energy's Aftershock Festival is produced by Danny Wimmer Presents, producer of some of the biggest rock festivals in America, including Welcome To Rockville and The Big Ticket in Jacksonville, FL. Danny Wimmer Presents is also a partner in Rock On The Range in Columbus, OH, Carolina Rebellion in Charlotte, NC, Epicenter—Southern California's Rock Festival in Irvine, CA, 96-KROCK presents Rockwave Festival and Fort Rock in Fort Myers, FL, and the Rock Allegiance Tour.
Festival producer Danny Wimmer says, "For years I've been hearing that 'rock is dead,' and yet record numbers of fans attend rock festivals every year. Our festivals are inspired by the music fans who buck the trends, ignore the hype and remain true to the music they like."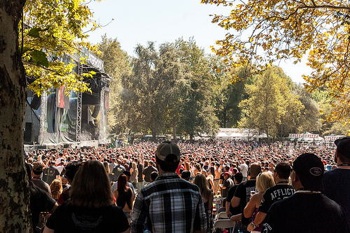 (photos by Benjamin Wallen)
---
About Discovery Park
Discovery Park is a 160-acre park conveniently located near downtown Sacramento, where the American and Sacramento Rivers meet. The Discovery Park boat launch allows boaters access to both the American and Sacramento Rivers, and the park features bike trials, picnic areas, and a playground. Discovery Park is located beside I-5 near downtown Sacramento. From I-5, take the Richards Blvd. off-ramp, then go west to get to the south entrance of the park, or follow the Garden Highway exit east from I-5 to find the north entrance. Signs denote the park's location from I-5.
About Monster Energy
Most companies spend their money on ad agencies, TV commercials, radio spots, and billboards to tell you how good their products are. At Monster Energy, we chose none of the above. Instead we support the scene, our bands, our athletes and our fans. We back athletes so they can make a career out of their passion. We promote concert tours, so our favorite bands can visit your hometown. We celebrate with our fans and riders by throwing parties and making the coolest events we can think of a reality.
www.monsterenergy.com
Monster Energy's Aftershock Festival Publicity Contact:
Kristine Ashton-Magnuson/Ashton-Magnuson Media
kristine@am-media.net
(818) 996-2496
Monster Energy's Aftershock Festival Marketing & Sponsorship Contact:
Clay Busch/Danny Wimmer Presents
clay@armsdivision.com