Date: November 21, 2013
From: Kristine Ashton-Magnuson
WORLD'S LOUDEST MONTH
2014 FESTIVAL DATES ANNOUNCED:
FORT ROCK ADDED TO THE SERIES

WELCOME TO ROCKVILLE, FORT ROCK, CAROLINA REBELLION,
ROCK ON THE RANGE, ROCKLAHOMA, & ROCKFEST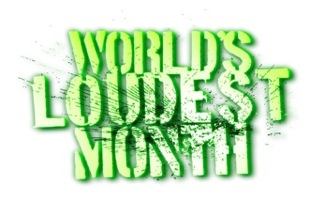 World's Loudest Month, created in partnership by AEG Live and Danny Wimmer Presents, continues to grow in 2014. Featuring the biggest names in rock music performing in six distinct U.S. concert atmospheres, the World's Loudest Month is excited to announce the addition of a new festival, as well as the 2014 festival dates. In 2013, the World's Loudest Month featured over 125 artists playing for more than a quarter of a million rock music fans across the country on five consecutive weekends, confirming that rock music is as vital as ever.
The 2014 World's Loudest Month festival events and dates are as follows:
Monster Energy's Welcome To Rockville

: April 26 & 27 in North Florida

Fort Rock

: April 26 in Fort Myers, FL

Carolina Rebellion

: May 3 & 4 in Charlotte, NC

Rock On The Range

: May 16, 17 & 18 in Columbus, OH

Rocklahoma

: May 23, 24 & 25 in Pryor, OK

RockFest

: May 31 in Kansas City, MO
"When we created the World's Loudest Month platform, we did it with the goal of growing it to become the launch pad for rock festival fans across the country," comments Joe Litvag, Co-Executive Producer. "We're excited to add Fort Myers to the mix in 2014, which further expands our reach for the rock genre."
The World's Loudest Month kick-off weekend begins in the Sunshine state of Florida with Monster Energy's Welcome To Rockville, April 26 and 27. Florida's largest rock festival returns to North Florida for its fourth year and—along with the addition of Fort Rock (Fort Myers, FL) on April 26—kicks off WLM! Only the state of Florida could handle two major events on the same day! For ticket specials, hotel and VIP packages, visit www.welcometorockville.com and www.fortrockfestival.com.
"I've been saying all year that I keep hearing rock is 'dead,' yet record numbers attend our shows every year. Our festivals are for music fans who buck trends and remain true to the music they like. Our job as tastemakers in rock and roll is to find the markets where music fans are underserved and I am happy to add Fort Rock to our World's Loudest Month and include it on the same weekend with Welcome To Rockville," says Danny Wimmer, Co-Executive Producer.
Next up is Carolina Rebellion, returning to Rock City Campgrounds at Charlotte Motor Speedway in North Carolina for its second consecutive year. With on-site camping, amazing VIP packages and a lineup featuring today's biggest bands, in four short years Carolina Rebellion has quickly grown to be the Carolinas' Biggest Weekend of Rock.
www.CarolinaRebellion.com
Rock On The Range—the nation's biggest and most-acclaimed active rock festival—will grow to three full days in 2014 after a successful expanded Friday Night in 2013. Over 105,000 die-hard Rangers attended ROTR last year, traveling to Columbus, OH from all 50 states and over the globe, resulting in a sellout for the first time since the inaugural, one-day Rock On The Range in 2007. Pre-sale Layaway tickets go on sale on Monday, December 2, and VIP, hotel, and camping packages go on sale Thursday, December 5.
www.RockOnTheRange.com
Rocklahoma—America's biggest Memorial Day Weekend party—continues to be the ultimate destination Rock event in the country. The three-day camp & rock festival features the top current active and classic rock artists at "Catch the Fever" Festival Grounds in Pryor, OK. Ticket renewals for 2014 will be available starting Monday, December 2. To renew your 2013 ticket location, call the box office at (866) 310-2288.
www.Rocklahoma.com
RockFest celebrates its astounding 22nd year in 2014. Drawing crowds in excess of 55,000 annually at Penn Valley Park in downtown Kansas City, RockFest is definitely worthy of its title as "the BIGGEST one-day music festival in the United States."
www.RockfestKC.com
The World's Loudest Month mobile app (available via iTunes and Android), released in 2013, will be updated early next year and will feature all festival information, the latest rock news, exclusive songs from current and previous WLM bands, and more. Band lineups and additional details for each festival will be announced in early 2014.
Monster Energy returns as a sponsor of the World's Loudest Month for the second year in a row, along with the valued partnerships with Jägermeister, Jack Daniel's and Ernie Ball. The World's Loudest Month is also working with Revolver Magazine to bring you exclusive news, interviews and photos of all the festivals.
---
For more information about the
World's Loudest Month

, please contact:

Kristine Ashton-Magnuson, Ashton-Magnuson Media
kristine@am-media.net; (818) 996-2496

Chamie McCurry, AEG Live
Chamie@aeglive.com; (314) 726-8026
About Danny Wimmer Presents:
Since 1993, DWP has created, developed and produced events from the club level to some of the largest North American festivals. Founded by industry veteran Danny Wimmer, DWP produces some of the largest festivals in the rock and alternative landscapes. Never satisfied with the status quo, Danny Wimmer Presents strives to create memorable and fulfilling concert experiences leaving both consumers and partners with lasting and meaningful impressions.
About AEG Live:
AEG Live, the live-entertainment division of Los Angeles-based AEG, is dedicated to all aspects of live contemporary music performance. AEG Live is comprised of touring, festival, broadcast, merchandise and special event divisions, fifteen regional offices and owns, operates or exclusively books thirty-five state-of-the-art venues. The current and recent concert tour roster includes artists such as Alicia Keys, American Idols, Bon Jovi, Carrie Underwood, Daughtry, Enrique Iglesias, Jennifer Lopez, Justin Bieber, Kenny Chesney, Leonard Cohen, Paul McCartney, Taylor Swift, The WHO, Trey Songz and Juanes. The company is also currently producing residency shows at The Colosseum at Caesars Palace in Las Vegas including Celine Dion, Rod Stewart and Shania Twain and is the exclusive promoter at The Joint at Hard Rock Hotel & Casino Las Vegas. AEG Live is also the largest producer of music festivals in North America from the critically acclaimed Coachella Valley Music & Arts Festival to Stagecoach Country Music Festival and New Orleans Jazz & Heritage Festival.
www.aeglive.com
About Monster Energy:
Most companies spend their money on ad agencies, TV commercials, radio spots and billboards to tell you how good their products are. At Monster Energy, we chose none of the above. Instead we support the scene, our bands, our athletes and our fans. We back athletes so they can make a career out of their passion. We promote concert tours, so our favorite bands can visit your hometown. We celebrate with our fans and riders by throwing parties and making the coolest events we can think of a reality.
www.monsterenergy.com | www.facebook.com/monsterenergy
About Jack Daniel's:
Officially registered by the U.S. Government in 1866 and based in Lynchburg, Tenn., the Jack Daniel Distillery, Lem Motlow, proprietor, is the oldest registered distillery in the United States and is on the National Register of Historic Places. Jack Daniel's is the maker of the world-famous Jack Daniel's Old No. 7 Tennessee Whiskey, Gentleman Jack Rare Tennessee Whiskey, Jack Daniel's Single Barrel Tennessee Whiskey, Jack Daniel's Tennessee Honey, Jack Daniel's Tennessee Whiskey-Based Ready-to-Drink Beverages and Jack Daniel's Country Cocktails.
About Jägermeister:
Jägermeister, which translates to "master hunter," is the #1 selling imported liqueur in the United States and one of the top shot brands in the world. The full-bodied flavor of Jägermeister, which includes cinnamon, star anise, ginger, orange and cardamom is a result of a lengthy maceration to extract aromatic compounds from a closely guarded recipe of 56 herbs, roots, blossoms and fruits, plus aging in oak casks for one year. The production process is exacting and includes sourcing the ingredients in their raw, unprocessed form, along with 383 quality checks to ensure its iconic taste profile. Jägermeister Liqueur is 35% Alc. /Vol. and imported exclusively by Sidney Frank Importing Company, Inc., New Rochelle, NY. Visit www.jager.com or www.facebook.com/JagerUSA for additional information. DRINK RESPONSIBLY
About Ernie Ball:
In 1962, veteran player and teacher Ernie Ball created Slinkys®, the iconic light gauge electric guitar strings widely revered by hundreds of guitar greats including Jimi Hendrix, Eric Clapton, Keith Richards, Jimmy Page, The Edge and John Mayer. In addition to hand crafting high-end Music Man® guitars and basses, Ernie Ball Inc. offers state-of-the-art instrument accessories that are carried in more than 6,000 stores in the U.S. and 110 countries worldwide. The family-run company maintains its founder's dedication to preserving the musician's playing experience and delivering superior sound quality through the development of new products, such as the revolutionary Element Shield Packaging which hermetically seals guitar strings keeping each set as fresh as the day they were made. The company also fosters artist development through musician-focused programs such as the Golden Pick promotion featuring Slash and Eric Clapton, and the world's largest and longest running Battle of the Bands, where unsigned bands compete each year for the chance to play on multiple tours and win tons of prizes. Visit them online at www.ernieball.com and www.battleofthebands.com.