Date: January 6, 2014
From: Kristine Ashton-Magnuson
LIMITED NUMBER OF CABINS
RELEASED FOR SHIPROCKED 2014;
CRUISE SAILS ROUNDTRIP FROM PORT OF MIAMI TO THE BAHAMAS JANUARY 26-30;

TREMONTI AND BLACK STONE CHERRY
ADDED TO BAND LINEUP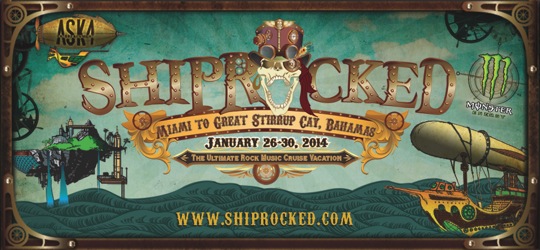 For those looking to join the sold-out ShipRocked 2014, a limited number of staterooms have been released. The ultimate rock music cruise vacation sails roundtrip from the Port Of Miami to Great Stirrup Cay in the Bahamas from January 26-30 onboard the Norwegian Pearl. The remaining cabins are available on a first come first served basis at www.ShipRocked.com.
In addition, Tremonti (featuring Grammy Award winning guitarist Mark Tremonti), ShipRocked 2010 alumni Black Stone Cherry, and DJ Lippy Rage from Tulsa (spinning late-night) have been added to the power-packed ShipRocked bill.
The ShipRocked bill now includes headliners Five Finger Death Punch, along with Papa Roach, Three Days Grace, Sevendust, Candlebox, In This Moment, The Halo Method, Living Colour, Tremonti, Black Stone Cherry, Nonpoint, Love & Death (with Brian "Head" Welch), Aranda, Art of Dying, Young Guns, Crash Kings, Butcher Babies, Scorpion Child, Wilson, American Fangs, Digital Summer, and Andy Wood & The Amalgam.
ShipRocked will also feature two heavy metal-infused frenetic comedy performances from comedian and Saturday Night Live alum Jim Breuer, known for his impersonations of Metallica, Ozzy Osbourne and AC/DC. The 5-day ShipRocked cruise—fueled by Monster Energy—will include a special onboard DJ set by Neil Sanderson of Three Days Grace and a comedy set from Big Jay Oakerson. Rock and roll dance troupe Hells Belles Burlesque (www.hellsbellesburlesque.com) is slated for a pair of performances, and will be offering burlesque workshops during the cruise. In addition, Fuse TV's "Mistress Juliya" Chernetsky will join Kayla Riley of SiriusXM Radio and Ralph Sutton of Tour Bus Radio as guest emcees for ShipRocked 2014.
As in the past, ShipRocked guests will enjoy multiple performances from every band on different stages, artist meet and greets, Q&A sessions, along with artist-hosted activities including contests, game shows, insane parties, theme nights and more. Onboard, bands will perform on the large outdoor Monster Energy Deck Stage, in the beautiful Stardust Theater, the Crystal Atrium stage, and the Spinnaker Lounge. While in port at Great Stirrup Cay, guests will enjoy unforgettable performances on the island's Beach Stage.
The fifth ShipRocked cruise will host a full ship of nearly 3,000 guests from 44 states across the U.S. and almost a dozen countries around the world.
---
About ShipRocked
The ultimate rock music cruise vacation is produced by Alan Koenig of ASK4 Entertainment and celebrates its fifth year in 2014. The 2012 cruise featured a full ship of nearly 2,500 guests and the onboard Cancer Sucks charity auction raised over $70,000 towards funding innovative medical research and finding a cure for cancer. Each ShipRocked is a once-in-a-lifetime experience that provides guests with the opportunity to vacation with their favorite bands, meet new friends, and reunite with old friends year after year. On any given day, guests might find themselves dining, drinking, rocking out, swimming, working out, or gambling alongside their favorite rock musicians. The full-ship charter provides a one-of-a-kind experience for guests to have the time of their life with thousands of like-minded friends. Previous ShipRocked performers include: Godsmack, Korn, Five Finger Death Punch, Buckcherry, Geoff Tate, Queensrÿche, Fuel, Vince Neil, Helmet, Hinder, P.O.D., Hellyeah, Sevendust, Skid Row, Candlebox, Drowning Pool, 10 Years, Filter, Pop Evil, Lit, Black Stone Cherry, Another Animal, In This Moment, and many more.
www.ShipRocked.com