Date: February 6, 2014
From: Kristine Ashton-Magnuson
SHIPROCKED 2014
WRAPS FOUR DAY ULTIMATE ROCK MUSIC CRUISE VACATION
WITH NEARLY 3,000 GUESTS ALONG WITH
HEADLINERS FIVE FINGER DEATH PUNCH,
AND PAPA ROACH, THREE DAYS GRACE,
SEVENDUST, AND MORE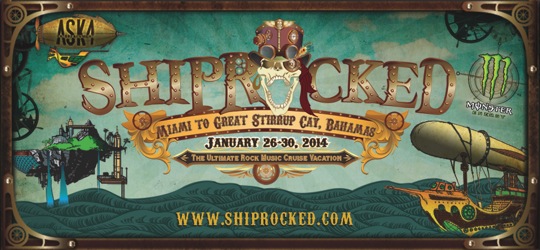 ShipRocked 2014—the ultimate rock music cruise vacation—set sail from the Port of Miami on January 26 with a thunderous performance from headliners Five Finger Death Punch, and returned January 30 to the sounds of an epic all-star jam which lasted into the early morning hours. During the trip, nearly 3,000 fans were treated to more than 50 performances from 25 artists on six stages aboard the Norwegian Pearl—and on the spectacular beach stage of Great Stirrup Cay in the Bahamas—along with three days of meet-and-greets with ShipRocked artists, comedy and DJ sets, impromptu stage-side signings, and more.
Based on this year's overwhelming success, plans are in progress for next year's ShipRocked cruise from the Port Of Miami — with dates to be announced soon for the early 2015 cruise onboard the Norwegian Pearl. In fact, over 600 cabins were already pre-booked by on-board guests during SR14.
On the last day of ShipRocked 2014, the Cancer Sucks! onboard charity auction raised over $100,000 towards funding innovative medical research and finding a cure for cancer. Auction items included one-of-a-kind rock memorabilia and concert experiences.
The final night of ShipRocked culminated with a once-in-a-lifetime all-star jam hosted by Tour Bus Radio's Ralph Sutton that highlighted the camaraderie among artists. Anchored by Andy Wood & The Amalgam, guest performers included members of ShipRocked bands Candlebox, Living Colour, The Halo Method, Nonpoint, Aranda, Art of Dying, Crash Kings, Butcher Babies, and Wilson, as well as special appearances from Carly Smithson (We Are The Fallen), Metal Mike (Halford), No Fun Intended, and Tour Bus Radio's Melissa Krahnke.
Guests from 44 states across the U.S. and almost a dozen countries around the world came together on ShipRocked—fueled by Monster Energy—to watch performances from headliners Five Finger Death Punch, along with Papa Roach, Three Days Grace, Sevendust, Candlebox, In This Moment, The Halo Method, Living Colour, comedian and Saturday Night Live alum Jim Breuer, Tremonti, Black Stone Cherry, Nonpoint, Love & Death (with Brian "Head" Welch), Aranda, Art of Dying, Young Guns, Crash Kings, Butcher Babies, comedian Big Jay Oakerson, Scorpion Child, Wilson, American Fangs, rock & roll dance troupe Hells Belles Burlesque, Digital Summer, and Andy Wood & The Amalgam.
Here's what the press are saying about their experience on ShipRocked 2014:
"a four-day, nonstop rock 'n' roll extravaganza…the excursion lived up to all expectations of rocking the high seas…one of the big advantages to ShipRocked is allowing fans these up close and personal performances (we're talking literally face to face and eye-level with the band), the kind of performances you won't catch anywhere else. It's this energy that lends itself to the overwhelming positive vibe aboard the rock boat…the ShipRocked family is a warm and welcoming [one] and the community they have fostered throughout the years is a strong and passionate one. The positive vibes were palpable, just a genuine feeling of being among people that love music as much as you do is a special one. It's easy to see why music fans find themselves coming back year after year for this overwhelming experience."

—Mary Ouellette, Loudwire.com, February 3, 2014

"It is hard to imagine a more enjoyable trip…Five Finger Death Punch took the deck stage on the Norwegian Pearl in the late afternoon sun as the ship departed and delivered a brilliant show to set the tone for the 4 night rock & roll fantasy cruise, follow by a VIP only acoustic show from Candlebox in a bar on the scenic 13th floor bow of the ship and Three Days Grace playing in the ship's 1250 Theater…All the work I did on board was great, seeing the shows was also amazing, but spending time with the bands was the absolute best."

—Steve Black, Chop Shop Radio, February 3, 2014

"With numerous stages spread out across the ship, multiple restaurants and activities to do, there was never a dull moment on the Norwegian Pearl."

—Liz Ramanand, Noisecreep.com, February 3, 2014
---
About ShipRocked
The ultimate rock music cruise vacation is produced by Alan Koenig of ASK4 Entertainment and celebrated its fifth year in 2014. The 2012 cruise featured a full ship of nearly 2,500 guests and the onboard Cancer Sucks charity auction raised over $70,000 towards funding innovative medical research and finding a cure for cancer. Each ShipRocked is a once-in-a-lifetime experience that provides guests with the opportunity to vacation with their favorite bands, meet new friends, and reunite with old friends year after year. On any given day, guests might find themselves dining, drinking, rocking out, swimming, working out, or gambling alongside their favorite rock musicians. The full-ship charter provides a one-of-a-kind experience for guests to have the time of their life with thousands of like-minded friends. Previous ShipRocked performers include: Godsmack, Korn, Five Finger Death Punch, Buckcherry, Geoff Tate, Queensrÿche, Fuel, Vince Neil, Helmet, Hinder, P.O.D., Hellyeah, Sevendust, Skid Row, Candlebox, Drowning Pool, 10 Years, Filter, Pop Evil, Lit, Black Stone Cherry, Another Animal, In This Moment, and many more.
www.ShipRocked.com