Date: April 11, 2014
From: Kristine Ashton-Magnuson
MONSTER ENERGY'S FORT ROCK
BAND PERFORMANCE TIMES REVEALED
FOR SOUTHWEST FLORIDA'S BIGGEST ROCK FESTIVAL
SATURDAY, APRIL 26 AT JETBLUE PARK IN FORT MYERS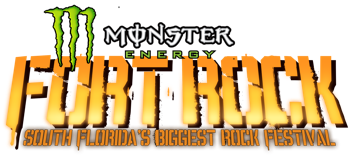 The band performance times have been revealed for Monster Energy's Fort Rock—Southwest Florida's biggest rock festival—which returns to JetBlue Park in Fort Myers, Florida for its second year on Saturday, April 26 with a stellar rock lineup featuring co-headlining superstars Korn, Rob Zombie, and Five Finger Death Punch, along with many others.
Rob Zombie says, "Florida always rocks. So we are all getting ready for Fort Rock. This will be a nasty, sweaty, dirty Zombie party…in other words: epic."
Performance times are as follows (subject to change):
Saturday, April 26

Monster Energy Main Stage
| | |
| --- | --- |
| 1:15 PM | Nothing More |
| 2:30 PM | Sick Puppies |
| 3:45 PM | Theory of a Deadman |
| 5:10 PM | Seether |
| 6:45 PM | Five Finger Death Punch |
| 8:30 PM | Korn |
| 9:50 PM | Rob Zombie |
Jägermeister Stage
| | |
| --- | --- |
| 11:20 AM | Bellusira (Reverbnation Winner) |
| 12:00 PM | Within Reason |
| 12:40 PM | Twelve Foot Ninja |
| 1:55 PM | Kyng |
| 3:10 PM | Lacuna Coil |
| 4:25 PM | Pretty Reckless |
| 6:00 PM | Trivium |
| 7:40 PM | Black Stone Cherry |
Regularly priced General Admission and VIP tickets for Monster Energy's Fort Rock are on sale now at www.FortRockFestival.com and all Ticketmaster outlets. Visit www.FortRockFestival.com for full details.
Monster Energy's Fort Rock is part of the Florida kickoff—along with Monster Energy's Welcome To Rockville in Jacksonville—of the World's Loudest Month festival series. The World's Loudest Month was created in partnership by AEG Live and Danny Wimmer Presents and features the biggest names in rock music performing in six distinct concert atmospheres across the country on five consecutive weekends.
JetBlue Park is the spring training home of the 2013 World Champion Boston Red Sox, located at 11500 Fenway South Drive in Fort Myers, Florida.
Monster Energy's Fort Rock is proud to be sponsored by Monster Energy, Jack Daniel's, Jägermeister, and f.y.e.
(festival map)
---
About Danny Wimmer Presents
Since 1995, DWP has created, developed and produced events from the club level to some of the largest North American festivals. Founded by industry veteran Danny Wimmer, DWP produces some of the largest festivals in the rock and alternative landscapes. Never satisfied with the status quo, Danny Wimmer Presents strives to create memorable and fulfilling concert experiences leaving both consumers and partners with lasting and meaningful impressions.
About AEG Live
AEG Live, the live-entertainment division of Los Angeles-based AEG, is dedicated to all aspects of live contemporary music performance. AEG Live is comprised of touring, festival, broadcast, merchandise and special event divisions, fifteen regional offices and owns, operates or exclusively books thirty-five state-of-the-art venues. AEG Live is also the largest producer of music festivals in North America from the critically acclaimed Coachella Valley Music & Arts Festival, Stagecoach Country Music Festival and New Orleans Jazz & Heritage Festival to Carolina Rebellion, Rocklahoma, MoPop Music & Arts Festival and more.
www.aeglive.com
About Monster Energy
Most companies spend their money on ad agencies, TV commercials, radio spots, and billboards to tell you how good their products are. At Monster Energy, we chose none of the above. Instead we support the scene, our bands, our athletes and our fans. We back athletes so they can make a career out of their passion. We promote concert tours, so our favorite bands can visit your hometown. We celebrate with our fans and riders by throwing parties and making the coolest events we can think of a reality.
www.monsterenergy.com
About Jack Daniel's
Officially registered by the U.S. Government in 1866 and based in Lynchburg, Tenn., the Jack Daniel Distillery, Lem Motlow, proprietor, is the oldest registered distillery in the United States and is on the National Register of Historic Places. Jack Daniel's is the maker of the world-famous Jack Daniel's Old No. 7 Tennessee Whiskey, Gentleman Jack Rare Tennessee Whiskey, Jack Daniel's Single Barrel Tennessee Whiskey, Jack Daniel's Tennessee Honey, Jack Daniel's Tennessee Whiskey-Based Ready-to-Drink Beverages and Jack Daniel's Country Cocktails.
About Jägermeister
Jägermeister, which translates to "master hunter," is the #1 selling imported liqueur in the United States and one of the top shot brands in the world. The full-bodied flavor of Jägermeister, which includes cinnamon, star anise, ginger, orange and cardamom, is a result of a lengthy maceration to extract aromatic compounds from a closely guarded recipe of 56 herbs, roots, blossoms and fruits, plus aging in oak casks for one year. The production process is exacting and includes sourcing the ingredients in their raw, unprocessed form, along with 383 quality checks to ensure its iconic taste profile. Jägermeister Liqueur is 35% Alc. /Vol. and imported exclusively by Sidney Frank Importing Company, Inc., New Rochelle, NY. Visit www.jager.com or www.facebook.com/JagerUSA for additional information. DRINK RESPONSIBLY
About f.y.e.
Trans World Entertainment Corporation is a leading specialty retailer of entertainment products, including video, music, trend, electronics, video games and related products. The Company operates retail stores in the United States, the District of Columbia and Puerto Rico, primarily under the names f.y.e. for your entertainment and Suncoast and on the web at www.fye.com, www.warehouse.com and www.secondspin.com. Trans World Entertainment, which established itself as a public company in 1986, is traded on the Nasdaq National Market under the symbol "TWMC."
Monster Energy's Fort Rock Publicity Contact
Kristine Ashton-Magnuson/Ashton-Magnuson Media
kristine@am-media.net
(818) 996-2496
Monster Energy's Fort Rock Marketing, Media & Sponsorship Contact
Clay Busch/Arms Division
clay@armsdivision.com