Date: June 3, 2014
From: Kristine Ashton-Magnuson
MOTÖRHEAD'S MOTÖRBOAT
TESTAMENT, DOWN, HIGH ON FIRE, AND KILL DEVIL HILL
ADDED TO LINEUP ALREADY FEATURING
MEGADETH, MOTÖRHEAD,
ANTHRAX, ZAKK WYLDE & MORE

'THE LOUDEST BOAT IN THE WORLD'
SAILS FROM MIAMI TO KEY WEST AND COZUMEL
SEPTEMBER 22-26
ONBOARD CARNIVAL ECSTASY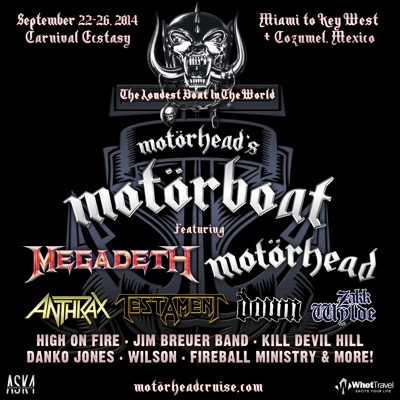 The first annual Motörhead's Motörboat, featuring three of the greatest heavy metal bands in the world—Megadeth, Motörhead, and Anthrax—has announced additions to the band lineup for the September 22-26, 2014 cruise on the Carnival Ecstasy.
Testament, Down (featuring Philip Anselmo), High On Fire, and Kill Devil Hill (featuring Rex Brown) will join Megadeth, Motörhead, Anthrax, Zakk Wylde, Jim Breuer Band, Danko Jones, Fireball Ministry, and Wilson on "The Loudest Boat In The World."
Motörhead's Motörboat will sail from Miami, visiting the ports of Key West, Florida and Cozumel just off Mexico's Yucatan Peninsula. While onboard, guests will have a once-in-a-lifetime opportunity to interact with band members and will see unforgettable performances on various stages throughout the ship.
Tickets for Motörhead's Motörboat are on sale now at www.MotorheadCruise.com.
The Carnival Ecstasy, which recently underwent a multi-million dollar refurbishment, features a tropical-themed resort-style main pool area, multiple dining options (including a 24-hour pizzeria), 12,000-square-foot Spa Carnival health club, a jogging track, as well as 12 lounges, bars and nightspots.
www.MotorheadCruise.com
---
About ASK4 Entertainment
ASK4 Entertainment is a premiere rock music theme cruise and destination event producer. In addition to Motörhead's Motörboat, ASK4 Entertainment also produces ShipRocked, the ultimate rock music cruise vacation, as well as the ShipRocked Summer Camp land event. Previous ShipRocked performers include: Godsmack, Korn, Five Finger Death Punch, Papa Roach, Three Days Grace, In This Moment, Living Colour, Sevendust, Candlebox, Geoff Tate, Queensrÿche, Helmet, P.O.D., Filter, The Halo Method, and many more.
www.ShipRocked.com
www.facebook.com/ASK4Entertainment
About Whet Travel Inc.
Whet = EXCITEMENT! Whet Travel is a 9-year-old progressive travel company that was formed to meet the unique travel needs of music charters, large groups and young professionals. Whet Travel is the producer of The Groove Cruise—"The World's Largest Floating Dance Music Festival," the Aventura Dance Cruise—"The World's Largest Latin Dance Cruise," and the Zen Cruise—"A Transformational Journey at Sea." Whet Travel sells cruises, vacation packages, and all inclusive resorts around the world with a focus on large affinity, theme, corporate and music groups.
WhetTravel.com