Date: June 5, 2014
From: Kristine Ashton-Magnuson
WORLD'S LOUDEST MONTH 2014:
FIVE WEEKENDS OF SOLD OUT SHOWS
RECORD-SETTING ATTENDANCE
AND NONSTOP ROCK
OVER 368,000 TOTAL FANS TURN OUT FOR
FORT ROCK, WELCOME TO ROCKVILLE,
CAROLINA REBELLION, ROCK ON THE RANGE,
RIVER CITY ROCKFEST, ROCKLAHOMA AND ROCKFEST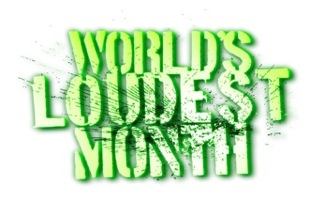 Over 368,000 fans turned out for rock festivals on five weekends across the nation as part of the World's Loudest Month, from April 26-May 31, 2014.
Created in partnership by AEG Live, Danny Wimmer Presents and Rockhouse Presents, the World's Loudest Month features the biggest names in rock music performing in seven distinct U.S. concert atmospheres over five weekends in April and May. More than 150 bands performed at Monster Energy's Fort Rock, Monster Energy's Welcome To Rockville, Monster Energy's Carolina Rebellion, Rock On The Range, River City RockFest, Rocklahoma, and Rockfest, proving that the hunger for rock and metal music in America is growing.
2014 marked the addition of Monster Energy's Fort Rock in Fort Myers, FL and River City RockFest in San Antonio, TX to the World's Loudest Month festival series — and saw new attendance highs set at all of its returning festivals.
"The attendance numbers continue to astound us," commented AEG Live's Joe Litvag, co-executive producer of five of the seven WLM festivals. "While the rock radio format continues to shrink and most of the major record labels have pretty much given up on developing real rock bands for the time being, the appetite for actual 'guitar driven,' heavier music continues to grow. These festivals have become a tremendous outlet for the bands to get the exposure they need to build a loyal audience and for the hard rock fans to experience a large number of artists for a reasonable price. We think we've only scratched the surface and will grow even more in 2015."
Here are some highlights from the 2014 World's Loudest Month festivals:
The World's Loudest Month mobile app (available via iTunes and Android), features all festival information, the latest rock news, exclusive songs from current and previous WLM bands, and more.
Monster Energy is the official sponsor of the World's Loudest Month for the second year in a row. Additional 2014 partnerships include Jägermeister, Jack Daniel's and Ernie Ball. The World's Loudest Month also works with Revolver to bring readers exclusive news, interviews and photos of all the festivals.
---
For more information about the World's Loudest Month, please contact:
Kristine Ashton-Magnuson, Ashton-Magnuson Media
kristine@am-media.net; (818) 996-2496
Chamie McCurry, AEG Live
Chamie@aeglive.com; (314) 726-8026
About Danny Wimmer Presents
Since 1993, DWP has created, developed and produced events from the club level to some of the largest North American festivals. Founded by industry veteran Danny Wimmer, DWP produces some of the largest festivals in the rock and alternative landscapes. Never satisfied with the status quo, Danny Wimmer Presents strives to create memorable and fulfilling concert experiences leaving both consumers and partners with lasting and meaningful impressions.
About AEG Live
AEG Live, the live-entertainment division of Los Angeles-based AEG, is dedicated to all aspects of live contemporary music performance. AEG Live is comprised of touring, festival, broadcast, merchandise and special event divisions, fifteen regional offices, and owns, operates or exclusively books thirty-five state-of-the-art venues. The current and recent concert tour roster includes artists such as Alicia Keys, American Idols, Bon Jovi, Carrie Underwood, Daughtry, Enrique Iglesias, Jennifer Lopez, Justin Bieber, Kenny Chesney, Leonard Cohen, Paul McCartney, Taylor Swift, The WHO, Trey Songz and Juanes. The company is also currently producing residency shows at The Colosseum at Caesars Palace in Las Vegas including Celine Dion, Rod Stewart and Shania Twain and is the exclusive promoter at The Joint at Hard Rock Hotel & Casino Las Vegas. AEG Live is also the largest producer of music festivals in North America from the critically acclaimed Coachella Valley Music & Arts Festival to Stagecoach Country Music Festival and New Orleans Jazz & Heritage Festival.
www.aeglive.com