Date: June 17, 2014
From: Kristine Ashton-Magnuson
2014 ROCKSTAR ENERGY UPROAR FESTIVAL
WILL FEATURE HEADLINERS GODSMACK
ALONG WITH SEETHER, SKILLET, BUCKCHERRY,
POP EVIL, ESCAPE THE FATE, REDLIGHT KING,
3 YEARS HOLLOW, WITHIN REASON, NEW MEDICINE,
SONS OF REVELRY, SUICIDEGIRLS AND MORE

FESTIVAL KICKS OFF AUGUST 15 IN DETROIT, MI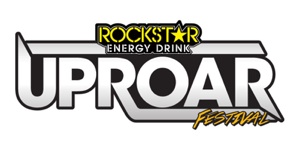 The Rockstar Energy UPROAR Festival kicks off year five on August 15 in Detroit with a powerful lineup that includes multiplatinum mainstage bands Godsmack and Seether, along with Skillet, Buckcherry, Pop Evil, Escape The Fate, Redlight King, 3 Years Hollow, Within Reason, New Medicine, Sons of Revelry (2013 UPROAR Battle Of The Bands Winner), SuicideGirls burlesque show, These Raven Skies, and Tattered. As part of the 2013 UPROAR Battle Of The Bands grand prize package, winners Sons Of Revelry will perform on the UPROAR Festival Stage for the entire five week trek.
Initial tour dates are listed below, and additional tour dates for the August 15-September 21 trek will be announced soon. Visit www.RockstarUPROAR.com for the most current festival information.
21st century hard rock titans Godsmack have sold over 20 million records worldwide. The band's new smash single "1000hp" recently debuted at #1 on the iTunes Rock chart and it's already Top 10 on the Active Rock radio chart in its first week. Godsmack will release their sixth full length album 1000hp on August 5. Frontman and founder Sully Erna says, "UPROAR Festival has been a long part of Godsmack's history; we can't wait to get out with some of our longtime friends and play our new music for our fans."
Multi-platinum alternative rock trio Seether will release their highly anticipated, sixth studio album Isolate And Medicate on July 1 via The Bicycle Music Company/Concord Music Group. The album features the ferocious first single "Words As Weapons." Seether says, "We're looking forward to heading back out and rocking some faces off on this year's Rockstar Energy UPROAR Festival!"
"We're excited to welcome UPROAR veterans Godsmack, Seether, Escape The Fate and Redlight King back for another year and also can't wait to hit the road with all the other amazing rock bands joining us for the first time. We look forward to creating an incredible UPROAR experience for rock fans in every city we visit," say festival producers John Oakes and John Reese.
Check out a promo video for the Rockstar Energy UPROAR Festival which includes an appearance from Sully Erna from Godsmack here: http://youtu.be/G3h3Guru50Q.
Tickets for most Rockstar Energy UPROAR Festival shows listed below go on sale this Friday, June 20. Go to www.RockstarUPROAR.com for full details and to purchase tickets.
For the first 72 hours after tickets go on sale for each show, Godsmack and the Rockstar Energy UPROAR Festival are offering a ticket upgrade option exclusively through Ticketmaster. During this time period, those who buy a ticket for the festival via www.RockstarUPROAR.com can also pre-order the new Godsmack digital album 1000hp (out August 5) for only $7.99, and will receive Godsmack's brand new "1000hp" single as an early track.
The Rockstar Energy UPROAR Festival will entertain fans for a full afternoon and evening, with performances from the hottest rock bands on the UPROAR Main Stage and Festival Stage, along with a concourse midway featuring band autograph signings, vendors and other activities.
Since its inception in 2010, the Rockstar Energy UPROAR Festival continues to receive widespread praise from the media. Here's a sample of what the press have said:
"one of the most anticipated tours of the summer for rock fans"

—Mary Ouellette, Loudwire.com, August 13, 2013

"A juggernaut of a summer tour illuminating that rock 'n' roll is alive and well"

—Rick Florino, ARTISTdirect.com, September 19, 2013

"the best tour of the year"

—Brandon Veal, Examiner.com, September 19, 2012

"a dream lineup for hard rock fans"

—Paige Montgomery, Denver Post, October 6, 2011

"one of the most electric tours of the year"

—Revolver, September/October 2010
The current Rockstar Energy UPROAR Festival tour dates are as follows:
Date
Market
Venue
Friday 8/15
Clarkston, MI
DTE Energy Music Theatre #
Saturday 8/16
Peru, IL
Illinois Valley Regional Airport † ◊
Sunday 8/17
Cincinnati, OH
PNC Pavilion at Riverbend *
Friday 8/22
Syracuse, NY
New York State Fairgrounds # *
Sunday 8/24
Noblesville, IN
Klipsch Music Center
Tuesday 8/26
Camden, NJ
Susquehanna Bank Center
Wednesday 8/27
Gilford, NH
Meadowbrook Pavilion
Friday 8/29
Simpsonville, SC
Charter Amphitheater
Saturday 8/30
Tampa, FL
MidFlorida Credit Union Amphitheatre ◊
Tuesday 9/2
Grand Prairie, TX
Verizon Theatre at Grand Prairie
Wednesday 9/3
Corpus Christi, TX
Concrete Street Amphitheater
Friday 9/5
Bonner Springs, KS
Cricket Wireless Amphitheater
Sunday 9/7
Oklahoma City, OK
Zoo Amphitheatre
Tuesday 9/9
Denver, CO
1STBANK Center ⊗ ♠ ♦ ‡ ♣
Thursday 9/11
Post Falls, ID
Greyhound Park *


(KHTQ presents Rock Hard At The Park Powered By Rockstar Energy Drink)

Friday 9/12
Auburn, WA
White River Amphitheatre * ◊ ♥ ‡ ♣


(KISW's Pain In The Grass)

#

Buckcherry

will not be performing at this show
⊗

Escape The Fate

will not be performing at this show
†

Pop Evil

will not be performing at this show
♠

Redlight King

will not be performing at this show
*

Seether

will not be performing at this show
◊

Skillet

will not be performing at this show
♦

Sons Of Revelry

will not be performing at this show
♥

SuicideGirls

will not be performing at this show
‡

Tattered

will not be performing at this show
♣

These Raven Skies

will not be performing at this show

Note:

3 Years Hollow

will be performing on dates from August 15-26

Within Reason

will be performing on dates from August 27-September 9

New Medicine

will be performing on dates from September 11-21
The Rockstar Energy UPROAR Festival is made possible through the support of sponsors including Rockstar Energy Drink, Blackstream Records, Yamaha Motorcycles, COLDCOCK Herbal Whiskey, Rockford Fosgate, MATADOR Beef Jerky, F*ck Cancer, and UNKNOWN Industries.
---
About Godsmack
Godsmack stand strong as 21st century hard rock titans. With an unbreakable spirit and diehard work ethic evocative of their hometown, the Boston quartet consists of Sully Erna (vocals), Shannon Larkin (drums), Robbie Merril (bass), and Tony Rombola (lead guitar). To date, they've notched a staggering six #1 singles at mainstream rock radio, including "Awake," "Straight Out of Line," "Cryin' Like A Bitch," and "I Stand Alone." Moreover, they've enjoyed 20 Top 10 hits at the format—the most of any act since February 1999—as well as four GRAMMY® nominations, and were winners of Billboard Music Awards' Rock Artist of the Year in 2001. Selling over 20 million records worldwide, the band has also unleashed three consecutive albums at #1 on the Billboard Top 200—namely Faceless [2003], IV [2006], and The Oracle. Godsmack's domination continues with the release of their new smash single "1000hp," which debuted #1 on the iTunes Rock chart, and upcoming release of their sixth full length album 1000hp on August 5th.
www.godsmack.com
About Seether
Since their formation in 1999, Seether (Shaun Morgan — vocals/guitar, Dale Stewart — bass/vocals, and John Humphrey — drums) have become one of the most successful bands in the world. The hard rocking trio from Pretoria, South Africa has released seven albums, two of which have gone Platinum and two more that are certified Gold, along with a live concert DVD that has sold over 500,000 units, for total worldwide sales in excess of 4.5 million. The consistent hit makers have quietly amassed eleven #1 singles — seventeen Top 5 multi-format hits — resulting in singles sales that top seven million, a level of success few artists working today can match. With over 77 million YouTube/Vevo views and four million Facebook fans, Seether's powerful online presence is solid proof of their hard won, fiercely loyal worldwide fan base. Seether's sixth studio album, Isolate and Medicate will be released on July 1, 2014.
www.seether.com
About Skillet
Over the course of the past few years, GRAMMY® nominated and platinum selling rock band Skillet has sold more than two million units in the U.S., racked up more than 160 million YouTube views and amassed a diehard following (dubbed Panheads) whose members number over five million on Facebook alone. Their 2013 release RISE debuted at No. 4 on the Billboard 200 and No. 1 on the Billboard Rock and Christian charts, which led to No. 1 radio hits for "American Noise," "Not Gonna Die" and "Sick Of It." RISE also gave Skillet their late night television debut on Conan. RISE follows the band's 2009 blockbuster Awake, which was certified platinum for sales in excess of one million copies in the U.S. and debuted at No. 2 on the Billboard 200. In addition, the record hit No. 1 on the iTunes Top Albums Chart, garnered three Billboard Music Awards and spawned four hit singles including the No. 1 Active Rock smash and gold-certified "Awake & Alive," the gold-certified "Hero," "It's Not Me It's You" and the platinum-certified "Monster." "Monster" lived up to its name, selling more than a million copies and hitting Top 5 at Active Rock radio (the first in a string of multiple Top 5 active rock hits), while its companion video has generated over 69 million YouTube views. Skillet was the only active rock band to achieve RIAA Platinum Certification in 2012, and was one of only three rock bands (the other two being Mumford & Sons and The Black Keys) to strike platinum in 2012. Skillet is made up of John Cooper, Korey Cooper, Jen Ledger and Seth Morrison.
www.skillet.com
About Buckcherry
Buckcherry—Josh Todd (vocals), Keith Nelson (guitar), Stevie D. (guitar), Xavier Muriel (drums), Kelly LeMieux (bass)—are one of the premier rock bands of the new millennium, having sold more than three million records in America alone and touring virtually non-stop, playing with everyone from AC/DC to Avenged Sevenfold, touring sold-out arenas alongside Nickelback and KISS, and headlining festivals ranging from the punk rock Ink-N-Iron (also featuring the Misfits and Pennywise) to Sturgis. Radio staples "Lit Up," "Crazy Bitch" and "Sorry" have cemented the band as one of the most identifiable and sought-after bands on the radio and the live circuits. The band will release their new EP Fuck in August.
www.buckcherry.com
About Pop Evil
Pop Evil represents the American Dream. Raised in the heartland, driven by uncompromising passion and goals, self-made from their bootstraps and energized by diverse cultural and ethnic backgrounds, Pop Evil—Leigh Kakaty (lead vocals), Nick Fuelling (lead guitar), Dave Grahs (rhythm guitar), Matt DiRito (bass) and Chachi Riot (drums)—has used muscle and sweat to put their musical vision into the hearts and minds of hard rock lovers worldwide. After three number one songs at rock radio, one million digital singles sold and over 1,000 shows a few short years into their impressive career, Pop Evil is a swaggering, fist-pumping, ball-busting ride through American rock. The grandiose melody of the '70s, the danger of the '80s, the emotion of the '90s and the loudest of modern riffs all have a home in Pop Evil, who fashion a fresh sound that looks to the future through the prism of rock's past. Pop Evil songs are heard on ESPN, ABC, FOX and other networks. Sports teams like the Anaheim Ducks, New Jersey Devils, Boston Bruins, and their very own Detroit Red Wings, Tigers and Michigan Wolverines bang their anthems over the loudspeakers. Pop Evil doesn't take anything for granted. They know their listeners are open-minded but that they also have a lot of choices. They want to be challenged. They want to be inspired. That's why the band works hard to create music that stands out.
www.popevil.com
About Escape The Fate
Escape the Fate's fourth studio recording and first for Eleven Seven Music has been the band's most successful album to date. Ungrateful debuted #1 on the iTunes Rock Charts, and #14 on iTunes overall. Their first hit single "You're Insane" broke the Top 20 in Active Rock radio, and their recent single "One for the Money" peaked at #11. Loudwire describes "One for the Money" as a "…perfect balance of aggressive and melodic vocals with a chorus that is bound to get stuck in your head." The band's current line up of Craig Mabbitt, Robert Ortiz, Kevin "Thrasher" Gruft and TJ Bell have been stunning audiences with their rendition of their new single, "Picture Perfect" and their new album live. In addition to much fanfare, the band impressed critics — Rock Sound magazine described Ungrateful as full of, "…solid grooves and renowned catchy sing-along choruses." OUTBURN Magazine remarked, "Ungrateful is a marauding alt-metal manifesto." AbsolutePunk.net says of Escape The Fate "…they're a band all their own, and they're a force to be reckoned with." In addition to those accolades, Escape the Fate has been featured in Billboard, Pollstar, Fuse, Revolver, Alternative Press, and much more.
www.EscapeTheFate.com
About Redlight King
In September, Redlight King released their sophomore album, Irons In The Fire, which showcases the super-dynamic sonic and stylistic recipe that first established the L.A.-based unit as a potent new force in the alternative rock arena. The sound is grittier, the guitars crunchier and the songs razor-sharp, full of angst and rebellion. "Born To Rise," the first single off the album, hit #6 on the iTunes Rock Songs chart within minutes of release, while their last single "Times Are Hard" went top 15 at active rock radio, paving the way for their third single, the guitar-heavy "Devil's Dance." Originally from Hamilton, ONT, Redlight King made their U.S. debut with Something For The Pain in 2011, landing #3 on Billboard's Heatseeker chart and #10 on iTunes Rock album chart, while their song "Old Man" was the 13th most played song at Alternative Radio that year. Performances on Conan and The Tonight Show with Jay Leno followed. In 2012, Redlight King released the scorching rock anthem "Bullet In My Hand," which immediately shot up to #3 on the active rock radio charts, while their song "Comeback" was featured on Avengers Assemble, the musical companion to the mega-hit film The Avengers. Live, the band has wowed fans and critics alike with their incendiary performance and anthemic songs, having already toured with AWOLnation, Shinedown, Halestorm, Sick Puppies, Seether and performing at some of rock's biggest festivals including Carolina Rebellion, Rock on The Range, Rocklahoma, Summerfest and the Rockstar Energy UPROAR Festival.
http://redlightkingmusic.com
About 3 Years Hollow
Merging intensity with melody, 3 Years Hollow is causing quite a buzz with their latest release, The Cracks. Comprised of Jose Urquiza (vocals), Tony Reeves (guitar), Neil Kuhlman (guitar), Dex Digga (bass), and Chris Cushman (drums), 3 Years Hollow enlisted Sevendust guitarist/songwriter Clint Lowery to handle production duties on the twelve-track album which debuted at #23 on the Heatseekers Chart in Billboard Magazine, and is the group's first for Imagen Records. And as heard on such standout tracks as "Remember" (which hit #1 on Sirius XM's Octane) and "Chemical Ride" (whose video has attracted nearly 450,000 YouTube views), 3 Years Hollow is primed and ready for their slot on this year's Rockstar Energy UPROAR Festival.
www.3yearshollow.com
About Within Reason
Linkin Park has nothing on Birmingham, Alabama-based rockers Within Reason. The burgeoning quartet's hard-hitting hooks and gritty live performances consistently leave audiences in a satisfied flop sweat. As debut single "Enemy" catapults up the Active Rock radio airplay chart, the band—comprised of lead singer Chris Dow, guitarist Chase Davidson, bassist David Koonce and drummer Griffin Zarbough—continues to share the stage with its contemporaries, including Breaking Benjamin, 3 Days Grace, Seether, P.O.D., Buckcherry and yes, even Linkin Park. Meanwhile, mainstream America has also taken notice of Within Reason. They appeared on cult TV show One Tree Hill, in films and videogames; they've been profiled in a tongue-licking love fest profile in the Los Angeles Times, and were featured on the homepage of Last.fm. That's because the band's music defies the rock genre—with Gorilla Glue sticky hooks and sing-along choruses that define the word "anthem." Debut album Bloodshot Life was helmed by multi-platinum producer Rick Beato (Shinedown), followed by EP After the Crawl, recorded by GRAMMY® nominated Nick Chahwala. The massive success of that project led to an invitation to join the massive nationwide Rockstar Energy UPROAR Festival alongside Godsmack, Shinedown and Staind in 2012. Look for Within Reason's second full-length album in early 2015.
www.withinreasonmusic.com.
About New Medicine
Nashville, Tennessee-based melodic hard rockers New Medicine, led by singer/rhythm guitarist Jake Scherer, are ready to drop their first release, Breaking The Model on new label home, Imagen Records. This will be the follow-up to 2010's Race You to the Bottom, which nearly topped the U.S. Heatseekers Chart, and spawned such popular songs/videos as "Laid," "Rich Kids," and "Race You to the Bottom." New Medicine has created a buzz from coast to coast over the past few years by scoring a Top 15 Mediabase Active Rock hit with "Race You To The Bottom" and touring relentlessly for three years on package tours like Carnival Of Madness and the Rockstar Energy UPROAR Festival and with the likes of Avenged Sevenfold, Shinedown, and more—selling over 30,000 albums in the process.
www.newmedicinerock.com
About SuicideGirls
SuicideGirls Blackheart Burlesque show features performances and music, complete with tongue-in-cheek humor and raw erotic sexuality. The show includes stunning choreography from renowned choreographer Manwe Sauls-Addison, who has worked with world famous performers such as Beyonce, Jennifer Lopez and Lady Gaga. He has assembled a team of the sexiest, most talented SuicideGirls to create the ultimate provocative tribute to pop culture that burlesque has ever seen. With striptease performances poking fun at Star Wars, Game Of Thrones, Donnie Darko, Planet Of The Apes and more, this will be unlike any other burlesque show on the planet.
http://SuicideGirls.com
About These Raven Skies
These Raven Skies follow in the light and shade tradition established by Led Zeppelin, seamlessly blending hard hitting groove oriented rock with dynamic soundscapes that incorporate folk and world-music influences. The band began as a collaboration with iconic Canadian multi-platinum artist and producer, The Tea Party's Jeff Martin. Martin's eastern-tinged rock influences had an immediate impact on the band's approach to songcraft and live performance. Look for their self-titled album release July 29th in North America and their debut single "No Need to Worry" in stores now! These Raven Skies are Alex Whitcombe (guitar), Chris Perkins (vocals), Shand Munro (drums) and Trevor Landmark (bass).
www.theseravenskies.com
About Tattered
Laying it all down on the line for their debut Blackstream Records release, the Canadian hardcore five-piece left nothing on the table. Combining ferocious guitar work with screamed vocals that ooze anguish, Tattered manage to deliver a stunning entry into the post hardcore genre. Tipping their hats to genre forerunners Anberlin and Pierce the Veil, Tattered prove that they are no one trick pony — serving up soaring vocal harmonies amidst a backdrop of orchestral melodies. Die-hard road warriors, Tattered have shared the stage with Godsmack, Clutch, Hollywood Undead and Monster Truck, amassing a dedicated online fanbase. Look for their latest release in stores August 2014. Tattered are Brad Rempel (vocals), Tim Daigle (lead guitar), Ben Braun (guitar), Clayton Braun (drums) and Jeremy Balogh (bass).
www.tatteredmusic.com
About Sons of Revelry
There are bands that have been around for years that would kill for the cohesiveness, camaraderie and chops that Brantford, Ontario's Sons of Revelry already have. After spending a year solidifying their reputation as true blue local heroes, the Canadian rock and roll quartet's hard work and discipline to fulfill their objectives has paid off big time. They took risks, and they were not afraid to go after things outside their reach. They have just recorded two EPs in the span of a month — one with world renowned producer Jay Baumgardner (Sevendust, Papa Roach, Three Days Grace, Godsmack) — and the other with Canadian producer Brian Moncarz (Silverstein, Bleeker Ridge, The Reason), and will release them as a double EP just in time for the 2014 Rockstar Energy UPROAR Festival.
www.sonsofrevelry.com
About Rockstar Energy UPROAR Festival
The Rockstar Energy UPROAR Festival is produced by John Reese and John Oakes of Synergy Global Entertainment (SGE) and CAA's Darryl Eaton and Ryan Harlacher. SGE is one of the world's premier music festival production companies. With hundreds of live events worldwide each year, SGE works with agencies, brands and musical talent to produce or co-produce concerts across various genres and interests.
www.RockstarUPROAR.com
About Rockstar
Rockstar Energy Drink is designed for those who lead active lifestyles — from Athletes to Rockstars. Available in over 20 flavors at convenience and grocery outlets in over 30 countries, Rockstar supports the Rockstar lifestyle across the globe through Action Sports, Motor Sports, and Live Music. New from Rockstar for 2013, Rockstar Energy Water is a non-carbonated and sugar free enhanced water beverage that is now available throughout the U.S. in three refreshing flavors. For more information visit: www.RockstarEnergy.com.
Find us at: www.Facebook.com/Rockstar ~ www.Twitter.com/RockstarEnergy ~ www.Instagram.com/RockstarEnergy ~ www.YouTube.com/Rockstar
Rockstar Energy UPROAR Festival Publicity Contact:
Kristine Ashton-Magnuson/Ashton-Magnuson Media
kristine@am-media.net; (818) 996-2496
Rockstar Energy UPROAR Festival Social Media Contact:
Lizzy Gonzalez/Street Smart Marketing
lizzy@streetsmartmktg.com