Date: August 13, 2014
From: Kristine Ashton-Magnuson
ROCKSTAR ENERGY UPROAR FESTIVAL
KICKS OFF THIS WEEK
HEADLINERS GODSMACK LAND #1 SPOT AT ACTIVE ROCK WITH "1000HP" SINGLE;
BAND'S 1000HP ALBUM ENTERS BILLBOARD 200 CHART AT #3

FESTIVAL SPONSORS' ACTIVITIES AND PROMOTIONS ANNOUNCED,
INCLUDING YAMAHA FZ-09 MOTORCYCLE AND
ROCKFORD FOSGATE CAR AUDIO SYSTEM GIVEAWAYS

BAND PERFORMANCE TIMES REVEALED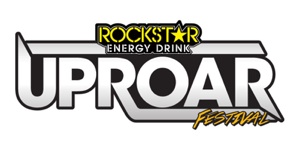 The fifth annual Rockstar Energy UPROAR Festival hits the road this Friday, August 15 in Detroit and runs through September 21. The festival's powerful lineup includes multiplatinum mainstage bands Godsmack and Seether, along with Skillet, Buckcherry, Pop Evil, Escape The Fate, 3 Years Hollow, Within Reason, New Medicine, 2013 UPROAR Ernie Ball Battle Of The Bands winner Sons of Revelry, These Raven Skies, and Tattered.
Headliners Godsmack have just entered the Billboard 200 chart at #3 with their 1000hp album, while the title track is now #1 at Active Rock radio. Main stage band Seether now holds the #3 position at Active Rock with "Words As Weapons" after spending time at #1.
The Rockstar Energy UPROAR Festival has partnered with Yamaha Motorcycles to give away a brand new 2014 FZ-09 with an UPROAR themed paint job from world-renowned custom motorcycle painter Taylor Schultz. Enter to win the Yamaha FZ-09 online here: http://bit.ly/1oHOpTY or stop by the Yamaha booth at any local UPROAR stop for more ways to win.
Additionally, fans have the opportunity to win a complete Rockford Fosgate car audio system so they can listen to their favorite rock bands loud and proud. Go to http://bit.ly/1yrNbNf to enter to win.
Tune into radio stations across the country for backstage meet and greet opportunities with bands and for chances to win other prizes, tickets, and more!
Tickets and details for each Rockstar Energy UPROAR Festival show are available now at www.RockstarUPROAR.com.
The UPROAR festival area features a variety of activities, information booths and vendors throughout the afternoon and evening. Concertgoers arriving early will also have the chance to meet some of their favorite bands daily at the Rockstar Energy Drink Compound, and COLDCOCK Herbal Whiskey will host other autograph signings. For band performance and signing times, visit www.RockstarUPROAR.com.
Here's a list of various onsite activities and promotions from the sponsors of this year's Rockstar Energy UPROAR Festival as well as information about each sponsor:
Rockstar Energy Drink: Rockstar Energy Drink is designed for those who lead active lifestyles — from Athletes to Rockstars. Available in over 20 flavors at convenience and grocery outlets in over 30 countries, Rockstar supports the Rockstar lifestyle across the globe through Action Sports, Motor Sports, and Live Music. For more information visit: www.RockstarEnergy.com.

Find us at: www.Facebook.com/Rockstar • www.Twitter.com/RockstarEnergy • www.Instagram.com/RockstarEnergy • www.YouTube.com/Rockstar

Blackstream Records: Blackstream Records is excited to join the Rockstar Energy UPROAR Festival family as a sponsor of its own official stage this summer! Blackstream's dynamic, critically acclaimed hard rockers These Raven Skies will be appearing on this year's main stage, but look for emerging artists like Tattered, appearing alongside some of the biggest names in rock — all on the electrifying Blackstream Stage. Be sure to join us at our booth for daily fan exclusive promotions and giveaways! We'll have a little help from our friends at each venue, so be sure to drop by for some swag from local favorites! Check us out online at www.blackstreamrecords.com, and for daily updates find us at www.facebook.com/blackstreamrecords.com.

Ernie Ball: Ernie Ball is a proud partner of the Rockstar Energy UPROAR Festival 2014. This year, Ernie Ball will power the Blackstream Records Stage, which will feature the local winner of the Ernie Ball Battle Of The Bands in each city and the 2013 Ernie Ball Battle Of The Bands winners, Sons of Revelry. Additionally, Ernie Ball will have a photo booth out on the tour, and will be giving away fun prizes and hosting daily signings by artists Sons of Revelry and Escape The Fate.

In 1962, veteran player and teacher Ernie Ball created Slinkys®, the iconic light gauge electric guitar strings widely revered by hundreds of guitar greats including Jimi Hendrix, Eric Clapton, Keith Richards, Jimmy Page, The Edge and John Mayer. In addition to hand crafting high-end Music Man® guitars and basses, Ernie Ball Inc. offers state-of-the-art instrument accessories that are carried in more than 6,000 stores in the U.S. and 120 countries worldwide. The family-run company maintains its founder's dedication to preserving the musician's playing experience and delivering superior sound quality through the development of new products, such as the revolutionary Element Shield Packaging which hermetically seals guitar strings keeping each set as fresh as the day they were made. The company also fosters artist development through musician-focused programs such as the Golden Pick promotion featuring Slash and Eric Clapton, and the world's largest and longest running Battle of the Bands, where unsigned bands compete each year for the chance to play on multiple tours and win tons of prizes.

Yamaha Motor Corp., U.S.A.: The Rockstar Energy UPROAR Festival is proud to partner with YAMAHA Motorcycles to create an exclusive FZ-09 Street Bike Sweepstakes! This brand new 2014 FZ-09 will feature a customized UPROAR branded paint job, a custom embroidered seat and will be signed by UPROAR talent featured on this year's tour. Fans can enter onsite at the Yamaha booth at any UPROAR tour stop or online here: http://www.yamahamotorsports.com/campaign/FZ09CustomSweepstakes.

One winner will receive the Grand Prize: a customized Yamaha FZ-09 motorcycle; two second prize winners will each receive one Yamaha NCX200FM guitar, signed by UPROAR artists, and Yamaha will be giving away all sorts of free goodies from their booth on site at your local UPROAR stop. Yamaha Motor Corporation, U.S.A. (YMUS) is a leader in the motorsports market. The company's ever-expanding product offerings include motorcycles, ATVs and Side-by-Side vehicle, outboard motors, personal watercraft, snowmobiles, boats, outdoor power equipment, accessories, apparel and much more. YMUS products are sold through a nationwide network of dealers in the United States. Headquartered in Cypress, Calif., since its incorporation in 1976, Yamaha also has facilities in Wisconsin and Georgia, as well as factory operations in Tennessee and Georgia. For more information on Yamaha, visit www.yamaha-motor.com. Follow Yamaha Motor Corp on Facebook at www.facebook.com/yamahamotorusa, on Twitter at @yamahamotorusa and Instagram at @yamahamotorusa.

COLDCOCK Herbal Whiskey: COLDCOCK American Herbal Whiskey is proud to return as a sponsor of this year's Rockstar Energy UPROAR Festival. 21+ fans should head out to the COLDCOCK Whiskey booth to meet the band Escape The Fate and enter for a chance to win Limited Edition COLDCOCK/Monster DNA custom headphones. COLDCOCK American Herbal Whiskey will be available for fans to purchase in select markets. Time to TAKE YOUR SHOT!

Rockford Corporation: Once again, Rockford Fosgate will offer the chance to win two (2) tickets and two (2) Rockford Fosgate t-shirts to a lucky contestant in each of the Rockstar Energy UPROAR Festival's stops throughout the United States. To enter, participants can simply log on to Rockford's UPROAR promotion site or on Rockford Fosgate's Facebook page. Please visit www.rockfordfosgate.com for full terms and conditions. New for this year, one lucky winner at every UPROAR tour stop will win a Rockford Fosgate bass system as well as a VIP concert package. In addition, Rockford and UPROAR have teamed up to offer a special on-line Grand Prize promotion that awards a $2,500 complete Rockford Fosgate audio system. More details will be coming soon at www.rockstaruproar.com.

Setting the standard for excellence in the audio industry, the Rockford Corporation markets and distributes high-performance audio systems for the mobile audio aftermarket and OEM market. Headquartered in Tempe, Ariz., Rockford Corporation is a publicly traded company and manufactures or distributes its products under seven brands: Rockford Fosgate®, Rockford Acoustic Design™, Lightning Audio®, Blaupunkt, Brax, Helix and Renegade. For more information, please visit: www.rockfordfosgate.com, www.rockfordacousticdesign.com, www.lightningaudio.com, www.blaupunkt.com, www.braxhifi.com, www.helixhifi.com and www.renegadecaraudio.com

MATADOR Beef Jerky: MATADOR Beef Jerky and Snack Sticks give you an opportunity to break away from the ordinary and try something new! Our beef jerky is extra tender so it's easier to eat, and is loaded with bold flavor (in five varieties!). Snack sticks, in three great flavors, make eating on-the-go easy and delicious. MATADOR is the perfect companion for all your music experiences, no matter what sounds move you! Visit us at the show and online at https://www.facebook.com/matador.

Fxck Cancer: Fxck Cancer's mission is to fight cancer by raising awareness and to educate about early cancer detection, ultimately putting an end to late stage cancer diagnosis. Fxck Cancer sells softgoods and accessories to benefit the FC Cancer Foundation, a 501(c)(3) non-profit organization, which operates the Dyin 2 Live Dreams program. Their mission is to give those who are currently fighting cancer a one of a kind VIP Experience that can be used as a source of inspiration to bring joy and hope to those needing a brighter day in their darkest hour. On the 2014 Rockstar Energy UPROAR Festival, Fxck Cancer has been given the opportunity to fulfill as many VIP Experiences as possible. An experience such as this can offer a source of inspiration for those undergoing difficult medical treatments and be a positive force that offers a life-changing impact not only on the patient, but also the family, and even entire communities, to overcome their obstacles. If you have someone in mind that might benefit from a Dyin 2 Live Dream VIP Experience on this year's 2014 Rockstar Energy UPROAR Festival, please email mywish@dyin2live.org. Dream referrals come from parents, guardians, members of the medical community, and from the cancer patients themselves. The Dyin 2 Live Dream VIP Experience starts with one simple question: "If we could make your dream come true, what would it be?" The fulfillment of a dream creates something magical for the cancer victim when they need encouragement and hope the most. Fxck Cancer is dedicated to making every eligible cancer patient's dream come true. For more info, please visit: www.FxckCancer.org and www.Dyin2Live.org. Help us spread the word by liking us on Facebook at www.facebook.com/FxckCancerUSA & www.facebook.com/Dyin2LiveDreams. Follow us on Instagram and Twitter at @FxckCancer & @Dyin2LiveDreams.

Pura Vida Tequila: Forget everything you can still remember about tequila from your youth. Pura Vida Tequilas are so smooth and delicious they could only come from a batch craft brand tequila company specializing in ultra premium 100% pure Blue Weber Agave tequila straight from the Highlands of Jalisco. A unique triple distillation process helped Pura Vida tequilas take top honors in dozens of competitions and choice events, even winning the coveted "Double Gold" Best in Show Tequila at the 2013 New York World Wine and Spirits Competition. Of course, when people think tequila the first thing that comes to mind are margaritas. Since the best margaritas always come from Mexico, we imported the one and only orange liqueur found in the original margarita into the U.S. for everyone to enjoy. NARANJA is the exact same authentic Mexican orange liqueur used back in 1941 in the very first margarita, and of course throughout Mexico today. Simply put, it's just not a margarita without Pura Vida. Taste a Pura Vida Tequila margarita today and you'll see why. Visit us at www.PuraVida.mx to learn more about the good life, the pure life. ¡Pura Vida!

UNKNOWN Industries: UNKNOWN Industries is a new breed of Harley riders who push the limits of their motorcycles and themselves as they prove to the world what is possible on a Harley-Davidson® motorcycle. UNKNOWN Riders are the guys behind the famed YouTube series "Harley Wheelies" filled with wheelies, burnouts, drifting and more. To date, the "Harley Wheelies" video series views are at nearly 3 million. In April 2013, UNKNOWN released their first movie, "13th Level", an action packed, adrenaline filled video of Freestyle Stunt Harley riding featuring UNKNOWN founders Nick Leonetti and Buddy Suttle. On June 17, 2014, UNKNOWN released their second movie titled, "Into The UNKNOWN." Co-Founder and Rider Nick Leonetti is featured on the January 2014 cover of Hot Bike Magazine, and the riders have been featured in various other magazines, TV shows, video series, and more. UNKNOWN has recently released a clothing line, and will soon launch custom v-twin motorcycle parts and accessories.
www.UNKNOWNindustries.com
The current Rockstar Energy UPROAR Festival tour itinerary is as follows. Please note that the band lineup varies by date. Visit http://www.RockstarUPROAR.com/tour-dates for details.
Date
Market
Venue
Fri. 8/15
Clarkston, MI
DTE Energy Music Theatre
Sat. 8/16
Peru, IL
Illinois Valley Regional Airport
Sun. 8/17
Cincinnati, OH
PNC Pavilion at Riverbend
Tue. 8/19
Pittsburgh, PA
Stage AE
Wed. 8/20
Uncasville, CT
Mohegan Sun
Fri. 8/22
Syracuse, NY
New York State Fairgrounds
Sat. 8/23
Mount Pocono, PA
Mount Airy Casino Resort
Sun. 8/24
Noblesville, IN
Klipsch Music Center
Tue. 8/26
Camden, NJ
Susquehanna Bank Center
Wed. 8/27
Gilford, NH
Bank of New Hampshire Pavilion at Meadowbrook
Fri. 8/29
Simpsonville, SC
Charter Amphitheater
Sat. 8/30
Tampa, FL
MidFlorida Credit Union Amphitheatre
Sun. 8/31
Gulfport, MS
Jones Park
Tue. 9/2
Grand Prairie, TX
Verizon Theatre at Grand Prairie
Wed. 9/3
Corpus Christi, TX
Concrete Street Amphitheater
Fri. 9/5
Bonner Springs, KS
Cricket Wireless Amphitheater
Sat. 9/6
Sioux City, IA
Tyson Event Center
Sun. 9/7
Oklahoma City, OK
Zoo Amphitheatre
Tue. 9/9
Broomfield, CO
1STBANK Center
Thu. 9/11
Post Falls, ID
Greyhound Park


(KHTQ presents Rock Hard At The Park Powered By Rockstar Energy Drink)

Fri. 9/12
Auburn, WA
White River Amphitheatre


(KISW's Pain In The Grass)

Tue. 9/16
Irvine, CA
Verizon Wireless Amphitheater
Wed. 9/17
Las Vegas, NV
The Joint
Thu. 9/18
Phoenix, AZ
Comerica Theatre
Sat. 9/20
Albuquerque, NM
Isleta Amphitheater


(Revolt on the Rio Grande)

Sun. 9/21
Tucson, AZ
Kino Veterans Memorial Stadium
3 Years Hollow will be performing on dates from August 15-26
Within Reason will be performing on dates from August 27-September 9
New Medicine will be performing on dates from September 11-21
The Rockstar Energy UPROAR Festival is made possible through the support of sponsors including Rockstar Energy Drink, Blackstream Records, Ernie Ball Guitar Strings, Yamaha Motorcycles, COLDCOCK Herbal Whiskey, Rockford Fosgate, MATADOR Beef Jerky, Fxck Cancer, Pura Vida Tequila, and UNKNOWN Industries.
---
About Rockstar Energy UPROAR Festival
The Rockstar Energy UPROAR Festival is produced by John Reese and John Oakes of Synergy Global Entertainment (SGE) and CAA's Darryl Eaton and Ryan Harlacher. SGE is one of the world's premier music festival production companies. With hundreds of live events worldwide each year, SGE works with agencies, brands and musical talent to produce or co-produce concerts across various genres and interests.
www.RockstarUPROAR.com
Rockstar Energy UPROAR Festival Publicity Contact:
Kristine Ashton-Magnuson/Ashton-Magnuson Media
kristine@am-media.net; (818) 996-2496
Rockstar Energy UPROAR Festival Social Media Contact:
Lizzy Gonzalez/Street Smart Marketing
lizzy@streetsmartmktg.com