Date: August 20, 2014
From: Kristine Ashton-Magnuson
ROCKSTAR ENERGY UPROAR FESTIVAL
BANDS AND CREW RAISE MONEY FOR ALS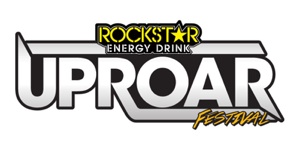 At a Rockstar Energy UPROAR Festival show this week, Pop Evil took the ALS Ice Bucket Challenge during the group's performance on the Rockstar Energy Drink Main Stage.
Pop Evil's lead singer Leigh Kakaty took the ALS Ice Bucket Challenge while the rest of the band followed up backstage as soon as they walked off stage. Watch the video here: http://youtu.be/ZvTk6FmHq5A.
After completing the challenge, Pop Evil nominated the bands Theory of a Deadman, Five Finger Death Punch and D.M.C. (Darryl McDaniels from Run-D.M.C.).
Pop Evil's Leigh Kakaty said, "It feels good to be able to give back in more ways than just music."
Rockstar Energy UPROAR Festival producers, crew members and the bands on the tour pulled together to make personal donations of over $4000 to ALS.
Rockstar Energy UPROAR Festival producer John Oakes commented, "ALS is a terrible disease. I think the ALS Ice Bucket Challenge is an amazing viral marketing effort that has driven a massive amount of awareness and additional fundraising to the ALS Association. I am happy we were able to pull together and make a donation. I encourage others to take the challenge and most importantly, donate."
For more information about ALS (amyotrophic lateral sclerosis), visit: http://www.alsa.org/about-als/. To donate to the ALS Association, visit http://bit.ly/1pbJpXX.
#icebucketchallenge
#strikeoutals
#RockstarUPROAR
The fifth annual Rockstar Energy UPROAR Festival tours the U.S. from August 15 through September 21. The festival's powerful lineup includes multiplatinum mainstage bands Godsmack and Seether, along with Skillet, Buckcherry, Pop Evil, Escape The Fate, 3 Years Hollow, Within Reason, New Medicine, 2013 UPROAR Ernie Ball Battle Of The Bands winner Sons of Revelry, These Raven Skies, and Tattered.
To purchase tickets, and view tour dates and details for each Rockstar Energy UPROAR Festival show, visit www.RockstarUPROAR.com.
The Rockstar Energy UPROAR Festival is made possible through the support of sponsors including Rockstar Energy Drink, Blackstream Records, Ernie Ball Guitar Strings, Yamaha Motorcycles, COLDCOCK Herbal Whiskey, Rockford Fosgate, MATADOR Beef Jerky, Fxck Cancer, Pura Vida Tequila, and UNKNOWN Industries.
---
About Rockstar Energy UPROAR Festival
The Rockstar Energy UPROAR Festival is produced by John Reese and John Oakes of Synergy Global Entertainment (SGE) and CAA's Darryl Eaton and Ryan Harlacher. SGE is one of the world's premier music festival production companies. With hundreds of live events worldwide each year, SGE works with agencies, brands and musical talent to produce or co-produce concerts across various genres and interests.
www.RockstarUPROAR.com
Rockstar Energy UPROAR Festival Publicity Contact:
Kristine Ashton-Magnuson/Ashton-Magnuson Media
kristine@am-media.net; (818) 996-2496
Rockstar Energy UPROAR Festival Social Media Contact:
Lizzy Gonzalez/Street Smart Marketing
lizzy@streetsmartmktg.com