Date: August 25, 2014
From: Kristine Ashton-Magnuson
ADDITIONAL ONBOARD ACTIVITES ANNOUNCED FOR
MOTÖRHEAD'S MOTÖRBOAT
'THE LOUDEST BOAT IN THE WORLD'
SAILS FROM MIAMI TO KEY WEST AND COZUMEL
SEPTEMBER 22-26
ONBOARD CARNIVAL ECSTASY
WITH PERFORMANCES FROM
MEGADETH, MOTÖRHEAD,
ANTHRAX, TESTAMENT, DOWN & MORE
The first annual Motörhead's Motörboat, featuring three of the greatest heavy metal bands in the world—Megadeth, Motörhead, and Anthrax—will sail from Miami, visiting the ports of Key West, Florida and Cozumel just off Mexico's Yucatan Peninsula for the September 22-26, 2014 cruise on the Carnival Ecstasy. "The Loudest Boat In The World" will also feature Testament, Down, High On Fire, plus Kill Devil Hill, Zakk Wylde, Jim Breuer Band, Danko Jones, Fireball Ministry, Wilson, Cilver and more. While onboard, guests will have a once-in-a-lifetime opportunity to interact with band members and will see unforgettable performances on various stages throughout the ship.
A limited number of cabins are still available for Motörhead's Motörboat at www.MotorheadCruise.com.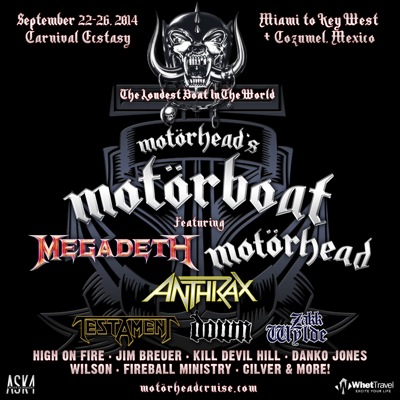 Additional onboard performances and activities have been announced for Motörhead's Motörboat, including a spoken word performance by legendary heavy metal musician, author, and television personality Scott Ian.
Scott's spoken word performances in support of his upcoming Swearing Words In Glasgow CD (out November 13 via Megaforce Records) are an honest look at the insane life that he has led for the last 31 years, the people he's met, and the events that coincide. After decades-worth of international touring with Anthrax, bumping elbows with illustrious (and sometimes ridiculous) characters all over the media spectrum, and undergoing general "you won't believe this" experiences, Scott certainly has some hilarious and surprisingly personal stories to share.
Those onboard Motörhead's Motörboat will also be treated to a screening of the 2010 documentary film Lemmy, directed by Greg Olliver and Wes Orshoski.
In addition, theme nights for Motörhead's Motörboat are as follows:
Monday, September 22 — Löud and Hometown Pröud

Motörhead's Motörboat

will have a very diverse and international crowd. Guests are encouraged to be proud of where they come from. Wear a state jersey, don your Nordic horns, paint your face and show your city/state/country pride.

Tuesday, September 23 — Pajamarama

"Rock on out in your jammies!" It's the biggest slumber party on the open seas. We know some people like to sleep in the buff, so remember that you have to wear something, even if it's minimal. And who knows, there might even be the biggest pillow fight of all time?

Wednesday, September 24 — Fiesta En Barco

Motörboat

is going to Mexico and back. It's siesta and fiesta day! In the morning — sleep late. We don't get off the boat in Cozumel until 1pm. (There will be activities a'plenty in the morning — info on those will come later). When we get back, it's FIESTA all night — bring something from home, or pick up something new in Mexico — show off how you spent your day: sombreros, Mexican wrestling masks, donkeys, your tequila face, anything…

Thursday, September 25 — Go To Heaven, Raise Hell

This is our full day at sea! It's Heaven & Hell, Leather & Lace. It's the best of both worlds. Show us your good side or your naughty side. As we pay homage to those rock gods that have passed, come to our all star jam dressed as your favorite rocker, groupie, devil, or angel. The sky and the sea are the limit!
Traditionally, theme nights start after dinner and go late into the night. While guests are not required to dress up, the sea's the limit with the amount of fun one can have. Find others to join you and dress up in groups. Go stag and stand out in the crowd. Enjoy yourselves…be creative and push the envelope.
www.MotorheadCruise.com
---
About ASK4 Entertainment
ASK4 Entertainment is a premiere rock music theme cruise and destination event producer. In addition to Motörhead's Motörboat, ASK4 Entertainment also produces ShipRocked, the ultimate rock music cruise vacation, as well as the ShipRocked Summer Camp land event. Previous ShipRocked performers include: Godsmack, Korn, Five Finger Death Punch, Papa Roach, Three Days Grace, In This Moment, Living Colour, Sevendust, Candlebox, Geoff Tate, Queensrÿche, Helmet, P.O.D., Filter, The Halo Method, and many more.
www.ShipRocked.com
www.facebook.com/ASK4Entertainment
About Whet Travel Inc.
Whet = EXCITEMENT! Whet Travel is a 9-year-old progressive travel company that was formed to meet the unique travel needs of music charters, large groups and young professionals. Whet Travel is the producer of The Groove Cruise—"The World's Largest Floating Dance Music Festival," the Aventura Dance Cruise—"The World's Largest Latin Dance Cruise," and the Zen Cruise—"A Transformational Journey at Sea." Whet Travel sells cruises, vacation packages, and all inclusive resorts around the world with a focus on large affinity, theme, corporate and music groups.
WhetTravel.com
About Carnival Ecstasy
The Carnival Ecstasy recently underwent a multi-million dollar refurbishment and features a tropical-themed resort-style main pool area, multiple dining options (including a 24-hour pizzeria), 12,000-square-foot Spa Carnival health club, a jogging track, as well as 12 lounges, bars and nightspots.