Date: September 11, 2014
From: Kristine Ashton-Magnuson
MONSTER ENERGY'S AFTERSHOCK FESTIVAL
FESTIVAL MAP & SCHEDULE NOW AVAILABLE
COMPLETE ROSTER OF FESTIVAL SPONSORS ANNOUNCED
The third annual Monster Energy's AFTERSHOCK Festival—California's biggest rock festival—is even bigger and better than ever before, with four stages and nearly 50 bands over two days. A map of this year's expanded festival grounds at Discovery Park in Sacramento, CA is now available, along with the previously announced performance schedule for September 13 & 14. The massive Monster Energy's AFTERSHOCK Festival lineup includes Godsmack, Weezer, The Offspring, Rob Zombie, Five Finger Death Punch, Limp Bizkit, Rise Against, Chevelle, AWOLNATION, Seether, Mastodon, Pennywise, Bad Religion and many more.
General admission and VIP weekend and single day tickets for Monster Energy's AFTERSHOCK Festival are on sale now at www.AFTERSHOCKConcert.com/Tickets, www.Ticketmaster.com and at all Ticketmaster outlets.
For the festival map and complete lineup and performance schedule, go to: http://www.AFTERSHOCKConcert.com.
In addition, the complete roster of festival sponsors has been announced, including main stage and title sponsor Monster Energy, Jack Daniel's, Coors Light, Fxck Cancer, Zippo, Crazy Dave's Music Experience powered by Musicians Institute, Army, Matador Beef Jerky and Fanpass.tv. Here is some additional information about this year's sponsors:
Monster Energy

Most companies spend their money on ad agencies, TV commercials, radio spots, and billboards to tell you how good their products are. At Monster Energy, we chose none of the above. Instead we support the scene, our bands, our athletes and our fans. We back athletes so they can make a career out of their passion. We promote concert tours, so our favorite bands can visit your hometown. We celebrate with our fans and riders by throwing parties and making the coolest events we can think of a reality.
www.monsterenergy.com

Jack Daniel's

Jack Daniel's was officially registered by the U.S. Government in 1866. The Jack Daniel Distillery, Lem Motlow, proprietor, is the oldest registered distillery in the United States, and is on the National Register of Historic Places. Based in Lynchburg, Tenn., the Jack Daniel Distillery is the maker of the world-famous Jack Daniel's Old No. 7 Tennessee Whiskey, Gentleman Jack Rare Tennessee Whiskey, Jack Daniel's Single Barrel Tennessee Whiskey and Jack Daniel's Country Cocktails. Jack Daniel's encourages its friends to drink responsibly.

Coors Light

Coors Light, World's Most Refreshing Beer is proud to sponsor the AFTERSHOCK Festival. Coors Light goes to great lengths to bring you the coldest, most refreshing beer. Please remember to drink responsibly.

Fxck Cancer

Fxck Cancer's mission is to fight cancer by raising awareness and to educate about early cancer detection, ultimately putting an end to late stage cancer diagnosis. Fxck Cancer sells softgoods and accessories to benefit the FC Cancer Foundation, a 501(c)(3) non-profit organization, which operates the Dyin 2 Live Dreams program. Their mission is to give those who are currently fighting cancer a one of a kind VIP Experience that can be used as a source of inspiration to bring joy and hope to those needing a brighter day in their darkest hour. The Dyin 2 Live Dream VIP Experience starts with one simple question: "If we could make your dream come true, what would it be?" The fulfillment of a dream creates something magical for the cancer victim when they need encouragement and hope the most. Fxck Cancer is dedicated to making every eligible cancer patient's dream come true. For more info, please visit: www.FxckCancer.org and www.Dyin2Live.org. Help us spread the word by liking us on Facebook at www.facebook.com/FxckCancerUSA & www.facebook.com/Dyin2LiveDreams. Follow us on Instagram and Twitter at, @FxckCancer & @Dyin2LiveDreams.

Zippo

One of the most recognized brands in the world, Zippo was founded in the fall of 1932 by George G. Blaisdell in Bradford, PA, where it has manufactured over 500 million windproof lighters. With the exception of improvements to the flint wheel and modifications in case finishes, the product remains unchanged and is backed by the company's famous lifetime guarantee — "It works, or we fix it free.™" Zippo's diverse product line includes lighter accessories; butane candle lighters; watches, fragrance, and lifestyle accessories for men; and a robust line of heat and flame products for outdoor enthusiasts. Zippo markets in over 160 countries and also owns the Ronson brand of lighters and fuel and W.R. Case and Sons Cutlery Company, both based in Bradford, PA. For more information, visit www.Zippo.com.

Crazy Dave's Music Experience powered by Musicians Institute

"With funding for music education being cut seemingly on a daily basis, it is the responsibility of the people who benefit from the arts, related businesses and lifestyle to step in and help. It is the job of the concert promoters, instrument manufacturers, retails stores and established musicians to keep the tools of the trade accessible to children and future generations." —Mark "Squiggy" DiGiacomo, Crazy Dave's Music Experience

Crazy Dave's Music Experience

is a free, interactive "rock star" exhibit at Danny Wimmer Presents music festivals around the country. Fans can get hands-on interaction with tons of musical equipment, much of which is used by their favorite artists performing on stage at the show.
Visitors to

Crazy Dave's Music Experience

will have the chance to test the latest music equipment from companies such as: CAD, Chauvet, CHAUVET® DJ, Dunlop Manufacturing (MXR, Dunlop, Cry Baby, Way Huge), ESP Guitars, Fender Musical Instruments Corporation (Jackson, Charvel, EVH), Hercules, Ibanez, Korg (Vox, Blackstar), Moog, PRS Guitars, and Yamaha & Steinberg.

MATADOR Beef Jerky

MATADOR Beef Jerky and Snack Sticks give you an opportunity to break away from the ordinary and try something new! Our beef jerky is extra tender so it's easier to eat, and is loaded with bold flavor (in five varieties!). Snack sticks, in three great flavors, make eating on-the-go easy and delicious. MATADOR is the perfect companion for all your music experiences, no matter what sounds move you! Visit us at the show and online at https://www.facebook.com/matador.
The third annual Monster Energy's AFTERSHOCK Festival is produced by Danny Wimmer Presents, a producer of some of the biggest rock festivals in America, including Rock On The Range, Monster Energy's Welcome To Rockville, Monster Energy's Fort Rock Festival, Monster Energy's Carolina Rebellion, Epicenter—Southern California's Rock Festival, Rockwave, The Big Ticket, Chill On The Hill, and Monster Energy's Rock Allegiance Tour.
Discovery Park is a 160-acre park conveniently located near downtown Sacramento, where the American and Sacramento Rivers meet. Gates for Monster Energy's AFTERSHOCK Festival open at 11:00 AM each day.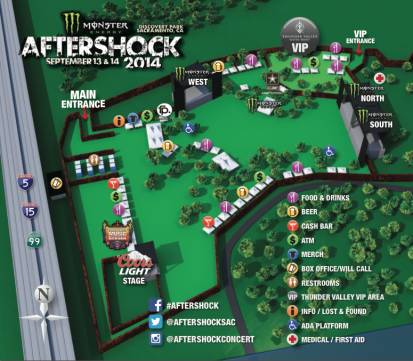 ---
About Danny Wimmer Presents
Since 1995, DWP has created, developed and produced events from the club level to some of the largest North American festivals. Founded by industry veteran Danny Wimmer, DWP produces some of the largest festivals in the rock and alternative landscapes. Never satisfied with the status quo, Danny Wimmer Presents strives to create memorable and fulfilling concert experiences leaving both consumers and partners with lasting and meaningful impressions.
About Discovery Park
Discovery Park is a 160-acre park conveniently located near downtown Sacramento, where the American and Sacramento Rivers meet. The Discovery Park boat launch allows boaters access to both the American and Sacramento Rivers, and the park features bike trails, picnic areas, and a playground. Discovery Park is located beside I-5 near downtown Sacramento.
Monster Energy's AFTERSHOCK Festival Publicity Contact:
Kristine Ashton-Magnuson/Ashton-Magnuson Media
kristine@am-media.net; (818) 996-2496
Monster Energy's AFTERSHOCK Festival Marketing & Sponsorship Contact:
Clay Busch/Danny Wimmer Presents
clay@armsdivision.com