Date: December 9, 2014
From: Kristine Ashton-Magnuson

NORTHERN INVASION
ROCK AND CAMPING FESTIVAL DEBUTS MAY 9 IN SOMERSET, WI
AS PART OF THE WORLD'S LOUDEST MONTH FESTIVAL SERIES
FEATURING SLIPKNOT, FIVE FINGER DEATH PUNCH,
VOLBEAT, THREE DAYS GRACE, HALESTORM & MORE

EARLY BIRD PRE-SALE STARTS TOMORROW MORNING
Northern Invasion—the newest addition to the World's Loudest Month festival series—is set for Saturday, May 9 at Somerset Amphitheater in Somerset, WI, just outside the Twin Cities.
The new rock and camping festival will feature an unbelievable first-year lineup headlined by global rock juggernauts Slipknot, with a roster of rock heavyweights including Five Finger Death Punch, Volbeat, Three Days Grace, Halestorm, The Pretty Reckless, In This Moment, Anthrax, Live, Motionless In White, Young Guns, Thousand Foot Krutch, We Are Harlot, Starset and Crobot.
"We'll be fresh out of the studio just in time to participate in the 1st annual Northern Invasion. It's a huge festival and it will be amazing to get back on stage with peers in Slipknot, Volbeat, Halestorm and so many other kick ass bands," says Ivan Moody of Five Finger Death Punch.
Northern Invasion offers a full day of music on Saturday, May 9, along with a Friday Night Bonfire Party for all who purchase a camping or hotel package. See below for details about onsite camping, hotels packages and more. The Northern Invasion festival site map can be viewed at: www.NorthernInvasion.com.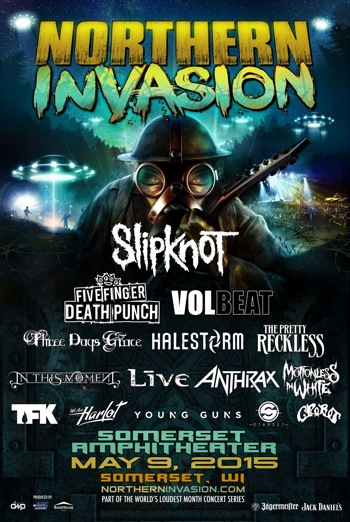 An early bird pre-sale, featuring a discounted ticket price, is available from Wednesday, December 10 at 10:00 AM CT through Wednesday, December 17 at 9:59 AM CT. Visit the Northern Invasion Facebook page to receive the code to purchase the specially priced pre-sale tickets. The Northern Invasion pre-sale offers a limited number of tickets for the following discounted prices (plus fees):
General Admission Ticket: $49.50
General Admission Ticket 4-Pack: $149
Concertgoers are encouraged to buy early to save, as ticket prices will increase in the coming months.
The Northern Invasion VIP Pavilion Upgrade will feature shade, seating areas, premium cash bar, premium food experience (for purchase), and private restroom access for those with VIP Pavilion access. Those who select the VIP Upgrade will also have access to VIP Parking and an exclusive festival entrance. The VIP Upgrade does NOT include access to the Friday Night Bonfire Party or the Campgrounds. All ages are welcome in the VIP area, but attendees must be 21 or older to purchase adult beverages.
The Northern Invasion Camping area will be open from Friday, May 8 at 12:00 PM CST through Sunday, May 10 at 12:00 PM CST, camping upgrades and camping / hotel packages will also include access to the Friday Night Bonfire Party. Camping will be available for purchase as either 'tent camping' or 'RV camping.' Pricing information can be found at www.NorthernInvasion.com.
All inclusive Camping and a limited quantity of Hotel Packages (Groupie, Roadie, Star) including a merchandise voucher, VIP Pavilion access, festival poster, and a commemorative laminate will be available starting at the pre-sale. More information on packages and military discounts can be found at www.NorthernInvasion.com.
A limited number of discounted tickets are also available for active military through Northern Invasion partner GovX (www.govx.com) beginning December 10 at 10:00 AM Central Time.
Northern Invasion is supported by Jack Daniel's and Jägermeister.
Northern Invasion is produced by Danny Wimmer Presents, AEG Live and RockHouse Presents.
Somerset Amphitheater has been a favorite Midwest music venue since the late '80s. Located on the Apple River and less than 40 minutes from the Twin Cities, for years it has served as a summer hub for music and camping for those from Minnesota, Wisconsin and beyond.
---
For more information on Northern Invasion, please contact:
PR: Kristine Ashton-Magnuson, Ashton-Magnuson Media; kristine@am-media.net; (818) 996-2496
SPONSORSHIP: Chris Thomas, AEG Live; cthomas@aeglive.com and Clay Busch, DWP; clay@armsdivision.com
About Danny Wimmer Presents
Since 1995, DWP has created, developed and produced events from the club level to some of the largest North American festivals. Founded by industry veteran Danny Wimmer, DWP produces some of the largest festivals in the rock and alternative landscapes. Never satisfied with the status quo, Danny Wimmer Presents strives to create memorable and fulfilling concert experiences leaving both consumers and partners with lasting and meaningful impressions.
About AEG Live
AEG Live, the live-entertainment division of Los Angeles-based AEG, is dedicated to all aspects of live contemporary music performance. AEG Live is comprised of touring, festival, broadcast, merchandise and special event divisions, fifteen regional offices, and owns, operates or exclusively books thirty-five state-of-the-art venues. The current and recent concert tour roster includes artists such as Alicia Keys, American Idols, Bon Jovi, Carrie Underwood, Daughtry, Enrique Iglesias, Jennifer Lopez, Justin Bieber, Kenny Chesney, Leonard Cohen, Paul McCartney, Taylor Swift, The WHO, Trey Songz and Juanes. The company is also currently producing residency shows at The Coloseum at Caesars Palace in Las Vegas including Celine Dion, Rod Stewart and Shania Twain and is the exclusive promoter at The Joint at Hard Rock Hotel & Casino Las Vegas. AEG Live is also the largest producer of music festivals in North America from the critically acclaimed Coachella Valley Music & Arts Festival to Stagecoach Country Music Festival and New Orleans Jazz & Heritage Festival.
www.aeglive.com
About RockHouse Presents
RockHouse Presents is a boutique concert company specializing in talent buying for the best hard rock and alternative rock music events across North America. RockHouse, while serving as a co-executive producer for destination festivals Rock On The Range, Carolina Rebellion and the first annual Northern Invasion, also books, markets and curates such branded events as EdgeFest/Dallas, Xfest/San Diego, MMRBQ/Philadelphia, BFD/San Francisco and several other nationally known radio hosted shows across the country.
About Somerset Amphitheater
Somerset Amphitheater offers an ideal setting for live music, entertainment and camping, located on the border between Minnesota and Wisconsin along the Lower St. Croix River. Just 30 miles from the Twin Cities, Somerset is convenient for a day trip, but offers plenty to keep you entertained for a weekend visit as well. After a major renovation, Somerset Amphitheater is attracting national attention as a premier concert and event venue with top amenities. A few recent event highlights include Summer Set Music and Camping Festival, The Avett Brothers, Widespread Panic, MuckFest, the Iron Cowgirl Competition, and Border Battle Beer Fest. Recently announced new festivals for the 2015 season include Northern Invasion and Sonshine Festival.