Date: December 12, 2014
From: Kristine Ashton-Magnuson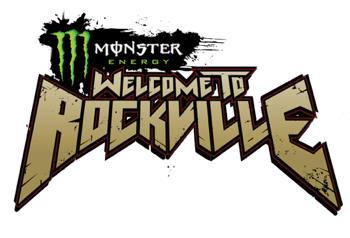 DAILY BAND LINEUPS ANNOUNCED FOR
MONSTER ENERGY WELCOME TO ROCKVILLE
APRIL 25 & 26 IN JACKSONVILLE, FLORIDA
TICKETS ON SALE NOW
The daily band lineups have been announced for the fifth annual Monster Energy Welcome To Rockville, April 25 & 26 at Jacksonville, Florida's scenic Metropolitan Park along the St. Johns River. Tickets are on sale now at www.WelcomeToRockvilleFestival.com.
The daily band lineups are as follows (subject to change; more to be announced):
Saturday, April 25


Korn, Marilyn Manson, Slayer, Ministry, Halestorm, Queensrÿche, Testament, Of Mice & Men, Scott Weiland and the Wildabouts, Live, Hollywood Undead, Suicidal Tendencies, The Devil Wears Prada, Periphery, Nonpoint, Exodus, Fozzy, Beartooth, Upon A Burning Body, Sons Of Texas, Red Sun Rising, World Gone

Sunday, April 26


Slipknot, Godsmack, Slash featuring Myles Kennedy and The Conspirators, Breaking Benjamin, Papa Roach, The Pretty Reckless, In This Moment, All That Remains, In Flames, Tremonti, Motionless In White, Hatebreed, Starset, Butcher Babies, The Vamps, Young Guns, We Are Harlot, Like A Storm, '68, Islander, From Ashes To New
Florida's biggest rock festival kicks off the World's Loudest Month festival series and features music, band autograph signings, interactive experiences, a Monster Energy VIP area with beverage sampling, and a variety of food and beverage options, including local gourmet food trucks.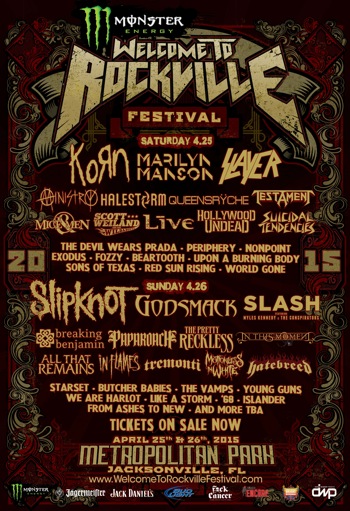 New for 2015 is the Monster Energy Welcome To Rockville Tequila World, with a Mexican fiesta theme, featuring a wide range of tequilas, margaritas, tacos and more. Metalachi—the world's first and only heavy metal mariachi band (www.metalachi.com)—will keep the party rolling with three performances on the Tequila World stage each day. Admission to this area is free and open to those 21 and up. The initial list of tequilas expected to be offered in the Monster Energy Welcome To Rockville Tequila World is as follows: Pura Vida, El Jimador, Luna Nueva, Jose Cuervo, 1800, Monte Alban, Corazon, Siete Leguas, Margaritaville, Lunazul, Don Julio, DeLeon, and Peligroso.
General Admission and VIP tickets, as well as hotel packages are on sale now at www.WelcomeToRockvilleFestival.com.
VIP tickets include: a VIP entrance to venue; access to VIP lounge area featuring dedicated bar, beverage and food service; viewing of main stage (seated and standing areas); seated area with shade for dining; private restroom facilities; and a VIP guest laminate.
A limited number of tickets are also available at select MetroPCS locations with no service fees.
Ticket prices will increase in the coming weeks, so fans are encouraged to buy now and save.
As in the past, General Admission ticket discounts will also be available for active military through Monster Energy Welcome To Rockville partner GovX (www.govx.com).
Monster Energy returns as the festival's title sponsor and will be on site conducting giveaways, hosting Monster Energy artist signings, and offering Monster Energy Drink samples.
Monster Energy Welcome To Rockville is produced by Danny Wimmer Presents and anchors the World's Loudest Month festival series. The World's Loudest Month features the biggest names in rock music performing in eight distinct concert atmospheres across the country in April and May.
2015 sponsors for Monster Energy Welcome To Rockville include Monster Energy, Bud Light, Corona, Jack Daniel's, Jägermeister, MetroPCS, Crazy Dave's Music Experience powered by Musicians Institute, Fxck Cancer, Zippo Encore, Revolver Magazine, Alternative Press, and Loudwire, with more to be announced.
---
About Danny Wimmer Presents
Since 1995, DWP has created, developed and produced events from the club level to some of the largest North American festivals. Founded by industry veteran Danny Wimmer, DWP produces some of the largest festivals in the rock and alternative landscapes. Never satisfied with the status quo, Danny Wimmer Presents strives to create memorable and fulfilling concert experiences leaving both consumers and partners with lasting and meaningful impressions.
About Monster Energy
Most companies spend their money on ad agencies, TV commercials, radio spots and billboards to tell you how good their products are. At Monster Energy, we chose none of the above. Instead we support the scene, our bands, our athletes and our fans. We back athletes so they can make a career out of their passion. We promote concert tours, so our favorite bands can visit your hometown. We celebrate with our fans and riders by throwing parties and making the coolest events we can think of a reality.
www.monsterenergy.com | www.facebook.com/monsterenergy
About Jack Daniel's
Officially registered by the U.S. Government in 1866, the Jack Daniel Distillery, Lem Motlow, proprietor, is the oldest registered distillery in the United States and is on the National Register of Historic Places. Based in Lynchburg, Tenn., the Jack Daniel Distillery is the maker of the world-famous Jack Daniel's Old No. 7 Tennessee Whiskey, Gentleman Jack Rare Tennessee Whiskey, Jack Daniel's Single Barrel Tennessee Whiskey and Jack Daniel's Country Cocktails. Jack Daniel's encourages its friends to drink responsibly.
About Jägermeister
Jägermeister, which translates to "master hunter," is the #1 selling imported liqueur in the United States and one of the top shot brands in the world. The full-bodied flavor of Jägermeister, which includes cinnamon, star anise, ginger, orange and cardamom, is a result of a lengthy maceration to extract aromatic compounds from a closely guarded recipe of 56 herbs, roots, blossoms and fruits, plus aging in oak casks for one year. The production process is exacting and includes sourcing the ingredients in their raw, unprocessed form, along with 383 quality checks to ensure its iconic taste profile. Jägermeister Liqueur is 35% Alc./Vol. and imported exclusively by Sidney Frank Importing Company, Inc., New Rochelle, NY. Visit www.jager.com or www.facebook.com/JagerUSA for additional information. DRINK RESPONSIBLY
About MetroPCS
MetroPCS provides the freedom and convenience of unlimited, no-annual-contract wireless services on an advanced nationwide 4G LTE network for a flat rate. With MetroPCS, customers get great value and a wide variety of device choices from leading brands. A flagship brand operated by T-Mobile US, Inc. (NYSE: "TMUS"), MetroPCS products and services are available online and across the United States through a network of company-owned stores, authorized dealer locations, and leading national retailers. For more information, please visit www.metropcs.com.
About Metropolitan Park
Metropolitan Park offers a scenic, spacious site for Monster Energy Welcome To Rockville that's just a few hours drive from cities including Orlando, Tampa, Gainesville, Savannah and Tallahassee, and is easily accessible by plane from around the country. Metropolitan Park is a premier 27-acre recreational facility along the beautiful St. Johns River in downtown Jacksonville, Florida at 1410 Gator Bowl Blvd.
Monster Energy Welcome To Rockville Publicity Contact
Kristine Ashton-Magnuson/Ashton-Magnuson Media
kristine@am-media.net
(818) 996-2496
Monster Energy Welcome To Rockville Marketing & Sponsorship Contact
Clay Busch/Danny Wimmer Presents
clay@armsdivision.com