Date: January 6, 2015
From: Kristine Ashton-Magnuson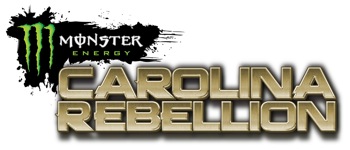 MONSTER ENERGY CAROLINA REBELLION
FIFTH ANNIVERSARY LINEUP UNVEILED
FOR MID-ATLANTIC'S BIGGEST ROCK FESTIVAL
MAY 2 & 3, 2015 NEAR CHARLOTTE, NC
SLIPKNOT, KORN, GODSMACK, MARILYN MANSON, SLAYER,
SLASH FEATURING MYLES KENNEDY AND THE CONSPIRATORS,
RISE AGAINST, SAMMY HAGAR & THE CIRCLE, AND CHEAP TRICK
LEAD ROSTER OF TOP ROCK BANDS
A spectacular lineup including some of the biggest names in rock has been announced for the fifth annual Monster Energy Carolina Rebellion, May 2 & 3, 2015 at Rock City Campgrounds at Charlotte Motor Speedway just outside Charlotte, NC.
The mid-Atlantic's biggest rock festival will feature performances from Slipknot, Korn (marking a highly-anticipated return to Carolina Rebellion after their on-stage reunion with band member Head in 2012), Godsmack, Marilyn Manson, Slayer, Slash featuring Myles Kennedy and The Conspirators, Rise Against, Sammy Hagar & The Circle (Michael Anthony, Jason Bonham & Vic Johnson), Breaking Benjamin, Bush, and many more top rock bands. (See below for daily band lineup.)
Corey Taylor of Slipknot says, "We are very excited to be headlining Rebellion this year! We're honored to be playing in the company of Cheap Trick, one of my all time favorites, as well as playing with such good friends like Korn, Halestorm and Slayer!"
"Three years ago, we reunited with our brother Head on stage at Carolina Rebellion. Since then, we made a new album and toured the world together. And now we're back to perform our first album in its entirety. Rebellion is going to be a really special show for us," says Jonathan Davis of Korn.
"Playing with a band like The Circle, we've got a set list made in Rock N' Roll Heaven and a band from Rock N' Roll Hell," says Sammy Hagar. "The only missing link is tens of thousands of rocking fans…HELLO CAROLINA!"
"For the 5th annual Monster Energy Carolina Rebellion, we wanted to acknowledge not only the best in current rock with the likes of Slipknot, Godsmack, Breaking Benjamin and more, but also celebrate some great iconic rock bands like Sammy Hagar & The Circle, Cheap Trick, Slayer and others to give the Rebels the widest range of Rock N' Roll possible," says Co-Executive Producer Gary Spivack of RockHouse Presents. "Rebellion is truly the Carolinas' biggest music party of the year!"
Based on the festival's success in 2014—with over 60,000 fans in attendance and camping and VIP packages sold out—the 2015 Monster Energy Carolina Rebellion concert site will be expanded and will feature a fourth stage for band performances.
Monster Energy returns as the festival's title sponsor and will be on site conducting giveaways, hosting Monster Energy artist signings, and offering Monster Energy Drink samples.
The daily band lineup for Monster Energy Carolina Rebellion is as follows: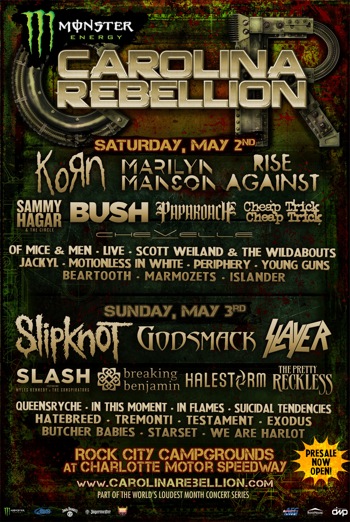 Saturday, May 2


Korn, Marilyn Manson, Rise Against, Sammy Hagar & The Circle, Chevelle, Cheap Trick, Papa Roach, Bush, Scott Weiland and the Wildabouts, Jackyl, Of Mice & Men, Live, Motionless In White, Periphery, Beartooth, Young Guns, Marmozets, Islander

and more

Sunday, May 3


Slipknot, Godsmack, Slayer, Slash featuring Myles Kennedy and The Conspirators, Breaking Benjamin, Halestorm, Queensrÿche, The Pretty Reckless, In This Moment, In Flames, Tremonti, Suicidal Tendencies, Testament, Hatebreed, Starset, Butcher Babies, We Are Harlot, Exodus

and more
A ticket pre-sale for Monster Energy Carolina Rebellion is underway now until Friday, January 16 at 11:59 AM ET. The pre-sale offers a limited number of tickets for the following early bird pre-sale prices (plus fees):
Weekend General Admission Ticket: $99
Weekend General Admission Ticket 4-Pack: $299
Single Day General Admission Ticket: $59.50
Ticket prices will go up at the public on-sale on Friday, January 16 at noon. Concertgoers are encouraged to buy early to save, as ticket prices will continue to increase in the coming months.
A VIP Lounge Upgrade is also available for $110 to those that purchase Weekend General Admission tickets during the pre-sale and general on-sale.
Monster Energy Carolina Rebellion 2015 layaway packages—new for 2015—are available for purchase through January 31. A limited number of discounted tickets are also now available for active military through our friends at GovX.
Hotel and Camping Packages are available now, and prices remain the same during the pre-sale and general on-sale. All Hotel Packages are for three nights and are available for 2 or 4 people. Each package includes access to the Friday Night Campground Party in the campgrounds. Camping is open from Noon on Friday, May 1 through Noon on Monday, May 4. Camping Upgrades include access to the Friday Night Campground Party. Camping Packages also include a $25 merchandise voucher, access to VIP Lounge, festival poster, and access to the Friday Night Campground Party.
For full details and to purchase tickets, Hotel, and Camping Packages, visit www.CarolinaRebellion.com.
Monster Energy Carolina Rebellion is proud to be sponsored by Monster Energy, Bud Light, Jack Daniel's, Jägermeister, Crazy Dave's Music Experience, Zippo Encore and more to be announced.
Monster Energy Carolina Rebellion is produced by AEG Live, Danny Wimmer Presents, and RockHouse Presents, and is part of the World's Loudest Month festival series. The World's Loudest Month features the biggest names in rock music performing in eight distinct concert atmospheres across the country in April and May.
For more information on Monster Energy Carolina Rebellion, visit:
---
Publicity Contact: Kristine Ashton-Magnuson, Ashton-Magnuson Media; kristine@am-media.net; (818) 996-2496
Sponsorship Contacts: Chris Thomas, AEG Live; cthomas@aeglive.com and Clay Busch, DWP; clay@armsdivision.com
About AEG Live
AEG Live, the live-entertainment division of Los Angeles-based AEG, is dedicated to all aspects of live contemporary music performance. AEG Live is comprised of touring, festival, broadcast, merchandise and special event divisions, fifteen regional offices, and owns, operates or exclusively books thirty-five state-of-the-art venues. The current and recent concert tour roster includes artists such as Alicia Keys, American Idols, Bon Jovi, Carrie Underwood, Daughtry, Enrique Iglesias, Jennifer Lopez, Justin Bieber, Kenny Chesney, Leonard Cohen, Paul McCartney, Taylor Swift, The WHO, Trey Songz and Juanes. The company is also currently producing residency shows at The Coloseum at Caesars Palace in Las Vegas including Celine Dion, Rod Stewart and Shania Twain and is the exclusive promoter at The Joint at Hard Rock Hotel & Casino Las Vegas. AEG Live is also the largest producer of music festivals in North America from the critically acclaimed Coachella Valley Music & Arts Festival to Stagecoach Country Music Festival and New Orleans Jazz & Heritage Festival.
www.aeglive.com
About Danny Wimmer Presents
Since 1995, DWP has created, developed and produced events from the club level to some of the largest North American festivals. Founded by industry veteran Danny Wimmer, DWP produces some of the largest festivals in the rock and alternative landscapes. Never satisfied with the status quo, Danny Wimmer Presents strives to create memorable and fulfilling concert experiences leaving both consumers and partners with lasting and meaningful impressions.
About RockHouse Presents
RockHouse Presents is a boutique concert company specializing in talent buying for the best hard rock and alternative rock music events across North America. RockHouse, while serving as a co-executive producer for destination festivals Rock On The Range, Carolina Rebellion and the first annual Northern Invasion, also books, markets and curates such branded events as EdgeFest/Dallas, Xfest/San Diego, MMRBQ/Philadelphia, BFD/San Francisco and several other nationally known radio hosted shows across the country.
About Monster Energy
Most companies spend their money on ad agencies, TV commercials, radio spots and billboards to tell you how good their products are. At Monster Energy, we chose none of the above. Instead we support the scene, our bands, our athletes and our fans. We back athletes so they can make a career out of their passion. We promote concert tours, so our favorite bands can visit your hometown. We celebrate with our fans and riders by throwing parties and making the coolest events we can think of a reality.
www.monsterenergy.com | www.facebook.com/monsterenergy