Date: February 19, 2015
From: Kristine Ashton-Magnuson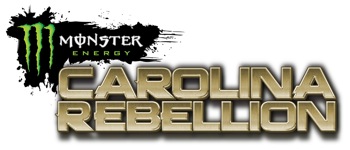 MONSTER ENERGY CAROLINA REBELLION
"KANGAROO & MONSTER ENERGY 2-PACK SPECIAL"
AVAILABLE STARTING MARCH 2;
BUD LIGHT KICK-OFF PARTY DETAILS ANNOUNCED
FOR MID-ATLANTIC'S BIGGEST ROCK FESTIVAL
MAY 2 & 3, 2015 NEAR CHARLOTTE, NC

CAMPING, VIP & HOTEL PACKAGES SOLD OUT
Camping, VIP and Hotel Packages are now sold out for the fifth annual Monster Energy Carolina Rebellion, held May 2 & 3, 2015 at Rock City Campgrounds at Charlotte Motor Speedway just outside Charlotte, NC.
However, the mid-Atlantic's biggest rock festival is offering an additional option for those that haven't purchased tickets yet. With the Kangaroo & Monster Energy 2-Pack Special, Kangaroo Express and Monster Energy are giving fans the chance to save $60 with the Kangaroo 2-Pack. Starting March 2, fans are invited to stop by participating Kangaroo Express stores to get a ticket code that allows them to take advantage of these specially priced ticket packages. Purchasers will automatically be registered to win the Kangaroo Ultimate Fan Package, which includes Monster Energy Carolina Rebellion VIP passes, a meet & greet with Halestorm, a $100 Kangaroo Express gift card, a Kangaroo 2-Pack gift pack, and assorted Monster Energy Carolina Rebellion gear. For the Kangaroo 2-Pack ticket option, Single General Admission 2-Packs are just $119 and Weekend General Admission 2-Packs are just $218. For a complete list of participating Kangaroo Express stores, visit www.CarolinaRebellion.com.
Concertgoers can also save by purchasing tickets now at www.CarolinaRebellion.com. As of March 2, tickets will increase as follows:
Single Day General Admission Ticket: increases from $74.50 to $89.50
Weekend General Admission Ticket: increases from $119 to $139
Weekend General Admission Ticket 4-Pack: increases from $349 to $399
For full festival details and to purchase tickets, visit www.CarolinaRebellion.com.
Monster Energy Carolina Rebellion features a spectacular lineup with some of the biggest names in rock including Slipknot, Korn (marking a highly-anticipated return to Carolina Rebellion after their on-stage reunion with band-member Head in 2012), Godsmack, Marilyn Manson, Slayer, Slash featuring Myles Kennedy and The Conspirators, Rise Against, Sammy Hagar & The Circle (Michael Anthony, Jason Bonham & Vic Johnson), Breaking Benjamin, Bush, and many more top rock bands.
Those that have purchased Camping or Hotel Packages will be able to attend the Friday night Monster Energy Carolina Rebellion Bud Light Kick-Off Party with performances by 21st Century Goliath, Failure Anthem and Brownout presents Brown Sabbath on the Jägermeister Campground Stage in Rock City Campgrounds. The party starts at 7:30pm on Friday, May 1.
Monster Energy Carolina Rebellion is proud to be sponsored by Monster Energy, Bud Light, Jack Daniel's, Jägermeister, Crazy Dave's Music Experience, Zippo Encore and more to be announced.
Monster Energy returns as the festival's title sponsor and will be on site conducting giveaways, hosting Monster Energy artist signings, and offering Monster Energy Drink samples.
Monster Energy Carolina Rebellion is produced by AEG Live, Danny Wimmer Presents, and RockHouse Presents, and is part of the World's Loudest Month festival series. The World's Loudest Month features the biggest names in rock music performing in eight distinct concert atmospheres across the country in April and May.
For more information on Monster Energy Carolina Rebellion, visit:
---
Publicity Contact
Kristine Ashton-Magnuson, Ashton-Magnuson Media; kristine@am-media.net; (818) 996-2496
Sponsorship Contacts
Chris Thomas, AEG Live; cthomas@aeglive.com and Clay Busch, DWP; clay@armsdivision.com
About AEG Live
AEG Live, the live-entertainment division of Los Angeles-based AEG, is dedicated to all aspects of live contemporary music performance. AEG Live is comprised of touring, festival, broadcast, merchandise and special event divisions, fifteen regional offices, and owns, operates or exclusively books thirty-five state-of-the-art venues. The current and recent concert tour roster includes artists such as Alicia Keys, American Idols, Bon Jovi, Carrie Underwood, Daughtry, Enrique Iglesias, Jennifer Lopez, Justin Bieber, Kenny Chesney, Leonard Cohen, Paul McCartney, Taylor Swift, The WHO, Trey Songz and Juanes. The company is also currently producing residency shows at The Coloseum at Caesars Palace in Las Vegas including Celine Dion, Rod Stewart and Shania Twain and is the exclusive promoter at The Joint at Hard Rock Hotel & Casino Las Vegas. AEG Live is also the largest producer of music festivals in North America from the critically acclaimed Coachella Valley Music & Arts Festival to Stagecoach Country Music Festival and New Orleans Jazz & Heritage Festival.
www.aeglive.com
About Danny Wimmer Presents
Since 1995, Danny Wimmer has created, developed and produced events from the club level to some of the largest North American festivals. Founded in 2007 by industry veteran Wimmer, DWP produces some of the largest festivals in the rock and alternative landscapes. Never satisfied with the status quo, Danny Wimmer Presents strives to create memorable and fulfilling concert experiences leaving both consumers and partners with lasting and meaningful impressions.
www.DannyWimmerPresents.com
About RockHouse Presents
RockHouse Presents is a boutique concert company specializing in talent buying for the best hard rock and alternative rock music events across North America. RockHouse, while serving as a co-executive producer for destination festivals Rock On The Range, Carolina Rebellion and the first annual Northern Invasion, also books, markets and curates such branded events as EdgeFest/Dallas, Xfest/San Diego, MMRBQ/Philadelphia, BFD/San Francisco and several other nationally known radio hosted shows across the country.
About Monster Energy
Most companies spend their money on ad agencies, TV commercials, radio spots and billboards to tell you how good their products are. At Monster Energy, we chose none of the above. Instead we support the scene, our bands, our athletes and our fans. We back athletes so they can make a career out of their passion. We promote concert tours, so our favorite bands can visit your hometown. We celebrate with our fans and riders by throwing parties and making the coolest events we can think of a reality.
www.monsterenergy.com | www.facebook.com/monsterenergy