Date: March 4, 2015
From: Kristine Ashton-Magnuson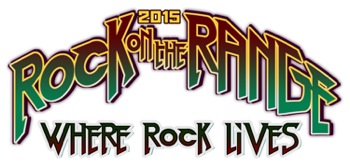 ROCK ON THE RANGE:
ADDITIONAL BANDS, COMEDY TENT LINEUP AND
ERNIE BALL PRESENTS THE ROCK ON THE RANGE BATTLE OF THE BANDS
ANNOUNCED FOR AMERICA'S PREMIER HARD ROCK FESTIVAL
MAY 15, 16 & 17 AT COLUMBUS, OHIO'S
MAPFRE STADIUM, FORMERLY CREW STADIUM
Rock On The Range, America's premier hard rock festival, has announced additional bands, the ROTR Comedy Tent lineup, and the 2015 Ernie Ball presents the Rock On The Range Battle Of The Bands for the ninth annual event, held May 15, 16 and 17 in Columbus, OH.
Festival producers explain, "Rangers, your rock home is now MAPFRE Stadium, formerly Crew Stadium (pronounced "MAH-fray"). Same rock experience. Same home. New name!"
The Pretty Reckless, Tremonti, Vamps, Dangerkids, and Highly Suspect join a stellar lineup of top rock bands led by multiplatinum Linkin Park, global rock juggernauts Slipknot, and heavy metal legends Judas Priest—who are currently celebrating their 40th Anniversary—for a full weekend of non-stop rock on three stages. The daily lineups will be announced in early April.
The ROTR Comedy Tent will feature sets from some of the biggest rock n' roll influenced comedians, including: Rob Schneider, Brian Posehn, Jim Norton, Don Jamieson, Jim Florentine, Rod Paulette, Jeremy Essig, Brent Terhune, Joe Howard, Bill Squire, Jay Snyder, Bill Arrundale, Jake Iannarino, Kenny Smith, and Craig Peters.
Ernie Ball presents the Rock On The Range Battle Of The Bands returns in 2015, offering unsigned bands a chance to perform on the Ernie Ball Stage at Rock On The Range and receive over $15,000 in gear and prizes, along with an all-expenses paid trip to Columbus, OH. The grand prize winner will receive gear from Electro-Voice, DW Drums, Zildjian Cymbals, Markbass, and 1964 Ears, as well as an Ernie Ball Strings endorsement and Music Man instruments! Beginning March 9, visit http://rotr.battleofthebands.com to enter the Ernie Ball presents the Rock On The Range Battle Of The Bands. This year, Battle Of The Bands fans will also have the opportunity to enter for a chance to win prizes from Ernie Ball and Ernie Ball Music Man. Visit http://rotr.battleofthebands.com starting March 9 for more details.
The current Rock On The Range music lineup is as follows:
Slipknot, Linkin Park, Judas Priest, Marilyn Manson, Godsmack, Rise Against, Slash featuring Myles Kennedy and the Conspirators, Volbeat, Breaking Benjamin, Papa Roach, Halestorm, Ministry, Tech N9ne, In This Moment, Falling In Reverse, Anthrax, The Pretty Reckless, Scott Weiland and the Wildabouts, Of Mice & Men, Hollywood Undead, Apocalyptica, In Flames, Motionless In White, The Dillinger Escape Plan, We Are Harlot, Rival Sons, BABYMETAL, Tremonti, Periphery, The Devil Wears Prada, Hatebreed, You Me At Six, Young Guns, Starset, Vamps, Nonpoint, Like A Storm, Upon A Burning Body, Saxon, Islander, Shaman's Harvest, New Medicine, Beartooth, Crobot, Marmozets, Unlocking The Truth, Dangerkids, Sabaton, Dorothy, Highly Suspect, From Ashes To New, Red Sun Rising, September Mourning

, and

Santa Cruz

.
Rock On The Range is part of the World's Loudest Month festival series and was recently named the 2014 RadioContraband Rock Event Of The Year. The festival has sold out in advance for two years in a row, with 120,000 concertgoers on hand in 2014. In 2015, ROTR will welcome live music's top cable channel, AXS TV, to film the weekend as part of their live festival coverage, allowing fans around the world to experience Rock On The Range.
ROTR Weekend Tickets are on sale now at www.RockOnTheRange.com. Hotel and Camping Packages are sold out, but the new VIP Upgrade for the Jack Daniel's Old No. 7 VIP Lounge is still available for only $125 while supplies last. The Jack Daniel's Old No. 7 VIP Lounge will feature amenities such as dedicated Wi-Fi, charging stations, private restrooms, premium food options and more. A limited number of discounted tickets are also available for active military through Rock On The Range partner GovX. For full details about all ticket options, visit: www.RockOnTheRange.com.
Rock On The Range is proud to once again be fueled by their partners at Monster Energy. Additional sponsors include: Jack Daniel's, Jägermeister, The Crazy Dave's Music Experience and Zippo, with more to be announced.
Monster Energy returns to Rock On The Range 2015 as the main stage sponsor and will be on site conducting giveaways, hosting Monster Energy artist signings, and sampling Monster Energy Drink.
Rock On The Range is produced by Danny Wimmer Presents, AEG Live, MAPFRE Stadium, formerly Crew Stadium, and RockHouse Presents. The multi-stage music and lifestyle event features a potent lineup of bands on three stages over three days. The nationally renowned festival that's centrally located in the heart of the country is proud to be part of the World's Loudest Month festival series, and annually draws huge weekend crowds since its inception in 2007, including a sold-out crowd of over 120,000 fans in 2014.
---
For more information on Rock On The Range, please contact:
PR: Kristine Ashton-Magnuson, Ashton-Magnuson Media; kristine@am-media.net; (818) 996-2496
MARKETING: Chamie McCurry, AEG Live; Chamie@aeglive.com
SPONSORSHIP: Chris Thomas, AEG Live; cthomas@aeglive.com and Clay Busch, DWP; clay@armsdivision.com
About Danny Wimmer Presents
Since 1995, Danny Wimmer has created, developed and produced events from the club level to some of the largest North American festivals. Founded in 2007 by industry veteran Wimmer, DWP produces some of the largest festivals in the rock and alternative landscapes. Never satisfied with the status quo, Danny Wimmer Presents strives to create memorable and fulfilling concert experiences leaving both consumers and partners with lasting and meaningful impressions.
www.DannyWimmerPresents.com
About AEG Live
AEG Live, the live-entertainment division of Los Angeles-based AEG, is dedicated to all aspects of live contemporary music performance. AEG Live is comprised of touring, festival, broadcast, merchandise and special event divisions, fifteen regional offices, and owns, operates or exclusively books thirty-five state-of-the-art venues. The current and recent concert tour roster includes artists such as Alicia Keys, American Idols, Bon Jovi, Carrie Underwood, Daughtry, Enrique Iglesias, Jennifer Lopez, Justin Bieber, Kenny Chesney, Leonard Cohen, Paul McCartney, Taylor Swift, The WHO, Trey Songz and Juanes. The company is also currently producing residency shows at The Coloseum at Caesars Palace in Las Vegas including Celine Dion, Rod Stewart and Shania Twain and is the exclusive promoter at The Joint at Hard Rock Hotel & Casino Las Vegas. AEG Live is also the largest producer of music festivals in North America from the critically acclaimed Coachella Valley Music & Arts Festival to Stagecoach Country Music Festival and New Orleans Jazz & Heritage Festival.
www.aeglive.com
About RockHouse Presents
RockHouse Presents is a boutique concert company specializing in talent buying for the best hard rock and alternative rock music events across North America. RockHouse, while serving as a co-executive producer for destination festivals Rock On The Range, Carolina Rebellion and the first annual Northern Invasion, also books, markets and curates such branded events as EdgeFest/Dallas, Xfest/San Diego, MMRBQ/Philadelphia, BFD/San Francisco and several other nationally known radio hosted shows across the country.
About Monster Energy
Most companies spend their money on ad agencies, TV commercials, radio spots and billboards to tell you how good their products are. At Monster Energy, we chose none of the above. Instead we support the scene, our bands, our athletes and our fans. We back athletes so they can make a career out of their passion. We promote concert tours, so our favorite bands can visit your hometown. We celebrate with our fans and riders by throwing parties and making the coolest events we can think of a reality.
www.monsterenergy.com | www.facebook.com/monsterenergy
About Ernie Ball
Ernie Ball was the first to offer rock strings with the creation of Slinkys®, the iconic light gauge electric guitar strings that are widely revered by hundreds of guitar greats, including Jimi Hendrix, Eric Clapton, Keith Richards, Jimmy Page, The Edge and John Mayer. Ernie Ball further revolutionized the market by offering guitarists Custom-Gauge single strings. With its founder's dedication to preserving the musician's playing experience and delivering superior sound quality through the development of new products, the family-run company has been on a continued pursuit of innovation. Throughout the last decade, Ernie Ball has built on this foundation to develop strings that are uniquely superior and different, and as a result created Cobalt and M-Steel Strings.
http://www.ernieball.com/