Date: March 17, 2015
From: Kristine Ashton-Magnuson
HOLLYWOOD UNDEAD
UNVEILS NEW VIDEO FOR "DAY OF THE DEAD"
TODAY AT WWW.WELCOMETOROCKVILLEFESTIVAL.COM AND
WWW.ROCKONTHERANGE.COM
BAND WILL PERFORM AT BOTH FESTIVALS THIS SPRING

AND KICK OFF WORLD'S LOUDEST MONTH WITH
OFFICIAL MONSTER ENERGY WELCOME TO ROCKVILLE PRE-PARTY
IN JACKSONVILLE
Later this spring, fans can catch Los Angeles based hip-hop/metal veterans Hollywood Undead at Monster Energy Welcome To Rockville in Jacksonville, FL on April 25 and Rock On The Range in Columbus, OH in mid-May. In the meantime, the band is premiering their video for "Day of the Dead" at www.WelcomeToRockvilleFestival.com and www.RockOnTheRange.com.
In the Spence Nicholson-directed clip, Hollywood Undead appear as musical guests on a satirical version of a for-profit televangelism program.
Hollywood Undead's J-Dog says, "A guy named Spence directed this video. He directed the 'Everywhere I Go' video too…Still one of our favorite videos. We came up with a really original idea for 'DOTD' and it came out amazing."
"Day of the Dead" is the current single and title track from Hollywood Undead's fourth studio album, due out March 31 via Interscope Records. Visit http://smarturl.it/HUDayOfTheDead to pre-order the album.
For more information on Hollywood Undead, visit www.hollywoodundead.com.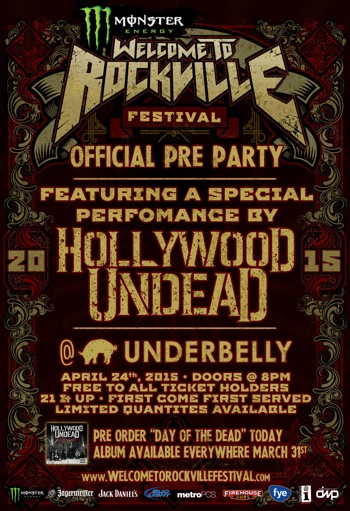 The fifth annual Monster Energy Welcome To Rockville takes place April 25 & 26 at Jacksonville, Florida's scenic Metropolitan Park along the St. Johns River. Florida's biggest rock festival kicks off the World's Loudest Month festival series and features music on multiple stages, band autograph signings, interactive experiences, a Monster Energy viewing area with beverage sampling, and a variety of food and beverage options, including local gourmet food trucks and the debut of the new Monster Energy Welcome To Rockville Tequila World. 2014's Monster Energy Welcome To Rockville sold out with 40,000 fans of all ages from around the U.S. and various countries in attendance during the two-day destination music festival. Tickets for Monster Energy Welcome To Rockville are available now at www.WelcomeToRockvilleFestival.com.
Hollywood Undead will get the party started Friday, April 24 with an exclusive performance at the Monster Energy Welcome To Rockville Official Pre-Party at Underbelly (113 E Bay Street) in downtown Jacksonville. The Monster Energy Welcome To Rockville Official Pre-Party is presented by Danny Wimmer Presents, Bud Light, Jack Daniel's and Jägermeister. The party is free to all Monster Energy Welcome To Rockville ticket holders 21 and older. To gain access to the Pre-Party, ticketholders need to show their festival ticket at the Underbelly box office to get a Pre-Party wristband in advance. Wristbands are limited and will be distributed on a first come, first served basis beginning at Noon on Friday, April 24. Doors open at 8:00 PM for the Pre-Party and music starts at 9:00 PM.
Rock On The Range, America's premier hard rock festival, returns to Columbus, Ohio's MAPFRE Stadium, formerly Crew Stadium, May 15, 16 and 17, 2015 for its ninth year with a stellar lineup of top rock bands. The full weekend of non-stop rock will feature performances from many of the world's most exciting bands on three stages over three days, plus the biggest Rock n' Roll comedians in the ROTR Comedy Tent. The festival has sold out in advance for two years in a row, with 120,000 concertgoers on hand in 2014. ROTR Weekend Tickets are on sale now at www.RockOnTheRange.com.
Monster Energy Welcome To Rockville and Rock On The Range are part of the World's Loudest Month festival series. Created by AEG Live, Danny Wimmer Presents and RockHouse Presents, The World's Loudest Month features the biggest names in rock music performing in eight distinct U.S. concert atmospheres in April and May. Last year saw new attendance highs for the World's Loudest Month festivals, with more than 368,000 fans turning out to see over 150 bands perform, proving that the hunger for rock and metal music in America is growing.
www.WorldsLoudestMonth.com
---
About Danny Wimmer Presents
Since 1995, Danny Wimmer has created, developed and produced events from the club level to some of the largest North American festivals. Founded in 2007 by industry veteran Wimmer, DWP produces some of the largest festivals in the rock and alternative landscapes. Never satisfied with the status quo, Danny Wimmer Presents strives to create memorable and fulfilling concert experiences leaving both consumers and partners with lasting and meaningful impressions.
www.DannyWimmerPresents.com
About AEG Live
AEG Live, the live-entertainment division of Los Angeles-based AEG, is dedicated to all aspects of live contemporary music performance. AEG Live is comprised of touring, festival, broadcast, merchandise and special event divisions, fifteen regional offices, and owns, operates or exclusively books thirty-five state-of-the-art venues. The current and recent concert tour roster includes artists such as Alicia Keys, American Idols, Bon Jovi, Carrie Underwood, Daughtry, Enrique Iglesias, Jennifer Lopez, Justin Bieber, Kenny Chesney, Leonard Cohen, Paul McCartney, Taylor Swift, The WHO, Trey Songz and Juanes. The company is also currently producing residency shows at The Coloseum at Caesars Palace in Las Vegas including Celine Dion, Rod Stewart and Shania Twain and is the exclusive promoter at The Joint at Hard Rock Hotel & Casino Las Vegas. AEG Live is also the largest producer of music festivals in North America from the critically acclaimed Coachella Valley Music & Arts Festival to Stagecoach Country Music Festival and New Orleans Jazz & Heritage Festival.
www.aeglive.com
About RockHouse Presents
RockHouse Presents is a boutique concert company specializing in talent buying for the best hard rock and alternative rock music events across North America. RockHouse, while serving as a co-executive producer for destination festivals Rock On The Range, Carolina Rebellion and the first annual Northern Invasion, also books, markets and curates such branded events as EdgeFest/Dallas, Xfest/San Diego, MMRBQ/Philadelphia, BFD/San Francisco and several other nationally known radio hosted shows across the country.
Hollywood Undead Publicity Contacts
Rey Roldan/Reybee, Inc.
rey@reybee.com
(201) 223-9078
Josh Hammond/Reybee, Inc.
Joshua@reybee.com
Monster Energy Welcome To Rockville Contacts
Kristine Ashton-Magnuson/Ashton-Magnuson Media (Publicity)
kristine@am-media.net; (818) 996-2496
Clay Busch/Danny Wimmer Presents (Marketing & Sponsorship)
clay@dwpresents.com
Rock On The Range Contacts
Kristine Ashton-Magnuson/Ashton-Magnuson Media (Publicity)
kristine@am-media.net; (818) 996-2496
Clay Busch/Danny Wimmer Presents (Sponsorship & Marketing)
clay@dwpresents.com
Chamie McCurry/AEG Live (Marketing)
Chamie@aeglive.com
Chris Thomas/AEG Live (Sponsorship)
cthomas@aeglive.com