Date: April 28, 2015
From: Kristine Ashton-Magnuson
MONSTER ENERGY FORT ROCK
SELLS OUT THIRD STRAIGHT YEAR
WITH 14,000 IN ATTENDANCE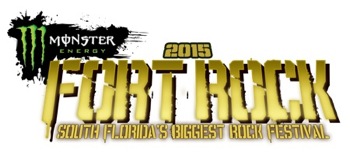 For the third straight year, tickets were sold out at Monster Energy Fort Rock, Saturday, April 25 at JetBlue Park in Fort Myers, FL. With 14,000 in attendance, South Florida's Biggest Rock Festival featured performances from Slipknot, Godsmack, Breaking Benjamin, Papa Roach, In This Moment, The Pretty Reckless, and more.
"2015's Monster Energy Fort Rock was the biggest to date and we will continue to grow the show and bring the best artists to South Florida," says Clay Busch, Head Of Marketing for festival producer Danny Wimmer Presents. "We cannot wait to return."
Check out a video clip with highlights from this year's festival here: http://bit.ly/FTR_WRAP.
Here's some early feedback from media about Monster Energy Fort Rock:
"All of the concert goers said Fort Rock is the best of the best when it comes to rock music festivals, and no matter where they're from, they're already planning for next year's concert."

—Lisa Greenberg, Fox 4, WFTX-TV, April 25, 2015

"Thousands of rock fans melt into crowd as musicians scorch Fort Rock…The 2015 version of the all-day hard rock festival delivered on its vow from promoters at Danny Wimmer Presents to build upon last year."

—Dave Osborn, Naples Daily News, April 26, 2015

"…I'm happy and thoroughly rocked out. Especially after that intense #Slipknot show."

—Charles Runnells, Fort Myers News-Press (Tweet), April 25, 2015
Monster Energy Fort Rock is produced by Danny Wimmer Presents and AEG Live and is part of the World's Loudest Month festival series kick-off. The World's Loudest Month features the biggest names in rock music performing in eight distinct concert atmospheres across the country in April and May.
2015 sponsors for Monster Energy Fort Rock include Monster Energy, Jack Daniel's, Jägermeister, The Crazy Dave's Music Experience, Fxck Cancer, Zippo Encore, Revolver Magazine, Alternative Press, Loudwire, State Farm, Florida Weekly, and Marshall Headphones.
JetBlue Park is the spring training home of the 2013 World Champion Boston Red Sox, located at 11581 Daniels Parkway in Fort Myers, Florida.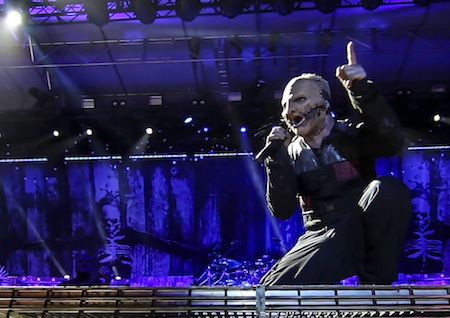 (Corey Taylor of Slipknot)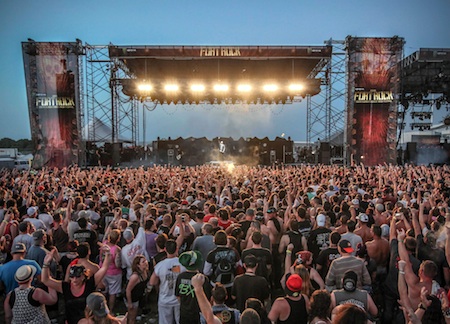 (Papa Roach)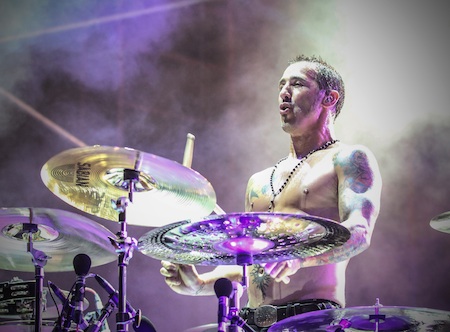 (Sully Erna of Godsmack)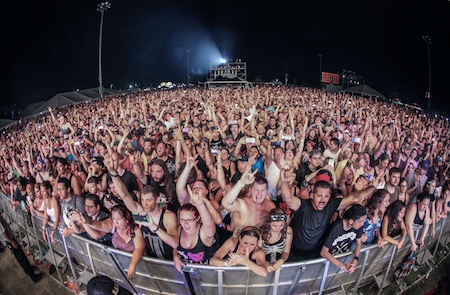 (Fans at Monster Energy Fort Rock)
(All photos by Chris Bradshaw)
---
About Danny Wimmer Presents
Since 1995, Danny Wimmer has created, developed and produced events from the club level to multi-day festivals. Founded in 2007 by industry veteran Wimmer, Danny Wimmer Presents produces some of the largest U.S. festivals in the rock and alternative landscapes. By merging well-known talent with local cuisine and culture, DWP has become recognized within the industry for delivering the highest-quality, exceptional value entertainment experiences to customers, artists, sponsors, partners and host cities alike. Never satisfied with the status quo, DWP strives to create memorable and fulfilling concert experiences leaving both consumers and partners with lasting and meaningful impressions. Over the past six years, DWP has grown — while constantly innovating its production, promotion and fan experiences — from a partner in one single event to producing sold out events across the country, doubling its number of produced events between 2012 and 2013 alone. DWP plans to add as many as five new music festivals in 2015 to its already stellar portfolio, which includes Rock On The Range, Monster Energy AFTERSHOCK Festival, Monster Energy Welcome To Rockville, Monster Energy Carolina Rebellion, and LOUDER THAN LIFE, among others.
www.DannyWimmerPresents.com
About AEG Live
AEG Live, the live-entertainment division of Los Angeles-based AEG, is dedicated to all aspects of live contemporary music performance. AEG Live is comprised of touring, festival, broadcast, merchandise and special event divisions, fifteen regional offices, and owns, operates or exclusively books thirty-five state-of-the-art venues. The current and recent concert tour roster includes artists such as Alicia Keys, American Idols, Bon Jovi, Carrie Underwood, Daughtry, Enrique Iglesias, Jennifer Lopez, Justin Bieber, Kenny Chesney, Leonard Cohen, Paul McCartney, Taylor Swift, The WHO, Trey Songz and Juanes. The company is also currently producing residency shows at The Coloseum at Caesars Palace in Las Vegas including Celine Dion, Rod Stewart and Shania Twain and is the exclusive promoter at The Joint at Hard Rock Hotel & Casino Las Vegas. AEG Live is also the largest producer of music festivals in North America from the critically acclaimed Coachella Valley Music & Arts Festival to Stagecoach Country Music Festival and New Orleans Jazz & Heritage Festival.
www.aeglive.com
About Monster Energy
Most companies spend their money on ad agencies, TV commercials, radio spots and billboards to tell you how good their products are. At Monster Energy, we chose none of the above. Instead we support the scene, our bands, our athletes and our fans. We back athletes so they can make a career out of their passion. We promote concert tours, so our favorite bands can visit your hometown. We celebrate with our fans and riders by throwing parties and making the coolest events we can think of a reality.
www.monsterenergy.com | www.facebook.com/monsterenergy
About Jack Daniel's
Officially registered by the U.S. Government in 1866, the Jack Daniel Distillery, Lem Motlow, proprietor, is the oldest registered distillery in the United States and is on the National Register of Historic Places. Based in Lynchburg, Tenn., the Jack Daniel Distillery is the maker of the world-famous Jack Daniel's Old No. 7 Tennessee Whiskey, Gentleman Jack Rare Tennessee Whiskey, Jack Daniel's Single Barrel Tennessee Whiskey and Jack Daniel's Country Cocktails. Jack Daniel's encourages its friends to drink responsibly.
About Jägermeister
Jägermeister, which translates to "master hunter," is the #1 selling imported liqueur in the United States and one of the top shot brands in the world. The full-bodied flavor of Jägermeister, which includes cinnamon, star anise, ginger, orange and cardamom, is a result of a lengthy maceration to extract aromatic compounds from a closely guarded recipe of 56 herbs, roots, blossoms and fruits, plus aging in oak casks for one year. The production process is exacting and includes sourcing the ingredients in their raw, unprocessed form, along with 383 quality checks to ensure its iconic taste profile. Jägermeister Liqueur is 35% Alc./Vol. and imported exclusively by Sidney Frank Importing Company, Inc., New Rochelle, NY. Visit www.jager.com or www.facebook.com/JagerUSA for additional information. DRINK RESPONSIBLY
Monster Energy Fort Rock Publicity Contact
Kristine Ashton-Magnuson/Ashton-Magnuson Media
kristine@am-media.net (818) 996-2496
Monster Energy Fort Rock Marketing, Media & Sponsorship Contact
Clay Busch/Danny Wimmer Presents
clay@dwpresents.com