Date: April 28, 2015
From: Kristine Ashton-Magnuson
MONSTER ENERGY WELCOME TO ROCKVILLE
SELLS OUT WITH RECORD CROWD OF 50,000
FOR FLORIDA'S BIGGEST ROCK FESTIVAL
APRIL 25 & 26 AT METROPOLITAN PARK IN JACKSONVILLE, FLORIDA
After expanding into the EverBank Field grounds, Monster Energy Welcome To Rockville drew a record crowd of 50,000 for the fifth anniversary of Florida's Biggest Rock Festival, held April 25 & 26 at Jacksonville, Florida's scenic Metropolitan Park along the St. Johns River. This marked a 25% increase from last year's record high attendance of 40,000.
Despite two temporary evacuations on Saturday due to severe weather systems in the area, the festival's fifth anniversary weekend was a huge success. Inclement weather couldn't keep the crowd from enjoying all that Monster Energy Welcome To Rockville had to offer, which included over 50 bands, Tequila World, a ferris wheel, art installations, a diverse food selection, wine tasting, a DJ, the Jacksonville Jaguars' Ultimate Rock-N-Jock Experience and other onsite activities, and even grape stomping.
The organizers of Monster Energy Welcome To Rockville want to thank all the fans, bands, vendors, sponsors, and media, as well as the Mayor's office and Jacksonville Police and Fire for flawlessly executing two evacuations during Saturday's festivities. Says event creator Danny Wimmer, "You don't want to ever actually have to find out that your emergency plan works. But we were prepared and when the decision was made to evacuate, everyone executed perfectly. I am grateful for the support we received from JSO, the Fire Marshall and Mayor Brown. The fans gave us their full cooperation and then as soon as the storms were over, got right back into having a great time. Despite the interruptions, I think this year's Rockville gave Jacksonville a glimpse of where we're going to take this festival in the years to come."
The lineup for the fifth annual Monster Energy Welcome To Rockville included Slipknot, Korn, Godsmack, Marilyn Manson, Slayer, Ministry, Slash featuring Myles Kennedy and The Conspirators, Breaking Benjamin, Papa Roach, Halestorm, The Pretty Reckless, Of Mice & Men, and many more.
Monster Energy Welcome To Rockville is produced by Danny Wimmer Presents and anchors the World's Loudest Month festival series. The World's Loudest Month features the biggest names in rock music performing in eight distinct concert atmospheres across the country in April and May.
2015 sponsors for Monster Energy Welcome To Rockville included Monster Energy, Bud Light, Jack Daniel's, Jägermeister, Firehouse Subs, MetroPCS, The Crazy Dave's Music Experience, f.y.e., Zippo Encore, Yamaha, Fxck Cancer, Corona, ReverbNation, Hundred Handed, Matador Beef Jerky, Victory Records, Another Century Records, Wine Decadence, TacoLu, Al Capone Cigars, Roadrunner Records and more.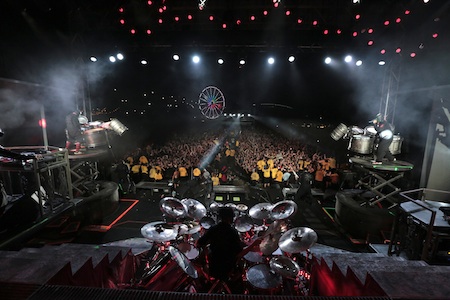 (Slipknot crowd by Strati Hovartos)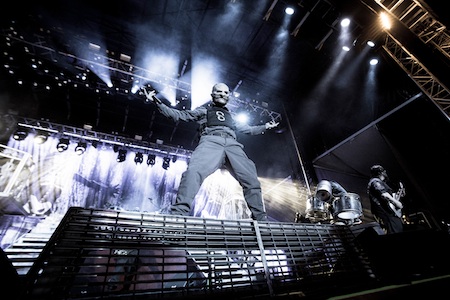 (Slipknot by Garrett Riker)
(Slash featuring Myles Kennedy and The Conspirators by Scott Uchida)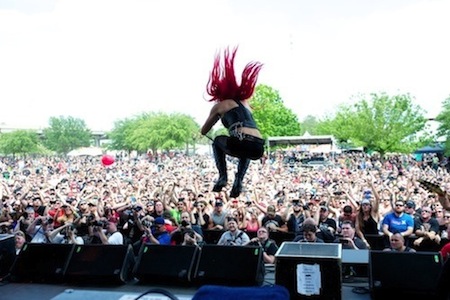 (Butcher Babies by Scott Uchida)
---
About Danny Wimmer Presents
Since 1995, Danny Wimmer has created, developed and produced events from the club level to multi-day festivals. Founded in 2007 by industry veteran Wimmer, Danny Wimmer Presents produces some of the largest U.S. festivals in the rock and alternative landscapes. By merging well-known talent with local cuisine and culture, DWP has become recognized within the industry for delivering the highest-quality, exceptional value entertainment experiences to customers, artists, sponsors, partners and host cities alike. Never satisfied with the status quo, DWP strives to create memorable and fulfilling concert experiences leaving both consumers and partners with lasting and meaningful impressions. Over the past six years, DWP has grown — while constantly innovating its production, promotion and fan experiences — from a partner in one single event to producing sold out events across the country, doubling its number of produced events between 2012 and 2013 alone. DWP plans to add as many as five new music festivals in 2015 to its already stellar portfolio, which includes Rock On The Range, Monster Energy AFTERSHOCK Festival, Monster Energy Welcome To Rockville, Monster Energy Carolina Rebellion, and LOUDER THAN LIFE, among others.
www.DannyWimmerPresents.com
About Monster Energy
Most companies spend their money on ad agencies, TV commercials, radio spots, and billboards to tell you how good their products are. At Monster Energy, we chose none of the above. Instead we support the scene, our bands, our athletes and our fans. We back athletes so they can make a career out of their passion. We promote concert tours, so our favorite bands can visit your hometown. We celebrate with our fans and riders by throwing parties and making the coolest events we can think of a reality.
www.monsterenergy.com | www.facebook.com/monsterenergy
About Metropolitan Park
Metropolitan Park offers a scenic, spacious site for Monster Energy Welcome To Rockville that's just a few hours drive from cities including Orlando, Tampa, Gainesville, Savannah and Tallahassee, and is easily accessible by plane from around the country. Metropolitan Park is a premier 27-acre recreational facility along the beautiful St. Johns River in downtown Jacksonville, Florida at 1410 Gator Bowl Blvd.
Monster Energy Welcome To Rockville Publicity Contact
Kristine Ashton-Magnuson/Ashton-Magnuson Media
kristine@am-media.net; (818) 996-2496
Monster Energy Welcome To Rockville Marketing & Sponsorship Contact
Clay Busch/Danny Wimmer Presents
clay@dwpresents.com