Date: June 3, 2015
From: Kristine Ashton-Magnuson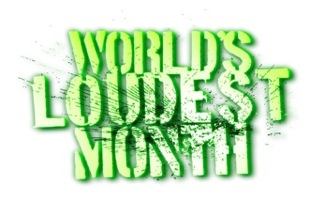 2015 WORLD'S LOUDEST MONTH FESTIVAL SERIES
WRAPS WITH SIX CONSECUTIVE WEEKENDS
OF RECORD-SETTING ATTENDANCE
OF OVER 426,000 FANS FOR
MONSTER ENERGY FORT ROCK, MONSTER ENERGY WELCOME TO ROCKVILLE, MONSTER ENERGY CAROLINA REBELLION,
NORTHERN INVASION, ROCK ON THE RANGE, ROCKLAHOMA,
RIVER CITY ROCKFEST AND ROCKFEST
More than 426,000 fans came out for the 2015 World's Loudest Month festivals across the U.S. between April 25 and May 30, breaking last year's attendance record and solidifying the significance of rock and metal music in America.
Created by AEG Live, Danny Wimmer Presents and RockHouse Presents, The World's Loudest Month features the biggest names in rock music performing in eight distinct U.S. concert atmospheres in April and May.
In addition to the established festivals taking place in Florida, North Carolina, Ohio, Oklahoma, Texas, and Missouri, the World's Loudest Month creators introduced Northern Invasion in 2015, a one day, multi-stage camping festival just outside the Twin Cities of Minneapolis and St. Paul, MN.
"Every year we try to raise the bar for the rock fans around the country with the World's Loudest Month festivals, and every year those dedicated fans rise to the challenge," comments Joe Litvag of AEG Live. "We find it incredibly gratifying that while many may say that rock isn't cool or hip, hundreds of thousands of loyal rock enthusiasts and hundreds of rock performers would disagree. The numbers are growing each year and speak for themselves, and we are so grateful to the fans, artists and sponsors who continue to support this underserved genre year after year. If 'rock 'n' roll is dead' as they say, you could've fooled me!"
"Over the past several years there has been an explosion of music festivals in the United States, making it clear that festivals have become a significant force in the American music culture," says Danny Wimmer of Danny Wimmer Presents. "While this growth is exciting, it puts pressure on organizers to find ways to differentiate their events. By creating the WLM as an association of individual festivals, we have been able to globally celebrate the rock culture but also highlight the uniqueness of each event through the curation of local cuisine, craft breweries and distilleries. The music always comes first, but expanding the non-musical entertainment offering of each festival has also been a key focus. Whether it's adding a custom food village, a comedy tent, a tequila world or new activation partners like the Jacksonville Jaguars, each festival continues to find its own personality. What is most exciting to me are the things we have on the drawing board for the future."
Here's a summary of the 2015 World's Loudest Month festival series:
---
For more information about the World's Loudest Month, please contact:
PR: Kristine Ashton-Magnuson, Ashton-Magnuson Media; kristine@am-media.net; (818) 996-2496
MARKETING: Chamie McCurry, AEG Live; Chamie@aeglive.com and Clay Busch, DWP; clay@dwpresents.com
SPONSORSHIP: Chris Thomas, AEG Live; cthomas@aeglive.com and Clay Busch, DWP; clay@dwpresents.com
About Danny Wimmer Presents
Since 1995, Danny Wimmer has created, developed and produced events from the club level to multi-day festivals. Founded in 2007 by industry veteran Wimmer, Danny Wimmer Presents produces some of the largest U.S. festivals in the rock and alternative landscapes. By merging well-known talent with local cuisine and culture, DWP has become recognized within the industry for delivering the highest-quality, exceptional value entertainment experiences to customers, artists, sponsors, partners and host cities alike. Never satisfied with the status quo, DWP strives to create memorable and fulfilling concert experiences leaving both consumers and partners with lasting and meaningful impressions. Over the past six years, DWP has grown — while constantly innovating its production, promotion and fan experiences — from a partner in one single event to producing sold out events across the country, doubling its number of produced events between 2012 and 2013 alone. DWP plans to add as many as five new music festivals in 2015 to its already stellar portfolio, which includes Rock On The Range, Monster Energy AFTERSHOCK Festival, Monster Energy Welcome To Rockville, Monster Energy Carolina Rebellion, and LOUDER THAN LIFE, among others.
www.DannyWimmerPresents.com
About AEG Live
AEG Live, the live-entertainment division of Los Angeles-based AEG, is dedicated to all aspects of live contemporary music performance. AEG Live is comprised of touring, festival, broadcast, merchandise and special event divisions, fifteen regional offices, and owns, operates or exclusively books thirty-five state-of-the-art venues. The current and recent concert tour roster includes artists such as Alicia Keys, American Idols, Bon Jovi, Carrie Underwood, Daughtry, Enrique Iglesias, Jennifer Lopez, Justin Bieber, Kenny Chesney, Leonard Cohen, Paul McCartney, Taylor Swift, The WHO, Trey Songz and Juanes. The company is also currently producing residency shows at The Coloseum at Caesars Palace in Las Vegas including Celine Dion, Rod Stewart and Shania Twain and is the exclusive promoter at The Joint at Hard Rock Hotel & Casino Las Vegas. AEG Live is also the largest producer of music festivals in North America from the critically acclaimed Coachella Valley Music & Arts Festival to Stagecoach Country Music Festival and New Orleans Jazz & Heritage Festival.
www.aeglive.com
About RockHouse Presents
RockHouse Presents is a boutique concert company specializing in talent buying for the best hard rock and alternative rock music events across North America. RockHouse, while serving as a co-executive producer for destination festivals Rock On The Range, Carolina Rebellion and the first annual Northern Invasion, also books, markets and curates such branded events as EdgeFest/Dallas, XFest/San Diego, MMRBQ/Philadelphia, BFD/San Francisco and several other nationally known radio hosted shows across the country.