Date: June 10, 2015
From: Kristine Ashton-Magnuson
SHIPROCKED 2016
STATEROOMS NOW SOLD OUT
FOR JANUARY 18-22 CRUISE ON NORWEGIAN PEARL
FEATURING HEADLINERS FIVE FINGER DEATH PUNCH
ALONG WITH SEETHER, HALESTORM, HELLYEAH, HELMET & MORE
WAITING LIST AVAILABLE FOR
SEVENTH ANNUAL 'ULTIMATE ROCK 'N' ROLL CRUISE'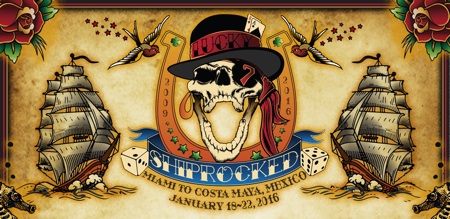 Staterooms are now sold out for the seventh annual ShipRocked—fueled by Monster Energy—sailing January 18-22, 2016 roundtrip from Miami, Florida to Costa Maya, Mexico onboard Norwegian Pearl. Those who would like to make a reservation for the Ultimate Rock 'N' Roll Cruise can join the waiting list by visiting www.ShipRocked.com.
Those lucky enough to have reserved a spot on the cruise will enjoy performances from headliners Five Finger Death Punch, along with Seether, Halestorm, Hellyeah, Helmet, 10 Years, Nonpoint, We Are Harlot, Avatar, Like A Storm, Islander, '68, Children 18:3, The Dead Deads, plus '80s cover band Rubix Kube, DJ Lippy Rage and more.
Recent additions to the band lineup include We Are Harlot, Like A Storm and the SR16 All-Star Band (exclusively performing on ShipRocked) featuring Ben Moody, Lukas Rossi, Josh Newell, and Miles McPherson from The Halo Method; Wuv Bernardo and Marcos Curiel of P.O.D.; Oli Herbert (All That Remains); Peter DiStefano (Porno For Pyros); Chris Hesse and Doug Robb of Hoobastank; and Carly Smithson (We Are The Fallen).
Produced by ASK4 Entertainment, ShipRocked is a once-in-a-lifetime experience with unique performances and musical collaborations that provides guests with the opportunity to vacation with their favorite bands, meet new friends, and reunite with old ones year after year. ShipRocked on-board and beach activities include photo meet and greets with band members, poolside games, artist Q&A sessions, trivia challenges, game shows, parties, contests and more. The ShipRocked Cancer Sucks! onboard charity auction raises funds for innovative medical research and finding a cure for cancer.
Norwegian Pearl offers guests access to 13 bars and lounges, 19 dining experiences, one outdoor pool, four hot tubs, a fitness center, and a well-appointed spa. Those looking for more adventurous activities can bowl a few frames at the onboard lanes, shoot hoops on the sports court or tempt lady luck at The Pearl Club Casino.
Those looking for a summertime ShipRocked land experience can book a cabin for ShipRocked Summer Camp, a special mid-year reunion which takes place July 17-19 at "Camp ShipRocked" (aka Club Getaway), a cozy all-inclusive wilderness resort overlooking a sparking lake in the beautiful Berkshire Mountains of western Connecticut. Guests will stay in comfortable country cabins with air conditioning, private bathrooms and daily housekeeping. The vacation package includes all meals, with buffets, barbecues and delectable dinner cuisine prepared by chefs from the nearby Connecticut Culinary Institute. Campers will have a wide selection of onsite activities to choose from each day as well. For full details, visit www.campshiprocked.com.
---
About ShipRocked
The ultimate rock music cruise vacation is produced by Alan Koenig of ASK4 Entertainment. During ShipRocked 2015, guests from around the U.S. and various other countries were treated to more than 50 performances from 25 artists on five stages aboard Norwegian Pearl—and on the spectacular beach stage of Great Stirrup Cay in the Bahamas—along with three days of meet-and-greets with ShipRocked artists, comedy and DJ sets, impromptu stage-side signings, and more. The 2015 ShipRocked Cancer Sucks! onboard charity auction raised nearly $80,000 towards funding innovative medical research and finding a cure for cancer. Each ShipRocked is a once-in-a-lifetime experience that provides guests with the opportunity to vacation with their favorite bands, meet new friends, and reunite with old friends year after year. On any given day, guests might find themselves dining, drinking, rocking out, swimming, working out, or gambling alongside their favorite rock musicians. The full-ship charter provides a one-of-a-kind experience for guests to have the time of their lives with thousands of like-minded friends. Previous ShipRocked performers include: 10 Years, Black Stone Cherry, Buckcherry, Candlebox, Filter, Five Finger Death Punch, Fuel, Geoff Tate, Godsmack, Hellyeah, Helmet, Hinder, In This Moment, Korn, Lit, Living Colour, P.O.D., Papa Roach, Pop Evil, Queensrÿche, Sevendust, Three Days Grace, Wilson, Crobot and many more.
www.ShipRocked.com
About ASK4 Entertainment
ASK4 Entertainment is a premier rock music theme cruise and destination event producer. ASK4 Entertainment produces ShipRocked, Motörhead's Motörboat, as well as a ShipRocked Summer Camp land event.
www.facebook.com/ASK4Entertainment