Date: September 21, 2015
From: Kristine Ashton-Magnuson
SGE AND BREW HA HA PRODUCTIONS PARTNER FOR
CALI UNCORKED
PRESENTED BY HARRAH'S RESORT OF SOUTHERN CALIFORNIA
NOVEMBER 14 AT SOUTHERN CALIFORNIA'S
OAK CANYON PARK
FESTIVAL WILL FEATURE CALIFORNIA CRAFT BEER AND WINE TASTING,
ALONG WITH REGIONAL ARTISAN FOOD VENDORS, POP-UP RESTAURANTS,
AS WELL AS TOP MUSIC AND COMEDY FROM THE REGION

MUSIC STAGE FEATURES:
REBELUTION,
COLLIE BUDDZ, MATT COSTA, AND TOM CURREN

TICKETS ON SALE NOW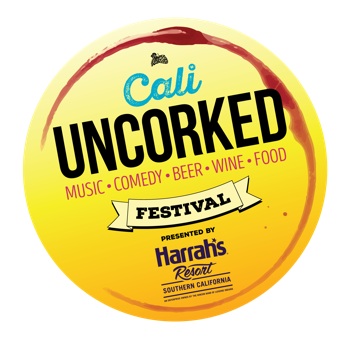 The inaugural Cali UNCORKED presented by Harrah's Resort of Southern California, a day-long music, comedy, craft beer, wine and food festival, will take place November 14 at picturesque Oak Canyon Park in the hills of Silverado, CA, just a short drive from downtown Irvine, CA. The festival will also feature a full day of music, with performances from Santa Barbara's Rebelution, and Collie Buddz, as well as indie surfer stylings from locals Matt Costa and Tom Curren. Visit www.UncorkedFest.com for full details.
Off-duty firefighters will pour beer and wine for attendees and a portion of the proceeds will go to the 3631 Fallen Firefighters Foundation (http://bit.ly/1O2GEVx).
Cali UNCORKED will also feature a comedy stage, presented by one of the most influential comedy and lifestyle websites, Funny Or Die. With top national and local comedians such as Grant Cotter, Monty Franklin, Jason Collings and Gene Pompa, the Funny Or Die Comedy Stage curated by the nationally-acclaimed Irvine Improv will include the best local up-and-coming comedians that SoCal has to offer.
Cali UNCORKED is produced by premier music festival production company Synergy Global Entertainment (SGE) and Brew Ha Ha Productions, Orange County, California's most successful and respected craft beer event producer.
From 1:00 PM—4:00 PM, Cali UNCORKED attendees will enjoy complimentary craft beer and wine tastings from top California breweries and wineries in the UNCORKED festival grounds, which features a sprawling grassy area with several shaded seating spots. Local artisan food trucks and pop-up restaurants will also be on site selling a variety of delicious and unique food options throughout the day and evening. After 4:00 PM, several UNCORKED brewers and wineries will offer drinks for purchase, with music and comedy continuing through 7:00 PM.
Extremely limited VIP packages are also available. Three different packages include a variety of perks such as early admission for an extra hour of tastings, premier parking, premier restrooms, shaded lounge seating, and even a meet and greet with the bands. VIP attendees will also have the opportunity to attend a session with "Dr." Bill Sysak, Craft Beer Ambassador and Certified Cicerone at Stone Brewing Co.
All VIP information and tickets can be found at www.UncorkedFest.com.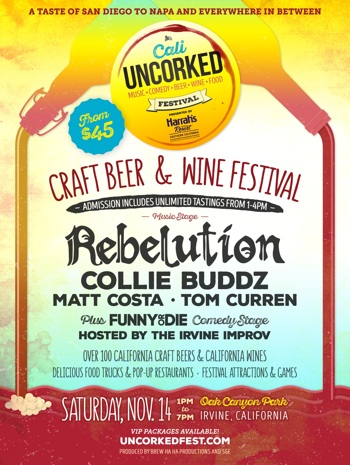 The initial list of breweries includes: Anchor Brewing Co. (San Francisco), Bottle Logic Brewing (Anaheim), Black Market Brewing (Temecula), Bootleggers Brewery (Fullerton), Stone Brewing Co. (San Diego), and Pizza Port (San Clemente), with many more to be announced.
Participating wineries will be announced soon.
Southern California food vendors will include: The CUT (Handcrafted Burgers), Porko Rico BBQ (Caribbean BBQ), Devilicious (seen on Food Network's Great Food Truck Race), and Haven Gastropub (with Executive Chef/Partner Greg Daniels), with many more to be announced.
Producer John Reese of SGE explains, "We wanted to create a new beer, wine and food festival married with a music and comedy festival that had three headliners: the drinks, the food, and the entertainment. Since we're Orange County based ourselves, we wanted to highlight the best of region's beers, wines, artisan nibbles, music and comedians from our own backyard."
"We have never been more excited about bringing a new event to Orange County," says Cali UNCORKED co-producer Cameron Collins of Brew Ha Ha Productions. "For the past six years we have built a reputation for producing the highest quality and attended craft beer festivals in Southern California, and that reputation is important to us. We enthusiastically enter into this new venture with SGE confident that we will be presenting a world class event unlike anything our attendees have seen before!"
Tickets for Cali UNCORKED are on sale now at www.UncorkedFest.com. Please note that the event is for those 21 and up.
General Admission and VIP tickets will be available for purchase for the following prices. Note: All tickets include beer and wine tasting, access to the Funny Or Die Comedy Stage and concert.
Early Bird Discount:

$45 (limited quantity to include complimentary early access VIP upgrade!)

General Admission:

$45 while limited supplies last, then prices will increase based on availability

Early Entry VIP:

$65 (early entry for craft beer & wine tastings starting at noon)

+ VIP Lounge:

$99

1 hour early entry (starting at noon)
Premier parking lot access
Access into the Harrah's Lounge
VIP bathrooms

+ Meet & Greet VIP:

$199

Meet & Greet with Rebelution to include pictures and poster signing
1 hour early entry (starting at noon)
Premier parking lot access
Access into the Harrah's Lounge
VIP lounge with additional shaded seating areas
VIP bathrooms
Designated Driver tickets can be purchased at the door for $30.
Oak Canyon Park is located in Orange County at 5305 E. Santiago Canyon Road in Silverado, CA and is less than two hours from Los Angeles, San Diego, Riverside and San Bernardino Counties. It's also conveniently located a short drive from John Wayne Airport in Irvine, CA.
For those traveling to the Southern California area to attend Cali UNCORKED, the nearby cities offer a wide variety of hotel and camping options.
The festival producers encourage attendees to drink responsibly.
---
About Synergy Global Entertainment, Inc.
Synergy Global Entertainment, Inc. (SGE) is one of the world's premier music festival production companies. With hundreds of live events worldwide each year, SGE works with agencies, brands and musical talent to produce or co-produce concerts across various genres and interests. SGE produces the Rockstar Energy UPROAR Festival and Funny Or Die's ODDBALL Comedy And Curiosity Festival. In addition, SGE co-produced the Rockstar Energy Drink Mayhem Festival and conceived and developed KNOTFEST with Slipknot and 5B Artist Management. In the past, SGE co-produced the worldwide Rockstar Taste of Chaos, as well as many other national festivals and tours. SGE senior staff have a combined 60 years of experience in artist management, large scale festival production and brand integration and have worked with artists as diverse as Guns N' Roses and The Cure. SGE excels at integrating brands' needs with large scale musical entertainment.
About Brew Ha Ha Productions
Brew Ha Ha Productions (BHHP) is Orange County, California's most successful craft beer event producer. Its team brings years of successful event production and business experience along with an inside view of the craft beer industry and its enthusiasts. Fueled by a desire to promote craft beer (particularly Orange County brewed), along with a vision of a different kind of beer fest, the Orange County Brew Ha Ha Craft Beer Festival was conceived. With a goal of also giving back, the inaugural event was held on September 11, 2010, "a day of remembrance" which added a new level of purpose and passion for this event. In keeping with the theme of 9/11, the Orange County Fallen Firefighters Relief Fund was adopted as the charity for this event. The event was a resounding success and has been voted "BEST Craft Beer Festival in Southern California" five years in a row by the Orange County Beer Society. In six short years, BHHP has enjoyed unprecedented growth making them the largest craft beer event producers in Orange County and one of the largest on the west coast.
Cali UNCORKED Music & Comedy Publicity Contact
Kristine Ashton-Magnuson/Ashton-Magnuson Media
kristine@am-media.net; (818) 996-2496
Cali UNCORKED Beer, Wine and Food Publicity Contact:
Ashley Eckenweiler/The ACE Agency
ashley@theaceagency.com; (949) 285-9239