Date: October 8, 2015
From: Kristine Ashton-Magnuson
ADDITIONAL ENTERTAINMENT ANNOUNCED FOR
MONSTER ENERGY AFTERSHOCK FESTIVAL
OCTOBER 24 & 25 AT GIBSON RANCH NEAR SACRAMENTO, CA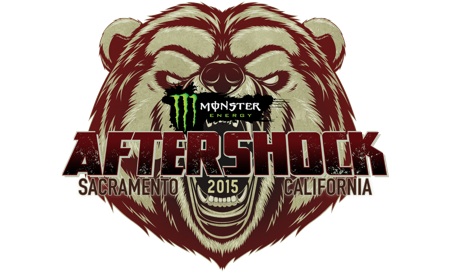 Additional entertainment has been announced for the fourth annual Monster Energy AFTERSHOCK, Saturday, October 24 and Sunday, October 25 at Gibson Ranch near Sacramento, CA. Look for band performance times to be announced next Tuesday, October 13.
As previously announced, Monster Energy AFTERSHOCK Festival has joined forces with Slipknot's Scream Park in Sacramento, CA for the Monster Energy AFTERSHOCK Pre-Party on Friday, October 23 from 7pm to midnight. Visit www.AFTERSHOCKConcert.com for pre-party details and to purchase tickets for the festival.
Monster Energy AFTERSHOCK will feature a spectacular music lineup of hard rock, alternative and metal artists, as well as an expanded festival grounds with onsite camping. The band lineup includes Slipknot, Faith No More, Deftones, Shinedown, Jane's Addiction, Marilyn Manson, Coheed & Cambria, Stone Temple Pilots, Breaking Benjamin, Seether, Bring Me The Horizon, All Time Low, Sleeping With Sirens, Eagles of Death Metal, Black Veil Brides, and many more performing on four stages.
In addition, Monster Energy AFTERSHOCK will feature live, in-ring matches with WWE®'s NXT® Superstars, the interactive Juxtapoz Graffiti Zone, JUCY onsite camping, the Monster Energy AFTERSHOCK Tequila World, artist autograph signings at the Monster Energy Hospitality Rig, the Monster Energy viewing area with beverage sampling, Thunder Valley Casino Resort VIP Lounge, the Jack Daniel's Experience, Coors Light Sports Bar, an onsite experience from the Sacramento Kings, The Crazy Dave's Music Experience, Keep Golf Metal, and a variety of food and beverage options, including local gourmet food trucks.
Here are more details about additional entertainment at Monster Energy AFTERSHOCK:
Monster Energy

Monster Energy will help fans celebrate the weekend with artist autograph signings at the Monster Energy Hospitality Rig. As always, come by the Monster hospitality area for an ice cold Monster Energy to refuel and keep the party going all weekend long!
www.monsterenergy.com | www.facebook.com/monsterenergy

WWE®'s NXT® Superstars

Monster Energy AFTERSHOCK will feature live, in-ring matches with WWE®'s NXT Superstars including Bayley™, Finn Bálor™, Samoa Joe™, Tyler Breeze™, Apollo Crews™, The Vaudevillians™, Enzo Amore™, Colin Cassady™, Carmella™, and more (talent subject to change). NXT is WWE's developmental division based out of the state-of-the-art WWE Performance Center in Orlando, Florida. Over the past two years, NXT has grown into one of the hottest sports entertainment brands in the world, featuring incredible athleticism and compelling storylines that can be seen every Wednesday night at 8 PM ET on the award-winning WWE Network.

The current NXT schedule for both days of Monster Energy AFTERSHOCK is as follows:

1:00 PM-2:00 PM: NXT Superstar Autograph Sessions
3:00 PM-4:30 PM: NXT Live Matches
6:00 PM-7:30 PM: NXT Live Matches

Jack Daniel's Experience

Jack Daniel's will bring a "Taste of Tennessee" to Sacramento as an official sponsor of Monster Energy AFTERSHOCK. The Jack Daniel's Experience, a mobile museum, is bringing a little of the much-loved distillery from Lynchburg. The Experience is open to all folks, 21 years old and up, for tours free of charge throughout the festival. Stop by the Jack Daniel's Experience while visiting AFTERSHOCK for personalized Barrelhead Engraving, Jack Daniel's merchandise for sale, and free Mobile Distillery tours.
www.jackdaniels.com

Coors Light Sports Bar

Coors Light, World's Most Refreshing Beer, is proud to sponsor the Monster Energy AFTERSHOCK Festival. The Coors Light Sports Bar will be showing college football games on Saturday and NFL games on Sunday, courtesy of Coors Light and Sacramento's 1140 AM. Coors Light goes to great lengths to bring you the coldest, most refreshing beer. Please remember to drink responsibly.

Monster Energy AFTERSHOCK Tequila World

The new Monster Energy AFTERSHOCK Tequila World will feature a wide range of tequilas, extreme margaritas, gourmet tacos, mixologists and more. Tequilas that will be offered in Monster Energy AFTERSHOCK Tequila World include: Patron, Don Julio, Cuervo, El Jimador, Cabo Wabo and Espolon. Admission to this area is free and open to those 21 and up.

The Crazy Dave's Music Experience powered by Musicians Institute

The Crazy Dave's Music Experience is a free, interactive "rock star" exhibit where fans can get hands-on interaction with tons of musical equipment—much of which is used by their favorite artists performing on stage at the show—and attend meet and greets with members of various AFTERSHOCK artists. Participating brands include ESP, LTD, Fender, Takamine, PRS, Jackson, EVH, Gretsch, Charvel, Fender, Michael Kelly, Chauvet, Earthquaker Devices, Guild, Cordoba, Marshall Amps, Marshall Lifestyle, Guitar Grip, Quik Lok, Yamaha, Epiphone, Kramer, Affliction Clothing, Curve Cameras, Sandisk, and Traveler Guitar. The Crazy Dave's Music Experience will also feature The Student Experience (TSE) for kids enrolled in music programs in the surrounding areas. TSE features a backstage tour for kids to see the inner workings of a festival and all the jobs the music industry has to offer. TSE also offers intimate time with all the instrument manufacturers before the festival opens.

Sacramento Kings

The Sacramento Kings will have an onsite presence at the festival and are also hosting two Monster Energy AFTERSHOCK sweepstakes. Prior to the festival, fans can enter to win an All-Access Experience with the Sacramento Kings and Monster Energy AFTERSHOCK, including VIP tickets, a meet and greet with Deftones, backstage tour at the festival, and VIP experience for two at a Sacramento Kings game. For more details and to enter the sweepstakes, visit www.AFTERSHOCKConcert.com or www.Kings.com. During the festival, the Sacramento Kings will also host a sweepstakes on site. The winner will receive two lower level tickets to a Sacramento Kings game, reserved parking and a basketball autographed by Deftones. Visit the Sacramento Kings area at Monster Energy AFTERSHOCK to enter.

MAKE YOUR MARK Graffiti Zone Presented By Juxtapoz

This interactive graffiti art installation, featuring Los Angeles-based artist Vyal from Risk Rock Studios, will showcase multiple live demonstrations and will allow AFTERSHOCK artists and fans the chance to add to the exhibit. Vyal Reyes began his career as an artist in 1990, when he dedicated himself to using spray paint as his "weapon of choice" to create art. A self-taught artist, Vyal's work quickly grabbed the attention of fellow graffiti artists as well as galleries in Los Angeles and around the globe. Although his work has evolved, it is still recognizable as his own, with bright colors, refined shading and complex yet simple approaches to his medium and surfaces. His trademark "eyes" always find a way into his pieces. When he is not painting murals or canvases, Vyal teaches aerosol art classes to youth and adults at Self Help Graphics in Boyle Heights, CA, where he has been an artist in residence since 2011.
Instagram: @vyalone

Keep Golf Metal presented by Marshall Headphones

Keep Golf Metal presented by Marshall Headphones is a movement that encourages festival attendees to play a 9 hole putt putt course with PGA level golf clubs provided by Rife Putters and MasterFit Custom Golf Clubs. Keep Golf Metal also has apparel that features designs that fuse the rock and golf worlds together.

Thunder Valley Casino Resort VIP Lounge

VIP tickets to Monster Energy AFTERSHOCK include: a VIP entrance to venue; access to the Thunder Valley Casino Resort VIP Lounge area featuring dedicated bar, beverage and food service; viewing of main stage (seated and standing areas); seated area with shade for dining and private restroom facilities; a VIP commemorative guest laminate, and more.

JUCY Camping

JUCY campervans sleep four and have a host of nifty features including a fridge, gas cooker, sink and DVD player. The JUCY AFTERSHOCK package includes JUCY rental and camping site fee. JUCY wheels can be picked up in San Francisco (Bay Area), Los Angeles or Las Vegas. Also includes bedding (personal kit), kitchen items (provisional kit), two camping chairs, insurance, collision damage waiver and supplementary liability insurance. Visit http://aftershockconcert.com/camping-parking/ for details.

Marshall Headphones

Festival attendees are invited to try Marshall Headphones while they wait to play mini golf. Marshall is a true rock legend. That uniquely clear and expressive sound combined with a mythical stage presence has enraptured music fans around the world for five decades. The legacy began in a small drum shop in Hanwell in the 1960s, where Jim Marshall sought to give a bunch of then-local guitarists the sound they wanted — a sound that was harder, crunchier and more rich. The result was the JTM45, an amp that reverberated with a sound that was much heavier than anything ever heard before. In a twist of rock and roll fate, those guitarists, much like the Marshall name, would go on to revolutionize music forever.

Fxck Cancer

Fxck Cancer's mission is to fight cancer by raising awareness and to educate about early cancer detection, ultimately putting an end to late stage cancer diagnosis. Fxck Cancer sells softgoods and accessories to benefit the FC Cancer Foundation, a 501(c)(3) non-profit organization, which operates the Dyin 2 Live Dreams program. Their mission is to give those who are currently fighting cancer a one of a kind VIP Experience that can be used as a source of inspiration to bring joy and hope to those needing a brighter day in their darkest hour. The Dyin 2 Live Dream VIP Experience starts with one simple question: "If we could make your dream come true, what would it be?" The fulfillment of a dream creates something magical for the cancer victim when they need encouragement and hope the most. Fxck Cancer is dedicated to making every eligible cancer patient's dream come true. For more info, please visit: www.FxckCancer.org and www.Dyin2Live.org. Help us spread the word by liking us on Facebook at www.facebook.com/FxckCancerUSA & www.facebook.com/Dyin2LiveDreams. Follow us on Instagram and Twitter at, @FxckCancer & @Dyin2LiveDreams.
Visit www.AFTERSHOCKConcert.com for more information, to view the daily band lineup, and to purchase VIP and General Admission tickets, as well as camping and hotel packages.
Monster Energy AFTERSHOCK is produced by Danny Wimmer Presents, a producer of some of the biggest rock festivals in America, including Rock On The Range, Monster Energy Welcome To Rockville, Monster Energy Fort Rock, Monster Energy Carolina Rebellion, LOUDER THAN LIFE, Northern Invasion, The Big Ticket, Monster Energy Rock Allegiance, and more.
The festival is fueled by Monster Energy. Additional 2015 sponsors include: WWE NXT, Jack Daniel's, Coors Light, The Crazy Dave's Music Experience, Marshall Headphones, Sacramento Kings, Juxtapoz, Keep Golf Metal, Thunder Valley Casino Resort, JUCY, Marshall Headphones, Fxck Cancer, Dimple's Records, Yelp, Sacramento News & Review, Sacramento Bee and more.
---
Monster Energy AFTERSHOCK Festival Publicity Contact
Kristine Ashton-Magnuson/Ashton-Magnuson Media
kristine@am-media.net; (818) 996-2496
Monster Energy AFTERSHOCK Festival Marketing & Sponsorship Contacts
Clay Busch/Danny Wimmer Presents
clay@dwpresents.com
Eileen Mercolino/Danny Wimmer Presents
Eileen@dwpresents.com
About Danny Wimmer Presents
Since 1995, Danny Wimmer has created, developed and produced events from the club level to multi-day festivals. Founded in 2007 by industry veteran Wimmer, Danny Wimmer Presents produces some of the largest U.S. festivals in the rock and alternative landscapes. By merging well-known talent with local cuisine and culture, DWP has become recognized within the industry for delivering the highest-quality, exceptional value entertainment experiences to customers, artists, sponsors, partners and host cities alike. Never satisfied with the status quo, DWP strives to create memorable and fulfilling concert experiences leaving both consumers and partners with lasting and meaningful impressions. Over the past six years, DWP has grown — while constantly innovating its production, promotion and fan experiences — from a partner in one single event to producing sold out events across the country, doubling its number of produced events between 2012 and 2013 alone. DWP plans to add as many as five new music festivals in 2016 to its already stellar portfolio, which includes Rock On The Range, Monster Energy AFTERSHOCK Festival, Monster Energy Welcome To Rockville, Monster Energy Carolina Rebellion, and LOUDER THAN LIFE, among others.
www.DannyWimmerPresents.com
About Monster Energy
Most companies spend their money on ad agencies, TV commercials, radio spots, and billboards to tell you how good their products are. At Monster Energy, we chose none of the above. Instead we support the scene, our bands, our athletes and our fans. We back athletes so they can make a career out of their passion. We promote concert tours, so our favorite bands can visit your hometown. We celebrate with our fans and riders by throwing parties and making the coolest events we can think of a reality.
www.monsterenergy.com | www.facebook.com/monsterenergy