Date: October 9, 2015
From: Kristine Ashton-Magnuson
SECOND ANNUAL
LOUDER THAN LIFE
SELLS OUT WITH OVER 50,000 IN ATTENDANCE FOR
OCTOBER 3 & 4 DESTINATION FESTIVAL CELEBRATING THE WORLD'S TOP BOURBON, MUSIC AND GOURMET MAN FOOD
FESTIVAL FEATURED A POWERFUL MUSIC LINEUP
INCLUDING ROB ZOMBIE, ZZ TOP, GODSMACK, SHINEDOWN,
LYNYRD SKYNYRD, BRING ME THE HORIZON AND MANY MORE

Louisville's LOUDER THAN LIFE wrapped its second year with a sold-out crowd of over 50,000 in attendance for the October 3 and 4 destination festival which celebrates the region's award-winning bourbons and spirits, craft beer, Gourmet Man Food, and celebrity chefs, along with a powerful rock music lineup at Champions Park near downtown Louisville.
Over 70% of festival attendees traveled from outside the Louisville area and over 350 media outlets were on-hand to cover the second annual event, coming from around the U.S. and as far as away as the U.K., The Netherlands and Turkey.
Here's a sample of what some of the media had to say about LOUDER THAN LIFE 2015 in their reviews and testimonials:
"LOUDER THAN LIFE is a southern-fried, bourbon-soaked fire-breathing monster of a festival that's as much a credit to the people behind it as it is the die-hard fans who show up in their legions. Roll on next year!"

—Alexander Milas, Editor-in-Chief, Metal Hammer and TeamRock (U.K.)

"I'm from the Midwest, I loved watching Justified, and Coliseum put out my favorite album this year, so I love Louisville! LOUDER THAN LIFE understands what makes Kentucky great and how to build a festival that's more than music, but an expression of the culture and lifestyle around these bands itself. Having so many of the bands we consider family at Alternative Press under the same proverbial 'tent' as ZZ Top, with gourmet tater tots? That's killer!"

—Ryan J. Downey, Senior Editor, Alternative Press/APTV

"The festival, arguably the most experience-oriented festival the city has to offer, was overflowing with good music and even better vibes."

—Brent Owen, WTFX-FM "The Fox" (Louisville), October 4, 2015
Produced by Danny Wimmer Presents, America's premier production company for rock music festivals, LOUDER THAN LIFE featured a selection of award-winning bourbons, whiskey, spirits, craft beer, and Gourmet Man Food curated personally by festival creator Danny Wimmer, along with a powerful music lineup of rock legends and breaking talent including Rob Zombie, ZZ Top, Godsmack, Shinedown, Lynyrd Skynyrd, Slash featuring Myles Kennedy & The Conspirators, Breaking Benjamin, 3 Doors Down, Bring Me The Horizon, and many more. Bands performed on four stages, while attendees enjoyed bourbon exhibitions and sampling—including a food demonstration by Louisville's very own Iron Chef Edward Lee—along with more than 70 food and beverage vendors that helped celebrate the bourbon culture and culinary heritage of this unique American city.
The destination festival also featured live, in-ring matches with WWE®'s NXT® Superstars, as well as interactive experiences and art installations such as Big Bully, artist autograph signings at the Monster Energy Hospitality Rig, the Monster Energy viewing area with beverage sampling, The Crazy Dave's Music Experience, Jack Daniel's Experience, Jäger World, It's Miller Time VIP Lounge, Zippo Music Experience and more.
"What makes this festival different isn't just what we do, it's where we are. Louisville is the heart of bourbon country, and it's exciting to see fans not only embracing LOUDER THAN LIFE for the great music from around the rock world, but for the bourbon, tastes and culture that make Louisville such a fantastic destination," says festival producer Danny Wimmer. "Our goal is to provide a memorable total experience for our guests, so we complement the music with Gourmet Man Food and additional entertainment such as the WWE's NXT matches, The Crazy Dave's Music Experience, celebrity chef demos, the Bourbon World, and our It's Miller Time VIP Lounge. But it's Louisville and great Kentucky bourbon that make that total experience complete."
Plans are underway for LOUDER THAN LIFE 2016. Visit www.LouderThanLifeFestival.com and the LOUDER THAN LIFE social media channels for the most up-to-date information on the festival.
Sponsors for LOUDER THAN LIFE include Monster Energy, Jack Daniel's, Jägermeister, Miller Lite, Tito's Handmade Vodka, Fxck Cancer, Zippo, Marshall Headphones, Yelp, The Crazy Dave's Music Experience, 93.1 The Fox, Alternative Press, TeamRock, Revolver, Loudwire.com, LEO Weekly, The Louisville Courier-Journal, Keep Golf Metal, Marines, El Jimador and more.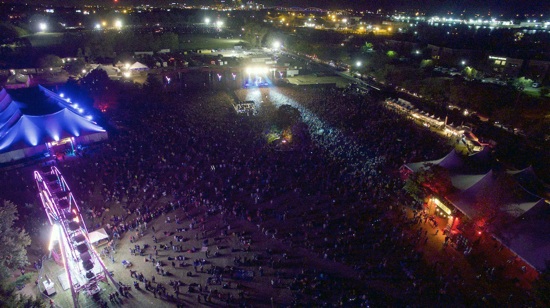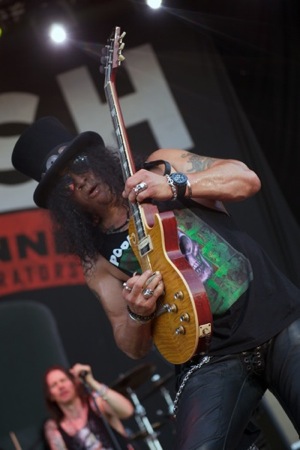 Slash performing at LOUDER THAN LIFE 2015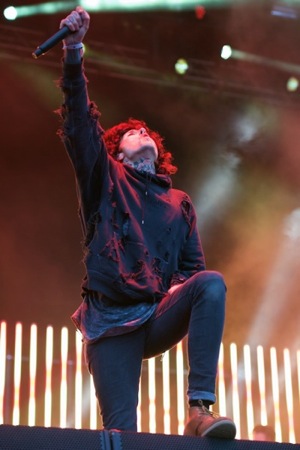 Oli Sykes of Bring Me The Horizon at LOUDER THAN LIFE 2015
(All photos by Scott Uchida)
---
About Danny Wimmer Presents
Since 1995, Danny Wimmer has created, developed and produced events from the club level to multi-day festivals. Founded in 2007 by industry veteran Wimmer, Danny Wimmer Presents produces some of the largest U.S. festivals in the rock and alternative landscapes. By merging well-known talent with local cuisine and culture, DWP has become recognized within the industry for delivering the highest-quality, exceptional value entertainment experiences to customers, artists, sponsors, partners and host cities alike. Never satisfied with the status quo, DWP strives to create memorable and fulfilling concert experiences leaving both consumers and partners with lasting and meaningful impressions. Over the past six years, DWP has grown — while constantly innovating its production, promotion and fan experiences — from a partner in one single event to producing sold out events across the country, doubling its number of produced events between 2012 and 2013 alone. DWP plans to add as many as five new music festivals in 2016 to its already stellar portfolio, which includes Rock On The Range, Monster Energy AFTERSHOCK Festival, Monster Energy Welcome To Rockville, Monster Energy Carolina Rebellion, LOUDER THAN LIFE, and Monster Energy Rock Allegiance, among others.
www.DannyWimmerPresents.com
LOUDER THAN LIFE Music & General PR Contact:
Kristine Ashton-Magnuson/Ashton-Magnuson Media
kristine@am-media.net; (818) 996-2496
LOUDER THAN LIFE Food, Spirits & Craft Beer Publicity Contacts:
Angie Gore/Kaleidoscope Media
Angie@kaleidoscope-media.com; (615) 321-3211
Scott Adkins/Kaleidoscope Media
scott@kaleidoscope-media.com; (615) 321-3211
LOUDER THAN LIFE Marketing & Sponsorship Contacts:
Clay Busch/Danny Wimmer Presents
clay@dwpresents.com
Eileen Mercolino/Danny Wimmer Presents
eileen@dwpresents.com