Date: October 29, 2015
From: Kristine Ashton-Magnuson
FOURTH ANNUAL
MONSTER ENERGY AFTERSHOCK
SOLD OUT WITH NEW ATTENDANCE HIGH OF 45,000
AT EXPANDED FESTIVAL GROUNDS
OCTOBER 24 & 25 AT GIBSON RANCH NEAR SACRAMENTO, CA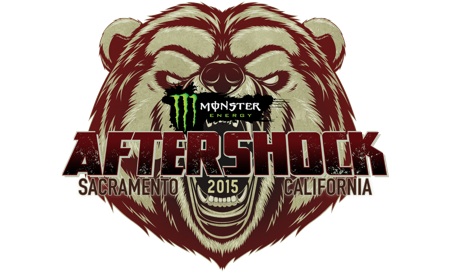 The fourth annual Monster Energy AFTERSHOCK debuted a new venue in 2015, and shattered all previous attendance highs in the process. A sold-out crowd of 45,000 was in attendance for California's biggest rock festival Saturday, October 24 and Sunday, October 25 at Gibson Ranch near Sacramento, CA to experience four stages of the best hard rock, metal and alternative artists, plus live in-ring matches with WWE®'s NXT® Superstars, onsite camping and much more. The festival's economic impact for the Sacramento region is estimated at 15-20 million dollars.
Monster Energy AFTERSHOCK featured a spectacular music lineup of hard rock, alternative and metal artists, as well as an expanded festival grounds with onsite camping. The band lineup included Slipknot, Faith No More, Deftones, Shinedown, Jane's Addiction, Marilyn Manson, Coheed & Cambria, Stone Temple Pilots, Breaking Benjamin, Seether, Bring Me The Horizon, All Time Low, Sleeping With Sirens, Eagles of Death Metal, Black Veil Brides, and many more performing on four stages.
AFTERSHOCK marked Deftones' biggest hometown crowd ever. Here's a clip of the monumental performance: http://bit.ly/defshock.
Monster Energy AFTERSHOCK included a wide variety of entertainment in addition to the music, including live, in-ring matches with WWE®'s NXT® Superstars, the interactive MAKE YOUR MARK Graffiti Zone Presented By Juxtapoz Projects & Liquitex Professional, JUCY onsite camping, the Monster Energy AFTERSHOCK Tequila World, artist autograph signings at the Monster Energy Hospitality Rig, the Monster Energy viewing area with beverage sampling, Thunder Valley Casino Resort VIP Lounge, the Jack Daniel's Experience, Coors Light Sports Bar, an onsite experience from the Sacramento Kings, The Crazy Dave's Music Experience, Keep Golf Metal, and a variety of food and beverage options, including local gourmet food trucks.
During one WWE®'s NXT® match at the festival on Saturday, Slipknot's own Corey Taylor was ringside and even got into a physical altercation with wrestler Baron Corbin. Various press outlets and audience members captured the incident on video. Watch the Alternative Press video clip here:
http://www.altpress.com/news/entry/watch_slipknot_frontman_corey_taylor
_take_on_wwe_nxt_wrestler_baron_corbin
Here's a sample of what some of the media had to say about Monster Energy AFTERSHOCK 2015:
"…Gibson Ranch offered plenty of space to accommodate those who traveled from more than 40 states for the weekend's hard-rock marathon. When not headbanging to the likes of Seether and Eagles of Death Metal, concertgoers had room to relax and recharge on the park's grassy knolls or to kick back on a blanket with food-truck grub…One of the weekend's most memorable performances came from Sacramento's own Deftones. The band played for its biggest hometown crowd yet…"

—Chris Macias, Sacramento Bee, October 26, 2015

"The 2015 Monster Energy AFTERSHOCK Festival really had it all; heavy metal, punk and alternative on four massive stages. Then it got even better. Live pro-wrestling, mini-golf and dinosaur-sized ribs? Yes please. You had me at NXT. 45,000 rock and roll fans can't be wrong!"

—Josh Bernstein, Alternative Press, October 28, 2015

"Now in its fourth year, Sacramento's Aftershock Festival has grown into one of the nation's premier music events, and it's no wonder. This is a quintessentially American, super-sized party where more is more, like a Las Vegas buffet with more choices than you'll ever have plate space…But what a tasty buffet Aftershock was. One couldn't go wrong posting up at any of the festival's four stages, where 47 bands banged nearly 50,000 heads over a perfect California weekend. For those who needed a little break from the mosh pits, WWE NXT staged live matches in a tent conveniently located between the main and small stages. Corey Taylor even got in on the action, dropping by to put the smackdown on Baron Corbin."

—James Stafford, Loudwire.com, October 27, 2015

"Now in its fourth year, Aftershock has solidified its position as Northern California's premier rock festival. With a new location north of Sacramento in Elverta that can accommodate overnight camping as well as over forty bands on four stages…Gibson Ranch County Park appeared to be the perfect spot to host such an event; plenty of grass, shade trees and room…the event went off like a well-oiled machine with literally every band performing within minutes of their scheduled set times. Match these logistics up with top bands, nice production, perfect weather, a scenic venue and plentiful food options and you've got yourself the recipe for a long-running success."

—Alan Snodgrass, New Noise Magazine, October 28, 2015

"When all is said and done, the 2015 Monster Energy Aftershock Festival was still a rousing success. Not only were the headliners top notch, the access to the four stages was very easy for the concertgoer."

—Eddie Jorgensen, Sacramento News & Review, October 29, 2015
"When we launched AFTERSHOCK in 2012, some people thought we were crazy for picking Sacramento," says festival producer Danny Wimmer of Danny Wimmer Presents. "We believed there was a market there. But in all honesty, we never expected what this festival has become. In just four years, we've gone from 12,000 to 45,000, and the amazing thing is that there is still a lot of room to grow. With the continued support of the local officials, residents and our radio partners, Monster Energy AFTERSHOCK is fast becoming a major annual event."
"For the fourth year in a row, the feedback from our hoteliers and local businesses is that AFTERSHOCK's economic impact is off the charts," said Mike Testa, COO of the Sacramento Convention & Visitors Bureau. "Multi-millions of dollars in economic impact is obviously valuable—but those calculations don't take into account those things that we can't measure in dollars, like exposure to 10,000+ visitors, national attention for our city on satellite radio and in trade publications, and the cachet that comes from hosting one of the most popular music festivals in the country and the largest rock festival in California."
Gibson Ranch Managing Partner Doug Ose says, "We have succeeded in proving that Gibson Ranch is an appropriate venue for regional outdoor events such as AFTERSHOCK. In particular, the adjustments that were made to deal with dynamic traffic issues and crowd control were effective. We acknowledge that Saturday was difficult; we are pleased that Sunday was a 'walk in the park,' so to speak. Our thanks go out to the CHP, the Sacramento Sheriff's Department, the Sacramento County Department of Transportation, the County of Placer and the City of Roseville for their help in making this event a success. We look forward to doing our part in 2016 as this region's entertainment industry continues to mature."
Many AFTERSHOCK attendees kicked the weekend off at the Monster Energy AFTERSHOCK Pre-Party on Friday, October 23 at Slipknot's Scream Park in Sacramento, CA. The party featured a performance by Hell or Highwater as well as three haunted houses and thunderous live horror entertainment.
Monster Energy AFTERSHOCK is produced by Danny Wimmer Presents, a producer of some of the biggest rock festivals in America, including Rock On The Range, Monster Energy Welcome To Rockville, Monster Energy Fort Rock, Monster Energy Carolina Rebellion, LOUDER THAN LIFE, Northern Invasion, The Big Ticket, Monster Energy Rock Allegiance, and more.
The festival is fueled by Monster Energy. Additional 2015 sponsors include: WWE NXT, Jack Daniel's, Coors Light, The Crazy Dave's Music Experience, Marshall Headphones, Sacramento Kings, Juxtapoz, Keep Golf Metal, Thunder Valley Casino Resort, JUCY, Marshall Headphones, Fxck Cancer, Dimple's Records, Yelp, Sacramento News & Review, Sacramento Bee and more.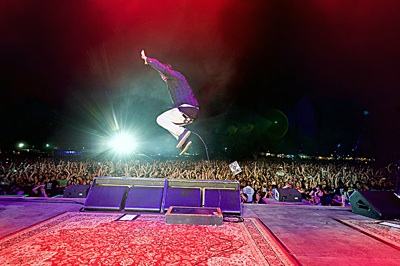 (

Chino Moreno

of

Deftones

, by Scott Uchida)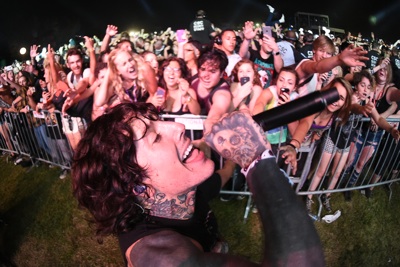 (

Oli Sykes

of

Bring Me The Horizon

, by Stephanie Cabral)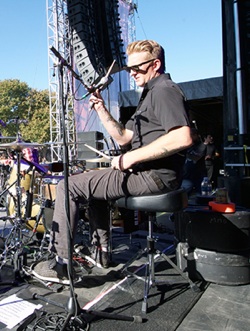 (

Josh Homme

of

Eagles Of Death Metal

, by Scott Uchida)
---
Monster Energy AFTERSHOCK Festival Publicity Contact
Kristine Ashton-Magnuson/Ashton-Magnuson Media
kristine@am-media.net; (818) 996-2496
Monster Energy AFTERSHOCK Festival Marketing & Sponsorship Contacts
Clay Busch/Danny Wimmer Presents
clay@dwpresents.com
Eileen Mercolino/Danny Wimmer Presents
Eileen@dwpresents.com
About Danny Wimmer Presents
Since 1995, Danny Wimmer has created, developed and produced events from the club level to multi-day festivals. Founded in 2007 by music industry veteran Wimmer, Danny Wimmer Presents produces some of the largest U.S. festivals in the rock and alternative landscapes. By merging well-known talent with local cuisine and culture, DWP has become recognized within the industry for delivering the highest-quality, exceptional value entertainment experiences to customers, artists, sponsors, partners and host cities alike. Never satisfied with the status quo, DWP strives to create memorable and fulfilling concert experiences leaving both consumers and partners with lasting and meaningful impressions. Over the past six years, DWP has grown — while constantly innovating its production, promotion and fan experiences — from a partner in one single event to producing sold out events across the country, doubling its number of produced events between 2012 and 2013 alone. DWP plans to add as many as five new music festivals in 2016 to its already stellar portfolio, which includes Rock On The Range, Monster Energy AFTERSHOCK Festival, Monster Energy Welcome To Rockville, Monster Energy Carolina Rebellion, and LOUDER THAN LIFE, among others.
www.DannyWimmerPresents.com
About Monster Energy
Most companies spend their money on ad agencies, TV commercials, radio spots, and billboards to tell you how good their products are. At Monster Energy, we chose none of the above. Instead we support the scene, our bands, our athletes and our fans. We back athletes so they can make a career out of their passion. We promote concert tours, so our favorite bands can visit your hometown. We celebrate with our fans and riders by throwing parties and making the coolest events we can think of a reality.
www.monsterenergy.com | www.facebook.com/monsterenergy