MEDIA ADVISORY
November 5, 2015
CALI UNCORKED ANNOUNCES MORE
BREWERIES, WINERIES, FOOD VENDORS & COMEDY ACTS
FESTIVAL FEATURES CALIFORNIA CRAFT BEER AND WINE TASTING, REGIONAL ARTISANAL FOODS, AND TOP MUSIC AND COMEDY FROM THE REGION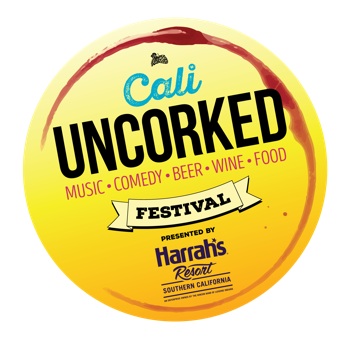 WHAT:
SGE and Brew Ha Ha Productions are pleased to introduce the inaugural Cali UNCORKED, presented by Harrah's Resort of Southern California. The inaugural event offers a premier day-long music, comedy, craft beer, wine and food festival.
WHEN:
Saturday, November 14, 2015,
General Admission: 1-7 p.m., VIP: 12-7 p.m.
WHERE:
Oak Canyon Park, 5305 E. Santiago Canyon Road in Silverado, CA
BEER & WINE:
Cali UNCORKED will play host to over 100 sought after California wineries and breweries. Festivalgoers will receive a complimentary UNCORKED tasting glass to enjoy unlimited complimentary tastings from 1-4 p.m. (12 p.m. for VIP). After 4 p.m., UNCORKED will have several brewers and wineries on hand to serve beverages to purchase.
The festival will feature one of the most desirable brewery lineups ever assembled in Orange County. Among the participating breweries, Fifty Fifty Brewing will be tapping a keg of bourbon barrel aged Eclipse (aged in High West Rye Barrels), Libertine from the central coast will be pouring some of their world famous and "oh so rare" sours. Council Brewing from San Diego will be making one of their very first appearances in Orange County pouring some of their tart and tasty sours as well.
The festival will also feature tastings from exceptional California wineries like Force of Nature, Kunin, Dark Horse, Eberle and Rex Goliath.
Off-duty firefighters will pour beer and wine for attendees and a portion of the proceeds will go to the 3631 Fallen Firefighters Foundation.
PAIRINGS & FOOD:
Foodies unite at Cali UNCORKED. Create your own craft beer and wine pairings with some of Orange County's favorite culinary purveyors including Slater's 50/50, Slidebar, The Viking Truck and more. Multiple star Southern California chefs will be coming together to create a Chef's Collective, collaborating on cuisine and offering unique menu items only available at the festival. Participating chefs include Greg Daniels from Haven Gastropub (Orange), Shachi Mehra from Adya (Anaheim), Mark McDonald of Old Vine Café (Costa Mesa), Danny Godinez from Anepalco's (Orange), Farid Zadi of Revolutionario North African Tacos (Downtown LA), Ryan Berk of A La Minute (Orange), David Coleman from Michael's on Naples and Working Class (Long Beach), and Justin Miller of Pizzeria Ortica (Costa Mesa).
The festival also offers multiple cheese and beer, wine and cigar pairing seminars. Space is limited on a first come first serve basis.
Pairing Stage
12:30 p.m. — Chocolate & Beer Pairing
1:00 p.m. — Chocolate & Wine Pairing
1:30 p.m. — Cheese & Wine Pairing
2:00 p.m. — Cheese & Beer Pairing
Cigar Lounge
3:00 p.m. — Cigar, Beer & Wine Pairings
MUSIC & COMEDY:
Cali UNCORKED features a full day of music and comedy performances on two stages. Comedians David Koechner (The Office, Anchorman), Joe Sib and Eddy Sato have been added to the Cali UNCORKED comedy lineup. Performance times for the music and comedy stages are as follows (subject to change):
Music Stage
1:45 p.m. — Tom Curren
2:50 p.m. — Matt Costa
4:05 p.m. — Collie Buddz
5:45 p.m. — Rebelution
Funny or Die Comedy Stage (Hosted by Irvine Improv)
1:10 p.m. — Eddy Sato
1:20 p.m. — Gene Pompa
1:30 p.m. — Monty Franklin
2:15 p.m. — Jason Collings
2:30 p.m. — Joe Sib
3:35 p.m. — Grant Cotter
5:05 p.m. — David Koechner
TICKETS:
General Admission — $45, while supplies last
Early Entry VIP — $65, early craft beer & wine tastings beginning at 12 p.m. (one hour early)
VIP Lounge — $99, 12 p.m. entry, premier parking, VIP lounge, stage viewing and bathroom access
Meet & Greet VIP — $199, all VIP perks plus M&G with Rebelution including photo and poster signing
DD Tickets — $30, at the door
CONTACT:
---
MEDIA:
Cali UNCORKED Beer, Wine and Food Publicity Contact:
Ashley Eckenweiler. The ACE Agency, (949) 285-9239, ashley@theaceagency.com
Cali UNCORKED Music & Comedy Publicity Contact:
Kristine Ashton-Magnuson/Ashton-Magnuson Media, (818) 996-2496, kristine@am-media.net
About Synergy Global Entertainment, Inc.:
Synergy Global Entertainment, Inc. (SGE) is one of the world's premier music festival production companies. With hundreds of live events worldwide each year, SGE works with agencies, brands and musical talent to produce or co-produce concerts across various genres and interests. SGE produces the Rockstar Energy UPROAR Festival and Funny Or Die's ODDBALL Comedy And Curiosity Festival. In addition, SGE co-produced the Rockstar Energy Drink Mayhem Festival and conceived and developed KNOTFEST with Slipknot and 5B Artist Management. In the past, SGE co-produced the worldwide Rockstar Taste of Chaos, as well as many other national festivals and tours. SGE senior staff have a combined 60 years of experience in artist management, large scale festival production and brand integration and have worked with artists as diverse as Guns N' Roses and The Cure. SGE excels at integrating brands' needs with large scale musical entertainment.
About Brew Ha Ha Productions:
Brew Ha Ha Productions (BHHP) is Orange County, California's most successful craft beer event producer. Its team brings years of successful event production and business experience along with an inside view of the craft beer industry and its enthusiasts. Fueled by a desire to promote craft beer (particularly Orange County brewed), along with a vision of a different kind of beer fest, the Orange County Brew Ha Ha Craft Beer Festival was conceived. With a goal of also giving back, the inaugural event was held on September 11, 2010, "a day of remembrance" which added a new level of purpose and passion for this event. In keeping with the theme of 9/11, the Orange County Fallen Firefighters Relief Fund was adopted as the charity for this event. The event was a resounding success and has been voted "BEST Craft Beer Festival in Southern California" five years in a row by the Orange County Beer Society. In six short years, BHHP has enjoyed unprecedented growth making them the largest craft beer event producers in Orange County and one of the largest on the west coast.