Date: November 9, 2015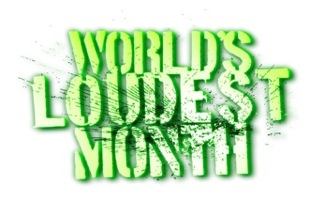 2016 WORLD'S LOUDEST MONTH FESTIVAL DATES ANNOUNCED:
ROCK ON THE RANGE & ROCKLAHOMA CELEBRATE 10 YEARS!

MONSTER ENERGY CAROLINA REBELLION, MONSTER ENERGY FORT ROCK,
MONSTER ENERGY WELCOME TO ROCKVILLE, ALL BIGGER & BETTER

ROCK ON THE RANGE PRE-SALE LAYAWAY PACKAGES ON SALE NOW, VIP & HOTEL PACKAGES ON SALE NOVEMBER 16

ROCKLAHOMA RENEWALS BEGIN ON NOVEMBER 16

ARTIST LINEUPS FOR ALL FESTIVALS COMING SOON!
The 2016 dates for the World's Loudest Month festival series have been announced, including exciting new elements at many events as demand continues to grow. Created by AEG Live and Danny Wimmer Presents, the World's Loudest Month features the biggest names in rock music performing in eight distinct U.S. concert atmospheres in April and May.
More than 426,000 fans turned out for the 2015 World's Loudest Month festivals across the U.S., breaking all attendance records and solidifying the significance of rock and metal music in America.
"You said you wanted more, and we heard you loud and clear," comments Joe Litvag, co-executive producer of the WLM festival series for AEG Live. "More days, more bands, more stages, more art, more food…And a few special surprises, too! We can't wait for spring to get here!"
The 2016 World's Loudest Month festival dates and locations are as follows:
Monster Energy Fort Rock: April 30 & May 1

in Fort Myers, FL

Monster Energy Welcome To Rockville: April 30 & May 1

in Jacksonville, FL

Monster Energy Carolina Rebellion: May 6, 7 & 8

in Concord, NC

Northern Invasion: May 14 & 15

in Somerset, WI

Rockfest: May 14

in Kansas City, MO
Rock On The Range 10th Anniversary: May 20, 21 & 22 in Columbus, OH
Rocklahoma 10th Anniversary: May 27, 28, 29 in Pryor, OK

The Bud Light River City Rockfest: May 29

in San Antonio, TX
The World's Loudest Month is proud to be sponsored by Monster Energy, Anheuser Busch, Zippo and Jack Daniel's.
---
For more information about the World's Loudest Month, please contact:
PR: Kristine Ashton-Magnuson, Ashton-Magnuson Media; kristine@am-media.net; (818) 996-2496
MARKETING: Chamie McCurry, AEG Live; Chamie@aeglive.com
SPONSORSHIP: Chris Thomas, AEG Live; cthomas@aeglive.com and Clay Busch, DWP; clay@dwpresents.com