Date: December 7, 2015
From: Kristine Ashton-Magnuson
MONSTER ENERGY FORT ROCK
BAND LINEUP FEATURES
ROB ZOMBIE, DISTURBED,
SHINEDOWN, FIVE FINGER DEATH PUNCH,
A DAY TO REMEMBER, BRING ME THE HORIZON AND MORE
AFTER THREE CONSECUTIVE SELLOUTS, FESTIVAL EXPANDS TO TWO DAYS:
SATURDAY, APRIL 30 & SUNDAY, MAY 1, 2016
AT JETBLUE PARK IN FORT MYERS, FL

DISCOUNTED TICKETS ON SALE NOW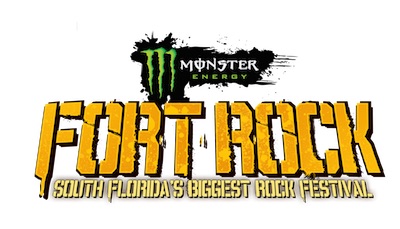 After three consecutive sellouts, Monster Energy Fort Rock is expanding to two days—Saturday, April 30 and Sunday, May 1, 2016—at JetBlue Park in Fort Myers, Florida. South Florida's Biggest Rock Festival will feature performances from rock icon/filmmaker Rob Zombie, the return of Disturbed (after a 4-year hiatus), Shinedown, Five Finger Death Punch, A Day To Remember, Bring Me The Horizon, Megadeth, 3 Doors Down, Sixx:A.M., Lamb Of God, and more.
Visit www.FortRockFestival.com for the most current information on the festival.
Brent Smith of Shinedown says, "Fort Myers, Florida, are you ready? Because we are!!! We are so honored to be playing Fort Rock. We look forward to seeing everyone. Rock FOREVER!!!"
Jeremy Spencer of Five Finger Death Punch says, "We're pumped to once again be part of the World's Loudest Month and are ready to kick things off properly like we did two years ago at Fort Rock."
"With three straight years of sellout shows, we are excited to expand Monster Energy Fort Rock to two days," says Clay Busch, Head of Marketing and Strategic Partnerships for festival producer Danny Wimmer Presents. "We've doubled down with the biggest Fort Rock to date. Fort Myers' hunger for rock continues to grow and our show has expanded to meet that demand. We look forward to bringing this amazing lineup to South Florida in 2016."
The daily band lineup is as follows:
Saturday, April 30


Rob Zombie, Five Finger Death Punch, A Day To Remember, Megadeth, Lamb Of God, Anthrax, Sevendust, Ghost, Issues, Saint Asonia, Avatar, The Glorious Sons

Sunday, May 1


Disturbed, Shinedown, Bring Me The Horizon, 3 Doors Down, Sixx:A.M., Pennywise, Bullet For My Valentine, Pop Evil, Asking Alexandria, Trivium, Red Sun Rising
Early Bird tickets for Monster Energy Fort Rock are available now until Sunday, December 20. For the first time, tickets are also available for purchase via layaway this year.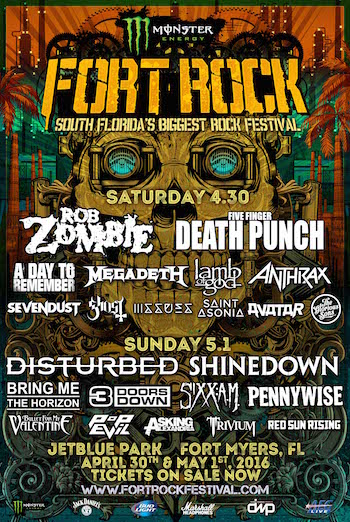 The Monster Energy Fort Rock discounted Early Bird ticket sale offers a limited number of Weekend General Admission and VIP tickets at www.FortRockFestival.com. Prices are as follows (plus fees):
A limited quantity of Weekend GA tickets will be available for $79.50. Once those are sold out, Early Bird GA Weekend passes will be $89.50 through 11:59 PM on Sunday, December 20.
VIP Weekend tickets will also be available starting at $199.50. Once that allotment sells out, regular VIP Weekend tickets will continue to be sold at $224.50 during the Early Bird period.
A limited number of Weekend TeamRock+ VIP Ticket 2-Packs ($499.99) and Early Bird Ticket 4-Packs ($299.00) will also be available for purchase during the Early Bird period.
Regularly priced tickets go on sale Monday, December 21 for the following prices (plus fees):
Weekend General Admission: $99.50
Weekend GA Ticket 4-Pack: $339.00
Weekend VIP: $224.50
Single Day General Admission: $59.50
Single Day VIP: $109.50
Ticket prices will increase in the coming weeks, so fans are encouraged to buy early and save.
VIP tickets include: a VIP entrance to venue; access to VIP lounge area featuring dedicated bar, beverage and food service; viewing of main stage (seated and standing areas); seated area with shade for dining; private restroom facilities; and a VIP guest laminate.
In addition, starting December 21 select Stevie Tomato's Sports Page locations will be selling General Admission single day and weekend tickets with no service fees.
As in the past, General Admission ticket discounts will also be available for active military through Monster Energy Fort Rock partner GovX (www.govx.com).
Information on hotel discounts is available at www.FortRockFestival.com.
Monster Energy Fort Rock is produced by Danny Wimmer Presents and AEG Live and is part of the World's Loudest Month festival series kick-off. The World's Loudest Month features the biggest names in rock music performing in eight distinct concert atmospheres across the country in April and May.
The festival is fueled by Monster Energy. Additional 2016 sponsors include: Jack Daniel's, Bud Light, Marshall Headphones, Stevie Tomato's Sports Page, and the Boston Red Sox.
JetBlue Park is the spring training home of the Boston Red Sox, located at 11581 Daniels Parkway in Fort Myers, Florida.
---
About Danny Wimmer Presents
Since 1995, Danny Wimmer has created, developed and produced events from the club level to multi-day festivals. Founded in 2007 by industry veteran Wimmer, Danny Wimmer Presents produces some of the largest U.S. festivals in the rock and alternative landscapes. By merging well-known talent with local cuisine and culture, DWP has become recognized within the industry for delivering the highest-quality, exceptional value entertainment experiences to customers, artists, sponsors, partners and host cities alike. Never satisfied with the status quo, DWP strives to create memorable and fulfilling concert experiences leaving both consumers and partners with lasting and meaningful impressions. Over the past six years, DWP has grown — while constantly innovating its production, promotion and fan experiences — from a partner in one single event to producing sold out events across the country, doubling its number of produced events between 2012 and 2013 alone. DWP plans to add as many as five new music festivals in 2016 to its already stellar portfolio, which includes Rock On The Range, Monster Energy AFTERSHOCK Festival, Monster Energy Welcome To Rockville, Monster Energy Carolina Rebellion, LOUDER THAN LIFE, and Monster Energy Fort Rock, among others.
www.DannyWimmerPresents.com
About AEG Live
AEG Live, the live-entertainment division of Los Angeles-based AEG, is dedicated to all aspects of live contemporary music performance. AEG Live is comprised of touring, festival, broadcast, merchandise and special event divisions, fifteen regional offices, and owns, operates or exclusively books thirty-five state-of-the-art venues. The current and recent concert tour roster includes artists such as Alicia Keys, American Idols, Bon Jovi, Carrie Underwood, Daughtry, Enrique Iglesias, Jennifer Lopez, Justin Bieber, Kenny Chesney, Leonard Cohen, Paul McCartney, Taylor Swift, The WHO, Trey Songz and Juanes. The company is also currently producing residency shows at The Coloseum at Caesars Palace in Las Vegas including Celine Dion, Rod Stewart and Shania Twain and is the exclusive promoter at The Joint at Hard Rock Hotel & Casino Las Vegas. AEG Live is also the largest producer of music festivals in North America from the critically acclaimed Coachella Valley Music & Arts Festival to Stagecoach Country Music Festival and New Orleans Jazz & Heritage Festival.
www.aeglive.com
About Monster Energy
Most companies spend their money on ad agencies, TV commercials, radio spots and billboards to tell you how good their products are. At Monster Energy, we chose none of the above. Instead we support the scene, our bands, our athletes and our fans. We back athletes so they can make a career out of their passion. We promote concert tours, so our favorite bands can visit your hometown. We celebrate with our fans and riders by throwing parties and making the coolest events we can think of a reality.
www.monsterenergy.com | www.facebook.com/monsterenergy
About Jack Daniel's
Officially registered by the U.S. Government in 1866, the Jack Daniel Distillery, Lem Motlow, proprietor, is the oldest registered distillery in the United States and is on the National Register of Historic Places. Based in Lynchburg, Tenn., the Jack Daniel Distillery is the maker of the world-famous Jack Daniel's Old No. 7 Tennessee Whiskey, Gentleman Jack Rare Tennessee Whiskey, Jack Daniel's Single Barrel Tennessee Whiskey and Jack Daniel's Country Cocktails. Jack Daniel's encourages its friends to drink responsibly.
Monster Energy Fort Rock Publicity Contact
Kristine Ashton-Magnuson/Ashton-Magnuson Media
kristine@am-media.net
(818) 996-2496
Monster Energy Fort Rock Marketing, Media & Sponsorship Contacts
Clay Busch/Danny Wimmer Presents
clay@dwpresents.com
Eileen Mercolino/Danny Wimmer Presents
eileen@dwpresents.com