Date: February 22, 2016
From: Kristine Ashton-Magnuson
YELAWOLF AND PLAGUE VENDOR
JOIN MUSIC LINEUP FOR
TRAVIS BARKER PRESENTS MUSINK
ADDITIONAL TATTOO ARTISTS
AND CAR SHOW DETAILS REVEALED
FOR MARCH 4, 5 & 6 FESTIVAL AT OC FAIR & EVENT CENTER
IN SOUTHERN CALIFORNIA
Chart-topping hip hop artist Yelawolf and SoCal's self-described "voodoo punks" Plague Vendor have joined the music lineup for the 9th Annual MUSINK, presented by Travis Barker, March 4, 5 & 6 at the OC Fair & Event Center in Costa Mesa, CA. The three-day tattoo convention, car show and concert will also feature performances from previously announced headliners Snoop Dogg, Deftones, and Circa Survive, along with Taking Back Sunday, Atreyu, Transplants, and Face To Face.
Additional featured tattoo artists and Famous Stars and Straps presents the Low 'N' Slow Car Show details for Southern California's premier tattoo and music lifestyle event have also been announced.
General admission and VIP tickets for MUSINK are on sale now at www.musink.org.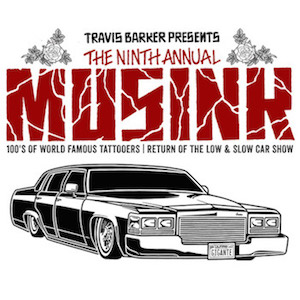 The MUSINK tattoo convention will feature over 300 world renowned tattoo artists, with featured artists including Paul Booth, GTC's Tattooland, Spotlight Tattoo, Freddy Negrete, Shamrock Social Club, Nikko Hurtado, Royal Peacock Tattoo, Gold Rush Tattoo, Oliver Peck, Nspired1, Robert Atkinson, OC Tattoo, Corey Miller, Baba, Franco Vescovi, Boog, BJ Betts, Carlos Torres, Norm, Little Linda, Carlos Rojas, Dan Smith, Shaun Topper, Rich Pineda, Yushi, and many more. In addition, the MUSINK vendor midway will include hundreds of vendors.
Famous Stars and Straps presents the Low 'N' Slow Car Show will feature American classics and lowriders, including some from Travis Barker's own collection. Also represented will be cars from acclaimed photographer/director Estevan Oriol and noted car clubs including Elite CC, Duke's Orange County, Beatniks Koolsville, Pegasus, Duke's Kustom Chapter, plus Hillview Customs, an Instagram contest winner chosen by Travis Barker, music from DJs Funk Freaks and more.
The full live music lineup for Travis Barker Presents MUSINK is as follows:
Friday, March 4: Snoop Dogg, Transplants, Yelawolf
Saturday, March 5: Deftones, Taking Back Sunday, Plague Vendor
Sunday, March 6: Circa Survive, Atreyu, Face To Face
Alabama-born Yelawolf's sophomore release, 2015's Love Story, debuted atop the Billboard R&B/Hip Hop album chart and earned rave reviews, including from Rolling Stone, which praised his "stronger embrace of his Southern roots" and "slow-burn ballads."
With influences ranging from At The Drive-In to Liars to The Cramps, Plague Vendor's self-described "voodoo punk" is a dance-fueled rock aesthetic tinged with shadowy darkness. The Whittier, California band's new album BLOODSWEAT is due March 25 on Epitaph.
MUSINK begins at 3:00 PM on Friday and Noon on Saturday and Sunday. Music is scheduled for 6:00-10:00 PM each night.
MUSINK 2016 is produced by Bill Hardie, Travis Barker, John Reese of Synergy Global Entertainment (SGE), and Sean Akhavan. MUSINK partners include KROQ, Rockstar Energy Drink, Famous Stars and Straps, Tecate, Johnny's Saloon, Second Floor, and Golden Crown Barber Shop.
The OC Fair & Event Center is centrally located in Southern California, just off the 405 and 55 freeways at 88 Fair Drive in Costa Mesa. The venue is conveniently accessible to all in Orange County, as well as Los Angeles, San Diego, San Bernardino and Riverside Counties. John Wayne Airport in Irvine, CA is also nearby for those traveling from other parts of the U.S. and the world.
---
MUSINK Publicity Contacts
Ashton-Magnuson Media
Kristine Ashton-Magnuson, kristine@am-media.net, (818) 996-2496
Maria Gonzales, maria@am-media.net, (917) 941-9906
Travis Barker Publicity Contact
The Current Co.
Jenni Weinman, weinman@thecurrentco.com; (424) 245-4390