Date: March 7, 2016
From: Kristine Ashton-Magnuson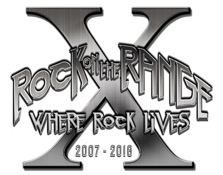 Tickets Sold Out For 10th Annual Rock On The Range
May 20, 21 & 22 At MAPFRE Stadium In Columbus, OH
Tickets for the 10th annual Rock On The Range—the largest and most-acclaimed rock festival in the United States—are now sold out. This marks the fourth year in a row that tickets have sold out in advance. A monumental 120,000 "Rangers" from all 50 states and around the globe were in attendance over the three days of the 2015 festival.
Rock On The Range will celebrate its 10th Anniversary May 20, 21 & 22, 2016 at MAPFRE Stadium in Columbus, OH. The incredible music lineup features the legendary Red Hot Chili Peppers, hard rock titans Disturbed (who have returned after a 4-year hiatus), and rock icon/filmmaker Rob Zombie topping a lineup that's packed with rock royalty such as Deftones, Shinedown, Five Finger Death Punch, Bring Me The Horizon, A Day To Remember, Megadeth, At The Drive-In, Lamb Of God, Sixx:A.M., Hellyeah, and Pennywise, along with the genre's hottest developing artists.
With three days of music on three stages, sets from rock's favorite comedians (including Grammy nominated Jay Mohr, Big Jay Oakerson, Nate Bargatze, Craig Gass, Bethany Dwyer, and Madison Malloy) in the ROTR Rolling Rock Comedy Tent, The Music Experience, a Craft Beer Village featuring top breweries from the region, new art installations, and unique onsite activities, Rock On The Range sets the standard for American rock festivals.
"Anyone who says, 'Rock is Dead,' hasn't paid attention to Rock On The Range," says ROTR co-executive producer Danny Wimmer. "This festival has grown in each one of its 10 years, selling out in record time this year. Rock On The Range's strength stands as a testament that rock fans are not only alive and well, they are flourishing."
Download the Rock On The Range mobile app (available for FREE via iTunes and Google Play) for festival information and band performance times.
Rock On The Range is produced by Danny Wimmer Presents, AEG Live, and MAPFRE Stadium.
Rock On The Range is supported by great sponsors including: Monster Energy, Jack Daniel's, Zippo, The Music Experience, and Bud Light.
---
For more information about Rock On The Range, please contact:
PR: Kristine Ashton-Magnuson, Ashton-Magnuson Media; kristine@am-media.net; (818) 996-2496
MARKETING: Chamie McCurry, AEG Live; Chamie@aeglive.com and Clay Busch, DWP; clay@dwpresents.com
SPONSORSHIP: Chris Thomas, AEG Live; cthomas@aeglive.com and Clay Busch, DWP; clay@dwpresents.com