Date: March 10, 2016
From: Kristine Ashton-Magnuson
15,000 IN ATTENDANCE FOR THREE DAYS OF
TRAVIS BARKER PRESENTS MUSINK
9th ANNUAL TATTOO CONVENTION,
CAR SHOW AND MUSIC FESTIVAL
MARCH 4, 5 & 6 AT OC FAIR & EVENT CENTER
IN SOUTHERN CALIFORNIA
FEATURED OVER 300 WORLD RENOWNED TATTOO ARTISTS
PLUS PERFORMANCES FROM SNOOP DOGG, DEFTONES,
CIRCA SURVIVE & MORE
Backstage, Travis Barker revealed new details about the long-awaited new Blink-182 album; on stage, Deftones debuted new material from their heavily anticipated forthcoming album, Gore; and throughout the festival grounds, fresh ink was easy to spot on many of the 15,000+ tattoo aficionados and music fans in attendance for the 9th annual MUSINK.
The three-day tattoo convention, car show and concert—Southern California's premier tattoo and music lifestyle event—took place March 4, 5 and 6 at the OC Fair & Event Center in Costa Mesa, CA. Travis Barker Presents MUSINK hosted over 300 world-renowned tattoo artists in two buildings, plus three nights of music from headliners Snoop Dogg, Deftones and Circa Survive, along with Transplants, Taking Back Sunday, Atreyu, Yelawolf, Face To Face, Plague Vendor, and Spirit In The Room.
In addition, the Famous Stars and Straps presents the Low 'N' Slow Car Show featured an impressive array of American classics and lowriders—including some from Travis Barker's own collection—that OC Weekly called "worth the price of admission on its own."
Here's more of how the press recounted the experience at MUSINK 2016:
"Fans roamed through the two tattoo and merchandise hangars at the OC Fair & Event Center to check out the latest in tattooing technology, flipping through thick binders of flash art and hi-resolution photos of artists' work. And, amid the gentle hum of hundreds of tattoo guns buzzing in unison, they stopped to admire the artistry being forever inked onto live canvases in real time."

—Kelli Skye Fadroski, Orange County Register, March 5, 2016

"Musink showcases tattoo culture's diverse talent, fans…music fans and tattoo enthusiasts congregated at the Orange County Fair and Event Center in Costa Mesa…The all-ages event featured tattoo artists from throughout the United States, live music from artists like Snoop Dogg and tattoo-inspired clothing and accessories."

—Priscella Vega, Los Angeles Times, March 5, 2016

"…a festival that encompassed not only a wide array of bands, but also various tattoo artists from all over the world and a spectacular car show to polish it off."

—Melina Dellamarggio, Loudwire.com, March 9, 2016

"I've run into a few artists now, and they say they've been to a lot [of tattoo conventions] in the past, but the one that they keep coming back to is always MUSINK. They just have fun here."

—Nick Major, Alternative Press TV, March 9, 2016

"For the ninth straight year, Musink brought tattoos, classic cars, and a wide variety of music to the OC Fair and Event Center…From black and gray to American traditional, Japanese to color realism, there were tattooers of all styles at Musink…Even if you're not into lowrider culture, you had to appreciate the beauty of the cars at Musink. They seemed to come in every color and shape, and each one was more stunning than the last."

—Josh Chesler, OC Weekly, March 7, 2016

"…one of the best tattoo and music festivals in all of America"

—Timothy Farmer, New Noise Magazine, March 6, 2016
MUSINK 2016 was produced by Bill Hardie, Travis Barker, John Reese of Synergy Global Entertainment (SGE), and Sean Akhavan. MUSINK partners included KROQ, Rockstar Energy Drink, Famous Stars and Straps, Tecate, Johnny's Saloon, Second Floor, and Golden Crown Barber Shop.
The OC Fair & Event Center is centrally located in Southern California, just off the 405 and 55 freeways at 88 Fair Drive in Costa Mesa. The venue is conveniently accessible to all in Orange County, as well as Los Angeles, San Diego, San Bernardino and Riverside Counties. John Wayne Airport in Irvine, CA is also nearby for those traveling from other parts of the U.S. and the world.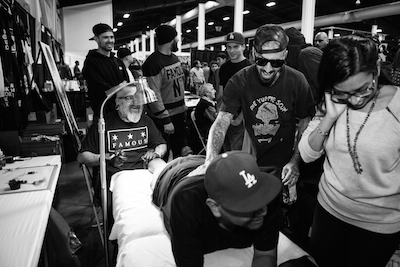 (Nspired1 gives Cruz of Power 106 his first tattoo while Travis Barker looks on, photo by Daniel Rojas)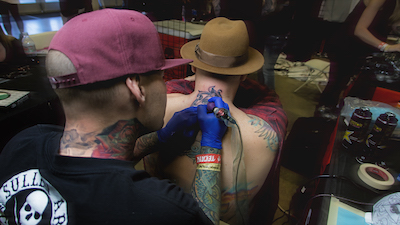 (Rich Pineda tattoos Brandon Saller of Atreyu, by Taylor Foiles)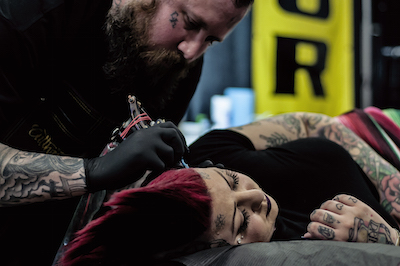 (Dustin Shaw at work, by Taylor Foiles)
(Travis Barker meets fans, by Taylor Foiles)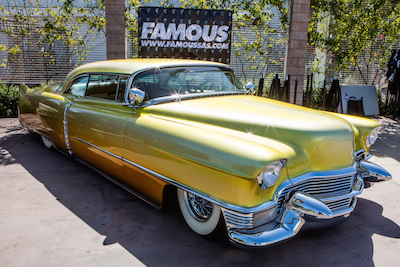 (Low 'N' Slow car show, by Daniel Rojas)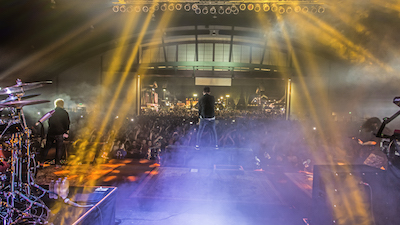 (Deftones, by Taylor Foiles)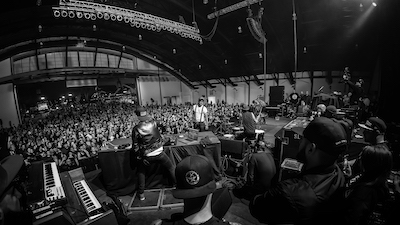 (Yelawolf with Travis Barker on drums, by Taylor Foiles)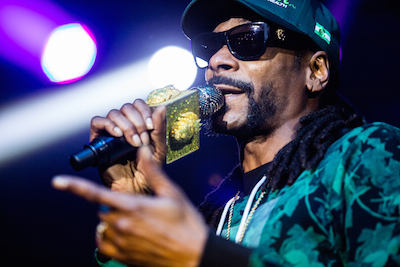 (Snoop Dogg, by Daniel Rojas)
---
MUSINK Publicity Contacts
Ashton-Magnuson Media
Kristine Ashton-Magnuson, kristine@am-media.net, (818) 996-2496
Maria Gonzales, maria@am-media.net, (917) 941-9906
Travis Barker Publicity Contact
The Current Co.
Jenni Weinman, weinman@thecurrentco.com; (424) 245-4390