Date: March 28, 2016
From: Ashley Di Buduo / Kristine Ashton-Magnuson
ROCKSTAR ENERGY DRINK
TASTE OF CHAOS FESTIVAL

RETURNS TO SAN MANUEL AMPHITHEATER FESTIVAL GROUNDS IN SAN BERNARDINO, CA
SATURDAY, JULY 16
FEATURING DASHBOARD CONFESSIONAL, TAKING BACK SUNDAY,
QUICKSAND, THE GET UP KIDS, THE STARTING LINE, SAOSIN, SENSES FAIL,
THE EARLY NOVEMBER & MORE

TICKETS & VIP PACKAGES ON SALE FRIDAY, APRIL 1 AT 10:00 AM PT

LIMITED NUMBER OF $25 EARLY BIRD TICKETS AVAILABLE
For the second year in a row, the Rockstar Energy Drink Taste Of Chaos will return to San Bernardino, CA for its annual, day-long destination festival. After a five year break, last year marked the festival's return to Southern California, with over 13,000 in attendance for the all-day event. Taking place on Saturday, July 16 at the San Manuel Amphitheater Festival Grounds, the festival continues to honor the indie-alternative scene's most influential acts, while debuting its next rising stars. Providing attendees a fun day in the sun and the chance to sing along to their favorite anthems, this year's Rockstar Energy Drink Taste Of Chaos Festival promises once again that it is not an event to be missed.
The extraordinary lineup for Rockstar Energy Drink Taste Of Chaos 2016—produced by SGE, 4Fini and Live Nation—includes Dashboard Confessional, Taking Back Sunday, Quicksand, The Get Up Kids, The Starting Line, Saosin (fronted by original vocalist Anthony Green), Senses Fail, The Early November, The Anniversary, Hot Rod Circuit, and Reggie and the Full Effect, with more information to be announced.
Dashboard Confessional's Chris Carrabba says, "I am so happy to know fans are excited about this lineup, but I know I am the MOST excited. Dashboard Confessional gets to play for our favorite people WITH our favorite people. I cannot imagine a better way to spend the summer."
Taking Back Sunday collectively adds, "…it's going to be good to be back in the company of so many bands we are both friends with and fans of."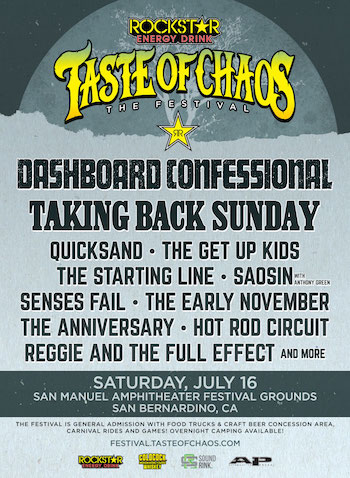 All tickets for the Rockstar Energy Drink Taste Of Chaos Festival are General Admission open seating, and go on sale Friday, April 1 at 10:00 AM PT at www.festival.tasteofchaos.com. There will be an extremely limited amount of early bird general admission tickets starting at only $25. The regular on-sale price will be $42.50. Prices do not include ticket service fees or parking.
A VIP ticketing option will also be available for $199 which includes admission, a fast lane entrance into the festival, a VIP laminate with lanyard, and access to the VIP Lounge (located near the main stage), which will have complimentary select beers, Rockstar Energy Drinks, snacks (while supplies last), private restrooms, comfortable areas to sit and relax, a dedicated cash bar, and access to the Rockstar Energy Drink Taste Of Chaos step-and-repeat logo wall with a photo booth. Attendees must be 21+ to get into the VIP Lounge.
In addition to the astounding lineup on multiple stages, the Rockstar Energy Drink Taste Of Chaos Festival will include food trucks, craft beer, carnival rides, a vendor village and more. An extremely limited quantity of on-site camping spots will also be available for purchase on May 9, with more information at www.festival.tasteofchaos.com.
Taste Of Chaos co-founder Kevin Lyman of 4Fini says, "After seeing the success of last year's Taste Of Chaos, it was clear that there was a demand for the festival's return. We're excited to be able to bring this expanded music lineup to the Southern California show."
Co-founder John Reese of SGE adds, "Since the festival is also the last stop on the Rockstar Energy Drink Taste Of Chaos tour, we see it as a huge end of tour party that will be a really special day for the bands and everyone that attends."
Live Nation, President — Booking, Los Angeles, Rich Best adds, "We're excited to bring the Rockstar Energy Drink Taste Of Chaos Festival back to San Manuel Amphitheater Festival Grounds after its triumphant return in 2015. We feel the spectacular music lineup and setting at the expansive San Manuel Amphitheater Festival Grounds beneath the San Bernardino Mountains will truly re-establish TOC as one of the top destination music festivals in Southern California."
Originally launched in 2005 by Vans Warped Tour founder Kevin Lyman and John Reese (co-founder of Rockstar Energy Drink Mayhem Festival, founder of Oddball Festival), Taste Of Chaos started as an international touring festival, playing over twenty countries around the world, and helped to launch the careers of bands like Thirty Seconds To Mars, Paramore, My Chemical Romance, The Used, Story Of The Year and more.
Rockstar Energy Drink Taste Of Chaos at San Manuel Amphitheater Festival Grounds is a short drive from Los Angeles County, Orange County, San Francisco, Las Vegas, Phoenix, Tucson, San Diego, the San Joaquin Valley, and many more cities in the Southwestern U.S.
For the most up-to-date information, please visit:
---
About SGE
Synergy Global Entertainment, Inc. (SGE) specializes in producing music events and music marketing programs benefitting brands, artists, consumers, partners and attendees alike. SGE has produced thousands of branded music festivals, concerts, tours and events throughout the world playing to millions of applauding fans.
www.sgeworldwide.com
About 4Fini
4Fini is a premier production company and brand strategy firm. The company produces the Vans Warped Tour, the longest running festival tour in North America, as well as Taste Of Chaos, It's Not Dead, and many more music lifestyle events. 4Fini are leaders at integrating brands into an authentic youth experience.
www.4fini.com
About Live Nation Entertainment
Live Nation Entertainment (NYSE: LYV) is the world's leading live entertainment company comprised of global market leaders: Ticketmaster, Live Nation Concerts, Live Nation Media & Sponsorship and Artist Nation Management. For additional information, visit www.livenationentertainment.com.
Taste Of Chaos Publicity Contacts
Ashton-Magnuson Media
Ashley Di Buduo
ashley@a12entertainment.com; (323) 379-9684
Kristine Ashton-Magnuson
Kristine@am-media.net; (818) 996-2496
Live Nation Publicity Contact
Victor Trevino/Live Nation
victortrevino@livenation.com; (310) 867-7197