Date: April 7, 2016
From: Ashley Di Buduo / Kristine Ashton-Magnuson

WIN THIS BIKE!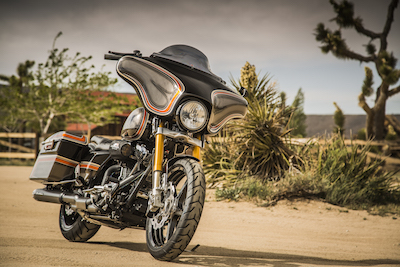 LOST HIGHWAY MOTORCYCLE SHOW & CONCERT
PARTNERS WITH QUAID HARLEY-DAVIDSON, BAGGERS MAGAZINE, KRAUS MOTOR CO. & SCHULTZ DESIGNZ
TO GIVE AWAY CUSTOM HARLEY-DAVIDSON ELECTRA GLIDE
PERFORMANCES BY BRANTLEY GILBERT,
SOCIAL DISTORTION, EAGLES OF DEATH METAL, JUSTIN MOORE,
BLACK REBEL MOTORCYCLE CLUB & MORE
Want to win the ultimate performance motorcycle? Lost Highway has partnered with Quaid Harley-Davidson and Baggers Magazine to give away a customized Electra Glide Ultra Classic valued at over $40,000, built by Kraus Motor Co. and custom painted by Taylor Schultz of Schultz Designz, to be given away on stage at the Lost Highway Motorcycle Show & Concert on July 23, 2016 at San Manuel Amphitheater and Festival Grounds. Lost Highway will feature musical performances by Brantley Gilbert, along with Social Distortion, Justin Moore, Eagles Of Death Metal, and more.
Social Distortion performed at last year's Lost Highway, and when frontman and avid rider Mike Ness was asked to comment on returning to this year's festival he said, "I wasn't expecting for us to be asked back so soon; we're looking forward to being a part of this year's lineup and outdoing last year!"
Baggers Magazine enlisted the expertise of Kraus Motor Co. to take the lead in overall design and customization of the motorcycle including some one-off custom parts, featuring a Kraus Sport Touring inverted frontend. Quaid Harley-Davidson swapped out the stock motor for Harley-Davidson's newly released Screamin' Eagle 120ST Engine, added Brock's Performance BST carbon fiber wheels, Roland Sands Design calipers, grips and more, Galfer USA wave rotors, with various other parts and accessories from Ohlins, Klock Werks, Baker Drivetrain, Dakota Digital, Rizoma, MTX Audio, Kicker, Kraus Motor Company and Harley-Davidson. This ultimate dream bagger will also be featured on the cover of the July issue of Baggers Magazine with plenty of info about the bike, the partners involved, and everything else in between.
Attendees simply must be present at the Lost Highway Motorcycle Show & Concert on July 23 to be eligible to win this bike. "No gimmicks, no gags, and no additional raffle ticket purchase required," exclaims Lost Highway co-producer John Oakes. "One lucky person is going to ride home on this asphalt-shredding bagger, estimated to be worth over $40k."
Jordan Mastagni, Content Director for Baggers Magazine recalls, "When Brandon Quaid and I kicked around the idea of building the official Lost Highway giveaway bike this year, we knew it had to be something different, something special…and after teaming up with Satya Kraus from Kraus Motor Co. and Taylor Schultz we knew we were headed in the right direction where function and performance would be the primary focus of this bike."
"With the paint for the Lost Highway giveaway bagger we wanted to do something simple, classy and timeless; so I mixed together a few custom colors with House of Kolor's Shimrim 2 paint product and laid out some clean lines to flow throughout the fairing, gas tank, fenders, side covers and bags," said custom motorcycle painter Taylor Schultz.
Rooted in the tradition and camaraderie of a global destination for motorcycle riders, Lost Highway attendees will experience a full motorcycle culture experience as motorcycle builders and enthusiasts from around the country will bring their stunning custom bikes to the motorcycle showcase on the festival grounds. Lost Highway will also feature musical performances by headliner Brantley Gilbert, along with Social Distortion, Justin Moore, Eagles Of Death Metal, Chevy Metal (featuring Taylor Hawkins of Foo Fighters), Face To Face, Black Rebel Motorcycle Club, Tony Joe White, Colt Ford, Paul Cauthen, and more.
Lost Highway Reserved Seats, Festival General Admission tickets, VIP and camping packages are on sale now at www.LostHighwayFest.com and through Ticketmaster. A limited quantity of Lost Highway ticket 4-packs are now available for only $79 (plus fees) with parking included. Lost Highway VIP packages include all-day access to the Lost Highway VIP Lounge with dedicated cash bar and private restrooms, seating areas, bag check, and food truck cuisine for purchase. For full details on tickets, VIP and camping package options, visit www.LostHighwayFest.com.
Lost Highway gets underway at 2:00 PM, featuring a full day of live music, with motorcycle builders and enthusiasts from around the country showcasing their custom bikes to the crowd and to editors of the world's top custom motorcycle magazines—Hot Bike, Baggers and Street Chopper. The magazines will host the motorcycle shows, with their editors judging the custom creations and awarding trophies and prizes.
Lost Highway is a motorcycle culture experience featuring top-tier motorcycle professionals including builders, parts and accessories manufacturers, riding gear creators, custom leathersmiths and jewelry designers/makers in the vendor village. UNKNOWN Industries' team of riders will entertain attendees with their freestyle Harley-Davidson riding, with demos throughout the day.
Lost Highway will feature the incredible works of some of the most talented motorcycle specialists in the business including Quaid Harley-Davidson—taking over the festival area for the second year in a row—along with Kraus Motor Co., Taylor Schultz, Roland Sands Designs, Geico Motorcycle Insurance, Simpson Motorcycle Helmets, Big Al's Cycles, Espinoza's Leather Goods, Speakeasy Original, Speed Merchant, San Diego Customs, Lyndall Brakes, Rusty Butcher, UNKNOWN Industries, Law Tigers, Telegram Sams, Factory 47, Alloy Art, Biltwell, Brock's Performance, Broken Homme and many more.
In addition, Lost Highway offers weekend camping on Friday, July 22 and Saturday, July 23 for those who want to make the show a weekend getaway. The official Lost Highway kick-off party on Friday night is exclusively for those who purchase weekend Camping.
Festival doors open at 2:00 PM, music starts at 2:30 PM, and the show ends at 11:00 PM.
Lost Highway is a short ride from Las Vegas, San Francisco, Phoenix, Tucson, San Diego, San Joaquin Valley and many more cities in the Southwestern USA.
For the most up-to-date information, visit: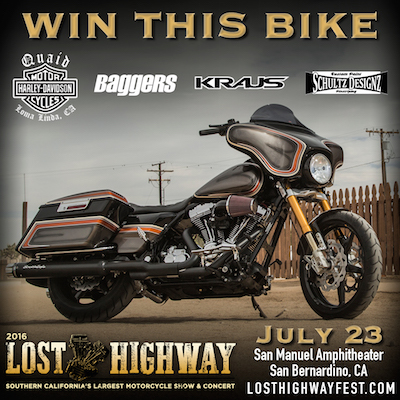 ---
About Quaid Harley-Davidson
Quaid Harley-Davidson was established in 1996 by the 4 Quaid brothers — Bob, Rich, Glenn & Gordon. Their first store was located in San Bernardino on Baseline Street, opened in 1996. In March 1999, they moved to the current location in Loma Linda.
The Quaid brothers have been active in their local communities and have donated to/sponsored several charity and organization events. They've participated in events such as the Bikers Against Diabetes (B.A.D.) Ride, Loma Linda Children's Hospital runs, Annual Desert Thunder Run and supporting veterans and troops overseas. A percentage of proceeds from Quaid H-D's Open House events go to benefit the Loma Linda Ronald McDonald House, as well as Loma Linda University Children's Hospital and the Jerry L. Pettis Memorial Veterans Medical Center.
Quaid Harley-Davidson Loma Linda was one of the first dealers in the U.S. to be an official authorized rental facility for Harley-Davidson Motorcycles. With a staff of highly trained technicians and knowledgeable dealership associates, it's no wonder that Quaid Harley-Davidson Loma Linda is one of the top Harley-Davidson dealerships in the United States.
www.Quaid.net
About Kraus Motor Company
Kraus Motor Co. is a design and innovation company dedicated to supporting the Harley-Davidson™ enthusiast market by offering state of the art suspension and braking performance systems. These Kraus Motor Company parts and systems make the Harley-Davidson™ ownership and riding experience better — more fun, more precise and more easily controlled. Additionally, these parts and systems have a flawless and beautiful appearance which is guaranteed to enhance the look of any Harley-Davidson™ machine.
Recognized in the custom motorcycle industry as an innovative company, Kraus Motor Co. is one of the leading custom shops in North America. Kraus motorcycles win top honors at World Championship shows and those same machines also break land speed records on the Bonneville Salt Flats. Seeing a clearly defined need for superior suspension systems and leveraging successes on the bike show circuit, Kraus has taken it upon itself to offer a number of parts and systems that can bring an average, stock Harley-Davidson™ motorcycle to a whole new level in terms of handling and braking performance.
We've stepped away from being a full custom bike shop, to focus our attention and team on manufacturing hi-performance suspension systems and aftermarket accessories. While there are Companies offering look-alikes and variations on the designs we've pioneered and adapted to the Harley-Davidson™ product line, none can match Kraus in terms of fit, finish and service. Kraus Motor Company's engineering and design efforts are clearly focused on ergonomics and rider comfort. Respect and appreciation for the history of Harley-Davidson™ motorcycle design have instilled Kraus style with classic design cues. Kraus is not changing Harley-Davidson™, it's improving on what is already a strong, made in America platform.
www.krausmoto.com
About Baggers Magazine
Baggers is about the ride, more importantly, getting there in the most stylish and functional way possible. The "Custom Touring Motorcycle Magazine" encompasses all brands of customized touring bikes regardless of their country of origin and addresses the exploding scene of full-dressed cruisers, big-wheeled radicals, and performance machines. Baggers also scours the industry for the best parts, accessories, and riding gear to make the riding experience even better. Through in-depth product evaluations, touring stories, and step-by-step product installations Baggers covers the entire spectrum of customized touring bikes.
www.baggersmag.com • www.baggersmag.com/subscribe
About Taylor Schultz
With an eye for detail and known for his precision line work and groundbreaking paint designs, Northern California custom motorcycle painter, Taylor Schultz, has built a name synonymous with craftsmanship and artistic excellence. Taylor started working in an auto body shop when he was 13 years old, and painted his first car by the age of 15. Taylor's senior year of high school he received a scholarship to the San Francisco Academy of Art where he attended classes for 2 1/2 years until automotive and custom motorcycle painting took over his life and became full time. Over the years while gaining experience, knowledge, and skill Taylor slowly built his reputation for custom painting and pinstriping. Schultz was honored with a friendship and mentorship from the late pinstriping master, Bob Iverson, who helped him hone his pinstriping and gold leafing skills. In 2006 Taylor Schultz opened his own shop, Schultz Designz, so he could focus his efforts and pursue his passion of custom motorcycle painting. Over the last decade, Taylor spends 90% of his time painting motorcycles but his panel work and fine art have been featured in several art galleries throughout the San Francisco Bay Area. Taylor Schultz has become one of the leading names in custom motorcycle painting and pinstriping, and he exclusively uses Valspar's House of Kolor paint product. Recently Taylor's work has been seen on the cover the Finland based magazine Wild Blood, featured in Dice magazine, and on the covers of global custom motorcycle magazines Hot Bike and Baggers.
Instagram: @schultzdesignz and website: www.schultzdesignz.com