Date: April 27, 2016
From: Ashley Di Buduo / Kristine Ashton-Magnuson
ROCKSTAR ENERGY DRINK
TASTE OF CHAOS FESTIVAL
"THE ULTIMATE DOUBLE DATE"
4-PACK OFFER: 4 TICKETS FOR $29 EACH
AVAILABLE ONLY ON 4/29 & 4/30
For the second year in a row, the Rockstar Energy Drink Taste Of Chaos will return to San Bernardino, CA for its annual, day-long destination festival. Rockstar Energy Drink Taste Of Chaos Festival is offering a special 4-pack ticketing option dubbed "The Ultimate Double Date," running from 10:00 am PT on Friday, April 29th to 10:00 pm PT on Saturday, April 30th. During the offer period, fans will be able to purchase 4 tickets for only $29 each ($116 total), plus fees. The regular on-sale ticketing price is $42.50. Prices do not include ticket service fees or parking. Fans can purchase the special 4-pack ticketing offer at http://livemu.sc/1TcLH3E
Taking place on Saturday, July 16 at the San Manuel Amphitheater Festival Grounds, the festival continues to honor the indie-alternative scene's most influential acts, with this year's extraordinary lineup including Dashboard Confessional, Taking Back Sunday, Quicksand, The Get Up Kids, The Starting Line, Saosin (fronted by original vocalist Anthony Green), Senses Fail, The Early November, The Anniversary, Hot Rod Circuit, and Reggie and the Full Effect, with more information to be announced.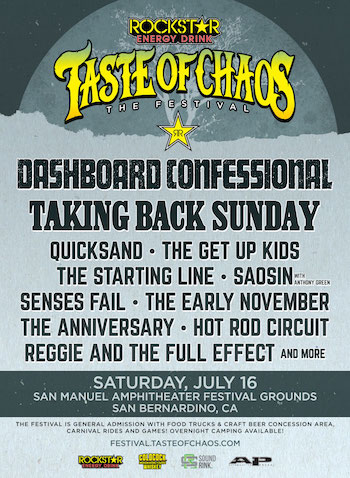 A VIP ticketing option is also available for $199 which includes admission, a fast lane entrance into the festival, a VIP laminate with lanyard, and access to the VIP Lounge (located near the main stage), which will have complimentary select beers, Rockstar Energy Drinks, snacks (while supplies last), private restrooms, comfortable areas to sit and relax, a dedicated cash bar, and access to the Rockstar Energy Drink Taste Of Chaos step-and-repeat logo wall with a photo booth. Attendees must be 21+ to get into the VIP Lounge.
In addition to the astounding lineup on multiple stages, the Rockstar Energy Drink Taste Of Chaos Festival will include food trucks, craft beer, carnival rides, a vendor village and more. An extremely limited quantity of on-site camping spots will also be available for sale on May 9, with more information at festival.tasteofchaos.com.
Originally launched in 2005 by Vans Warped Tour founder Kevin Lyman and John Reese (co-founder of Rockstar Energy Drink Mayhem Festival, founder of Oddball Festival), Taste Of Chaos started as an international touring festival, playing over twenty countries around the world, and helped to launch the careers of bands like Thirty Seconds To Mars, Paramore, My Chemical Romance, The Used, Story Of The Year and more.
Rockstar Energy Drink Taste Of Chaos at San Manuel Amphitheater Festival Grounds is a short drive from Los Angeles County, Orange County, San Francisco, Las Vegas, Phoenix, Tucson, San Diego, the San Joaquin Valley, and many more cities in the Southwestern U.S.
For the most up-to-date information, please visit:
---
About SGE
Synergy Global Entertainment, Inc. (SGE) specializes in producing music events and music marketing programs benefitting brands, artists, consumers, partners and attendees alike. SGE has produced thousands of branded music festivals, concerts, tours and events throughout the world playing to millions of applauding fans.
www.sgeworldwide.com
About 4Fini
4Fini is a premier production company and brand strategy firm. The company produces the Vans Warped Tour, the longest running festival tour in North America, as well as Taste Of Chaos, It's Not Dead, and many more music lifestyle events. 4Fini are leaders at integrating brands into an authentic youth experience.
www.4fini.com
About Live Nation Entertainment
Live Nation Entertainment (NYSE: LYV) is the world's leading live entertainment company comprised of global market leaders: Ticketmaster, Live Nation Concerts, Live Nation Media & Sponsorship and Artist Nation Management. For additional information, visit www.livenationentertainment.com.
Taste Of Chaos Publicity Contacts
Ashton-Magnuson Media
Ashley Di Buduo
ashley@a12entertainment.com; (323) 379-9684
Kristine Ashton-Magnuson
Kristine@am-media.net; (818) 996-2496
Live Nation Publicity Contact
Victor Trevino/Live Nation
victortrevino@livenation.com; (310) 867-7197