Date: May 2, 2016
From: Kristine Ashton-Magnuson
SHIPROCKED 2017
STARRING HEADLINER BREAKING BENJAMIN
WITH PAPA ROACH, ALTER BRIDGE,
SEVENDUST, POP EVIL, THE STOWAWAYS,
AND MORE
JANUARY 16-20, 2017 ONBOARD CARNIVAL VICTORY

STATEROOMS GO ON SALE TO THE GENERAL PUBLIC
TUESDAY, MAY 10

PRESALE NOW SOLD OUT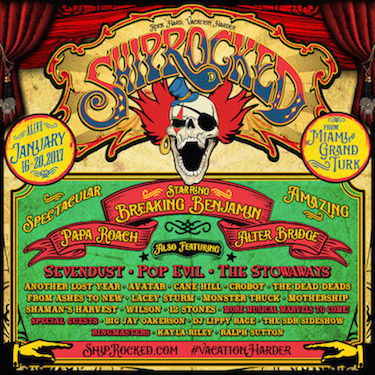 The initial band lineup has been announced for the eighth edition of ShipRocked, set for January 16-20, 2017 onboard Carnival Victory. Headliner Breaking Benjamin will join Papa Roach, Alter Bridge, Sevendust, Pop Evil, The Stowaways all-star band and more on The Ultimate Rock 'N' Roll Cruise as it sails from Miami, FL to Grand Turk in the Turks & Caicos Islands.
ShipRocked 2017 presales are now sold out. Stateroom selection for those guests who made presale deposits will begin Wednesday, May 4 at noon EDT. All remaining staterooms for ShipRocked 2017 will go on sale to the general public on Tuesday, May 10 at noon EDT at www.ShipRocked.com.
"We are super exited to be the headliner for ShipRocked this year," says Breaking Benjamin's Benjamin Burnley. "Thanks for rocking out with us!!!"
Echoes Papa Roach vocalist Jacoby Shaddix, "We're super stoked to come floating on a big boat with all our friends."
"I am beyond excited to rock ShipRocked again. I can't wait to do it this time with Alter Bridge," adds Alter Bridge's Mark Tremonti, a ShipRocked veteran with his own Tremonti. "The last two times I've played have been amazing and I expect this year will be the best one yet."
To celebrate ShipRocked's new home onboard the Carnival Victory, guests are invited to vacation "Under The ShipRocked Big Top":
Ladies and Gentlemen! Boys and Girls! Freaks, Geeks, and Weirdos of all ages! It's time to roll up for our annual rock & roll revue! That's right, it's The Greatest Vacation On Earth, under the ShipRocked Big Top!
ShipRocked 2017 stars Breaking Benjamin, Papa Roach, Alter Bridge, Sevendust, Pop Evil and The Stowaways. The floating extravaganza also features Another Lost Year, Avatar, Cane Hill, Crobot, The Dead Deads, From Ashes To New, Lacey Sturm, Monster Truck, Mothership, Shaman's Harvest, Wilson, and 12 Stones, plus the comedy of Big Jay Oakerson; D.J. Lippy Rage; The S.D.R. Sideshow; with ringmasters Kayla Riley of SiriusXM's Octane and Ralph Sutton of The Tour Bus Radio.
ShipRocked's own all-star band The Stowaways and its revolving cast of special guests will once again be pulling out all the stops with classic hits, unexpected surprises, and a roster of performers that can't be seen anywhere else. Check www.ShipRocked.com for the latest on ShipRocked 2017 and The Stowaways' 2017 lineup.
ShipRocked producer Alan Koenig of ASK4 Entertainment says, "For our 8th anniversary, we're going bigger and better than ever before, upgrading our three-ringed floating circus to deliver a true rock star experience. We'll be taking our musical marvels onboard Carnival's Victory, sailing from Miami to stunning Grand Turk in Turks & Caicos."
Additional details about ShipRocked 2017 theme nights and onboard activities will be available in the coming months at www.ShipRocked.com.
Staterooms sold out over seven months in advance for ShipRocked 2016, which featured performances from Five Finger Death Punch, along with Seether, Halestorm, Hellyeah and more, with close to 3,000 guests onboard. ShipRocked 2016 also marked the debut of The Stowaways. The 2016 edition of The Stowaways featured David Ellefson (Megadeth); Marcos Curiel and Wuv Bernardo (P.O.D.); John Tempesta (The Cult, Motor Sister); Ron "Bumblefoot" Thal and more. Special guests including Halestorm's Lzzy Hale and Arejay Hale, Chad Gray from Hellyeah, Tim "Ripper" Owens, and Nonpoint's Robb Rivera joined The Stowaways for unforgettable performances of Motörhead's "Ace Of Spades," Temple Of The Dog's "Hunger Strike" and much more.
Produced by ASK4 Entertainment, ShipRocked is a once-in-a-lifetime experience with unique performances and musical collaborations that provides guests with the opportunity to vacation with their favorite bands, meet new friends, and reunite with old ones year after year. ShipRocked onboard and beach activities include photo meet and greets with band members, poolside games, artist Q&A sessions, trivia challenges, game shows, parties, contests and more. The ShipRocked Cancer Sucks! onboard charity auction has raised nearly $500,000 to date for innovative medical research and finding a cure for cancer.
Rock Hard. Vacation Harder.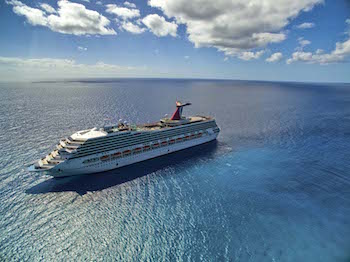 Carnival Victory at sea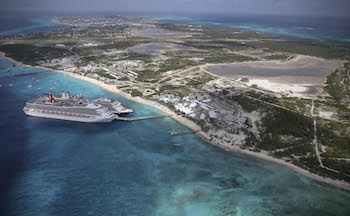 Carnival Victory at Grand Turk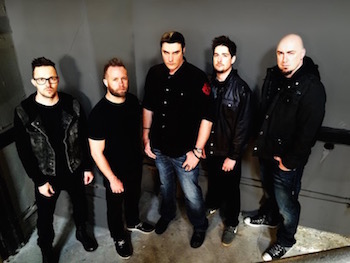 Breaking Benjamin
Papa Roach with fans on ShipRocked 2014
(All photos except Breaking Benjamin by Chris Bradshaw.)
---
About ShipRocked
The ultimate rock music cruise vacation is produced by Alan Koenig of ASK4 Entertainment. Each ShipRocked is a once-in-a-lifetime experience that provides guests with the opportunity to vacation with their favorite bands, meet new friends, and reunite with old friends year after year. On any given day, guests might find themselves dining, drinking, rocking out, swimming, working out, or gambling alongside their favorite rock musicians. The full-ship charter provides a one-of-a-kind experience for guests to have the time of their lives with thousands of like-minded friends.
www.ShipRocked.com
About ASK4 Entertainment
ASK4 Entertainment is a premier rock music theme cruise and destination event producer. ASK4 Entertainment produces ShipRocked and Motörhead's Motörboat.
www.facebook.com/ASK4Entertainment
About Breaking Benjamin
Multi-platinum band Breaking Benjamin has amassed a sizeable and diehard fan base, both through their chart-topping music, as well as their electrifying live performances. Their latest release, Dark Before Dawn debuted #1 on Billboard's Top 200 chart and spun off two #1 rock tracks, "Failure" and "Angels Fall." "Failure" was also named the most played song at Active Rock for 2015. Their discography includes 2002's Saturate, 2004's We Are Not Alone (certified PLATINUM), 2006's Phobia (certified PLATINUM) and 2009's Dear Agony (certified GOLD). We Are Not Alone spawned a pair of #1 radio hits ("So Cold" and "Sooner Or Later"). Phobia debuted at #2 on Billboard's Top 200, hit #1 on the Rock Album Chart and was one of the top 50 selling rock albums of 2006. It featured one #1 and two Top 5 rock radio hits ("Breath," "Diary of Jane" and "Until The End"). 2009's Dear Agony debuted #4 on the Billboard Top 200 chart on one of the busiest release days of the year and #1 on the iTunes Rock Album Chart. Dear Agony also spun off the platinum selling and #1 Active Rock single "I Will Not Bow," which stayed #1 for five weeks straight while the album itself was certified Gold, selling over 500K copies. The band has over 5.8 million Facebook fans, 267K followers on twitter and 80K Instagram followers combined. The band's revamped lineup features musicians hand-picked by Burnley himself: guitarists Jasen Rauch (Red) and Keith Wallen (Adelitas Way), bassist Aaron Bruch, and drummer Shaun Foist (Picture Me Broken).