Date: May 3, 2016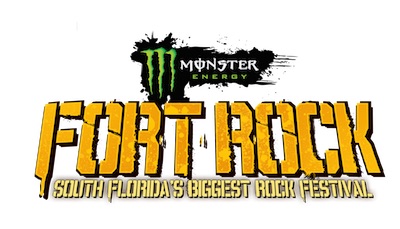 MONSTER ENERGY FORT ROCK
DRAWS MASSIVE CROWD FOR ITS TWO DAY EXPANSION
FOR SOUTH FLORIDA'S BIGGEST ROCK FESTIVAL
APRIL 30 AND MAY 1 AT JETBLUE PARK IN FORT MYERS, FLORIDA
After selling out in each of its first three years, Monster Energy Fort Rock was expanded to two days for its fourth year. This past weekend, over 23,000 people came to JetBlue Park in Fort Myers, Florida, the spring training home of the Boston Red Sox, to participate in South Florida's Biggest Rock Festival. Produced by Danny Wimmer Presents and AEG Live, Fort Rock is part of the World's Loudest Month festival series that features the biggest names in rock music performing in eight distinct concert atmospheres across the country in April and May.
Clay Busch, VP of Marketing and Brand Partnerships for Danny Wimmer Presents, says, "From day one, Fort Rock was designed to create a one of a kind rock and roll getaway! Thanks to all the 20,000+ fans who braved the heat and all the artists who performed, Fort Rock has claimed its position as one of the country's premier destination festivals. We can't wait 'til next year".
Festivalgoers enjoyed a hot and sunny weekend chock full of performances from rock icon/filmmaker Rob Zombie, Disturbed, Shinedown, Five Finger Death Punch, A Day To Remember, Bring Me The Horizon, Megadeth, 3 Doors Down, Sixx:A.M., Lamb Of God, Ghost and more. Festival experiences included free sampling in the Monster Energy viewing deck, ice cold beer courtesy of Bud Light, a VIP viewing deck courtesy of Jack Daniel's, an f.y.e. tent full of music for sale as well as multiple artist meet and greets and autograph signings, and the brand new interactive Jägermeister Chill Zone keeping festival fans cool, comfortable and shaded all weekend.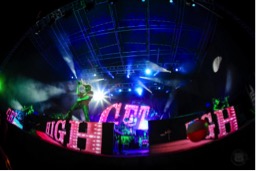 Rob Zombie — credit Rob Fenn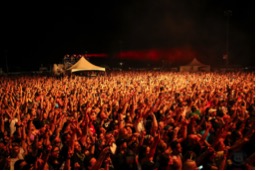 Fort Rock crowd — credit Rob Fenn
---
About Danny Wimmer Presents
Since 1993, music industry veteran Danny Wimmer has been producing concerts and festivals, both large and small. In 2011, he formed Danny Wimmer Presents, which now produces several of the largest rock and alternative festivals in the U.S. By combining A-list talent with local cuisine and culture, DWP has become recognized within the industry for delivering the highest-quality entertainment experiences to fans, artists, sponsors, partners and host cities. DWP creates memorable and all-encompassing festival experiences, leaving both consumers and partners with lasting and meaningful impressions. With 580,000 fans attending all DWP festivals in 2015, and 10 billion media impressions, DWP will continue to add new music festivals to its already stellar portfolio, which includes Rock On The Range, Monster Energy Aftershock Festival, Monster Energy Welcome To Rockville, Monster Energy Carolina Rebellion, Louder Than Life, and Monster Energy Rock Allegiance among others.
DannyWimmerPresents.com
About AEG Live
AEG Live, the live-entertainment division of Los Angeles-based AEG, is dedicated to all aspects of live contemporary music performance. AEG Live is comprised of touring, festival, broadcast, merchandise and special event divisions, fifteen regional offices, and owns, operates or exclusively books thirty-five state-of-the-art venues. The current and recent concert tour roster includes artists such as Alicia Keys, American Idols, Bon Jovi, Carrie Underwood, Daughtry, Enrique Iglesias, Jennifer Lopez, Justin Bieber, Kenny Chesney, Leonard Cohen, Paul McCartney, Taylor Swift, The WHO, Trey Songz and Juanes. The company is also currently producing residency shows at The Coloseum at Caesars Palace in Las Vegas including Celine Dion, Rod Stewart and Shania Twain and is the exclusive promoter at The Joint at Hard Rock Hotel & Casino Las Vegas. AEG Live is also the largest producer of music festivals in North America from the critically acclaimed Coachella Valley Music & Arts Festival to Stagecoach Country Music Festival and New Orleans Jazz & Heritage Festival.
AEGLive.com
About Monster Energy
Most companies spend their money on ad agencies, TV commercials, radio spots, and billboards to tell you how good their products are. At Monster Energy, we chose none of the above. Instead we support the scene, our bands, our athletes and our fans. We back athletes so they can make a career out of their passion. We promote concert tours, so our favorite bands can visit your hometown. We celebrate with our fans and riders by throwing parties and making the coolest events we can think of a reality.
monsterenergy.com | facebook.com/monsterenergy
Monster Energy Fort Rock Publicity Contact
Kirstyn Schwartz/AEG Live
kirstyn@aeglive.com
Monster Energy Welcome To Rockville Marketing & Sponsorship Contact
Clay Busch/Danny Wimmer Presents
clay@dwpresents.com