Date: May 10, 2016
From: Kristine Ashton-Magnuson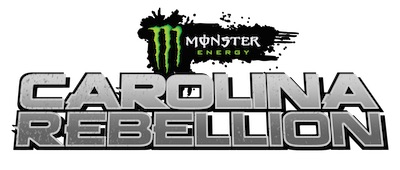 MONSTER ENERGY CAROLINA REBELLION:
RECORD-BREAKING WEEKEND WITH OVER 90,000 IN ATTENDANCE
MAY 6, 7 & 8 AT ROCK CITY CAMPGROUNDS AT
CHARLOTTE MOTOR SPEEDWAY IN CONCORD, NC
WITH PERFORMANCES FROM
ROB ZOMBIE, SCORPIONS, DISTURBED,
FIVE FINGER DEATH PUNCH, SHINEDOWN AND MANY MORE
It was another record-setting weekend for the World's Loudest Month, as Monster Energy Carolina Rebellion reached new heights with more than 90,000 in attendance as the festival grew to three days (May 6, 7 & 8) in 2016. With over 60 bands on four stages at Rock City Campgrounds at Charlotte Motor Speedway in Concord, NC — and 12 hours of televised performances and backstage interviews on AXS TV — Monster Energy Carolina Rebellion was a full weekend of nonstop rock for fans in both the Mid-Atlantic and around the country.
The 6th Annual Monster Energy Carolina Rebellion marked the launch of the legendary Scorpions' U.S. tour — part of their 50th Anniversary World Tour — with Motörhead's Mikkey Dee filling in on drums. The festival also featured performances from Rob Zombie, Disturbed, Five Finger Death Punch, Shinedown, Deftones, A Day To Remember, 3 Doors Down, Bring Me The Horizon, Cypress Hill, Pennywise, Lamb Of God, plus Rock & Roll Hall Of Famers Lynyrd Skynyrd and Alice Cooper, thrash pioneers Megadeth and Anthrax, and many more.
While SiriusXM's Jose Mangin hosted AXS TV's hard-rocking televised coverage, fans at the festival and around the world were able to enjoy the quieter side of Monster Energy Carolina Rebellion with the Zippo Acoustic Sessions hosted by Alternative Press. Streamed live from Monster Energy Carolina Rebellion, the archived Zippo Acoustic Sessions can be viewed at the Alternative Press Facebook page (www.facebook.com/altpress) and the Monster Energy Carolina Rebellion Facebook page (www.facebook.com/CarolinaRebellion).
Here's a sample of what the press had to say about Monster Energy Carolina Rebellion 2016:
"Expanding from two to three days for the first time in its six year history allowed for a more eclectic lineup…Throughout the weekend there was a defiant spirit that Carolina Rebellion and its sister festivals prove that rock — while it's not the sole chart-ruler it once was — is by no means dead…I was reminded of the camaraderie and community that these kinds of events create. In a global climate where so much emphasis is on division, the kind of unity music creates is greatly needed."

—Courtney Devores, Charlotte Observer "Sound Bites" Blog, May 8, 2016

"For the festival's sixth year, fans were treated to a wide range of performers as well as fantastic weather and a handful of standout moments."

—Jeff Hahne, Creative Loafing Charlotte, May 9, 2016
In addition to enjoying Monster Energy Carolina Rebellion's massive music lineup, festivalgoers were able to eat their way through a tour of great regional Gourmet Man Food at the expanded Pig Out BBQ Village. Fans rubbed elbows with their favorite bands during artist meet & greets at the Monster Energy, f.y.e., and The Music Experience tents — and lived their own rock star fantasies while trying the latest gear at The Music Experience. The Monster Energy Carolina Rebellion Ferris Wheel offered fans a singular vantage point of the entire festival grounds.
Monster Energy Carolina Rebellion is produced by Danny Wimmer Presents and AEG Live and is part of the World's Loudest Month concert series, which features the biggest names in rock music performing in eight distinct U.S. concert atmospheres in April and May.
The festival is supported by great corporate partners including Monster Energy, Bud Light, f.y.e., Jack Daniel's, The Music Experience, Zippo Encore, Deep Eddy Vodka, and Jägermeister.
For more information on Monster Energy Carolina Rebellion, visit:
(Photo by Scott Uchida)
---
For more information about Monster Energy Carolina Rebellion, please contact:
PR: Kristine Ashton-Magnuson, Ashton-Magnuson Media; kristine@am-media.net; (818) 996-2496
MARKETING: Chamie McCurry, AEG Live; Chamie@aeglive.com & Clay Busch, DWP; clay@dwpresents.com
SPONSORSHIP: Chris Thomas, AEG Live; cthomas@aeglive.com & Clay Busch, DWP; clay@dwpresents.com
About AEG Live
AEG Live, the live-entertainment division of Los Angeles-based AEG, is dedicated to all aspects of live contemporary music performance. AEG Live is comprised of touring, festival, broadcast, merchandise and special event divisions, fifteen regional offices, and owns, operates or exclusively books thirty-five state-of-the-art venues. The current and recent concert tour roster includes artists such as Alicia Keys, American Idols, Bon Jovi, Carrie Underwood, Daughtry, Enrique Iglesias, Jennifer Lopez, Justin Bieber, Kenny Chesney, Leonard Cohen, Paul McCartney, Taylor Swift, The WHO, Trey Songz and Juanes. The company is also currently producing residency shows at The Coloseum at Caesars Palace in Las Vegas including Celine Dion, Rod Stewart and Shania Twain and is the exclusive promoter at The Joint at Hard Rock Hotel & Casino Las Vegas. AEG Live is also the largest producer of music festivals in North America from the critically acclaimed Coachella Valley Music & Arts Festival to Stagecoach Country Music Festival and New Orleans Jazz & Heritage Festival.
www.aeglive.com
About Danny Wimmer Presents
Since 1993, music industry veteran Danny Wimmer has been producing concerts and festivals, both large and small. In 2011, he formed Danny Wimmer Presents, which now produces several of the largest rock and alternative festivals in the U.S. By combining A-list talent with local cuisine and culture, DWP has become recognized within the industry for delivering the highest-quality entertainment experiences to fans, artists, sponsors, partners and host cities. DWP creates memorable and all-encompassing festival experiences, leaving both consumers and partners with lasting and meaningful impressions. With 580,000 fans attending all DWP festivals in 2015, and 10 billion media impressions, DWP will continue to add new music festivals to its already stellar portfolio, which includes Rock On The Range, Monster Energy Aftershock Festival, Monster Energy Welcome To Rockville, Monster Energy Carolina Rebellion, Louder Than Life, and Monster Energy Rock Allegiance, among others.
www.DannyWimmerPresents.com