Date: June 7, 2016
From: Kristine Ashton-Magnuson

MOMENTOUS MUSIC LINEUP LED BY ICONIC BANDS
TOOL AND AVENGED SEVENFOLD UNVEILED FOR

FIFTH ANNUAL MONSTER ENERGY AFTERSHOCK
CALIFORNIA'S BIGGEST ROCK FESTIVAL RETURNS TO
SACRAMENTO'S DISCOVERY PARK OCTOBER 22 & 23

TICKETS ON SALE WEDNESDAY, JUNE 8
An awe-inspiring, momentous music lineup led by iconic bands Tool (in a rare U.S. festival appearance) and Avenged Sevenfold has been unveiled for the fifth annual Monster Energy AFTERSHOCK, which returns to Sacramento, California's Discovery Park Saturday, October 22 and Sunday, October 23.
California's biggest rock festival will feature over 35 bands on three stages at Discovery Park, conveniently located near downtown Sacramento, where the American and Sacramento Rivers meet. The current daily music lineup for Monster Energy AFTERSHOCK is as follows:
Saturday, October 22

Tool, Slayer, Primus, Meshuggah, The Pretty Reckless, Anthrax, Baroness, Face To Face, Deafheaven, Motionless In White, Avatar, American Sharks, Whores, Twelve Foot Ninja, The Shrine, Aeges, Big Jesus

Sunday, October 23

Avenged Sevenfold, Korn, Disturbed, Puscifer, Chevelle, Ghost, Parkway Drive, The Amity Affliction, Zakk Sabbath, Max & Iggor Cavalera Return To Roots, Suicide Silence, Whitechapel, Ignite, Some Fear None, Silver Snakes
"We're excited to give fans a once in a lifetime opportunity to see Tool, Avenged Sevenfold, Primus, Slayer, Korn, Disturbed and the rest of this great lineup all together during this special weekend. Discovery Park is such a unique venue that allows us to put on an experience on a grand scale, but in an intimate setting that sets AFTERSHOCK apart," says Monster Energy AFTERSHOCK founder and producer Danny Wimmer of Danny Wimmer Presents.
Monster Energy AFTERSHOCK tickets go on sale Wednesday, June 8 at Noon PT at www.AFTERSHOCKConcert.com. Tickets are limited and will go fast. Fans are encouraged to buy early so they don't miss out on the chance to see so many iconic rock bands at one American festival. See below for details.
In 2015, a sold-out crowd of 45,000 was in attendance at Monster Energy AFTERSHOCK to experience the best hard rock, metal and alternative artists, along with gourmet food trucks and extensive onsite experiences. Loudwire.com called the festival "one of the nation's premier music events." Elsewhere, Johnny Firecloud of CraveOnline.com noted, "…Aftershock has found a new thread, and the way they're approaching the festival ecosystem may just defibrillate the soul of rock fests in America. They're mixing vibrant alt rock colors into what was typically a monolithic skull-and-crossbones metal template of black on black, side-stepping the big-box corporate model and building peripheral excitement through on-site activities, enhanced Gourmet Man Food attractions and more" (February 18, 2016).
Monster Energy AFTERSHOCK tickets go on sale Wednesday, June 8 at Noon PT at www.AFTERSHOCKConcert.com. Tickets and VIP packages will initially be priced as follows (increasing in the coming weeks):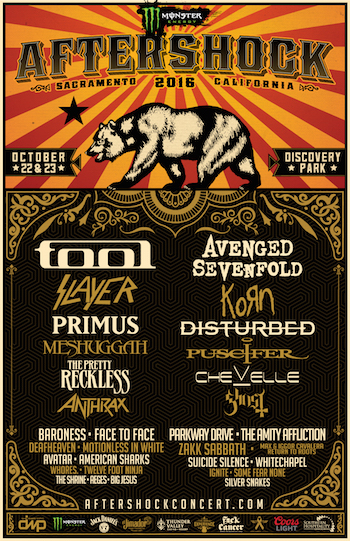 General Admission Weekend: $149.50
General Admission Single Day: $89.50
GA Weekend 4-Pack: $476.00
VIP Weekend: $279.50
VIP Single Day: $154.50
VIP Zippo 2-Packs: $679.00 (includes VIP amenities + 2 Monster Energy Aftershock 2016 commemorative Zippos)
VIP passes include: VIP entrance lanes into venue, shaded VIP hang area with seating for dining, seated and standing viewing area of main stage South (left), video screens featuring live feed from main stages inside VIP hang area, upgraded food and drink selections (for purchase), dedicated VIP restrooms, and a commemorative Monster Energy AFTERSHOCK 2016 laminate.
Specially priced hotel + festival ticket packages make planning for Monster Energy AFTERSHOCK as easy as possible. Visit http://aftershockconcert.com/tickets/#post-2994 for more info. Discounted online hotel rates are also available through Curadora at: https://curadora.com/events/aftershock-2016-44293b99/.
Monster Energy AFTERSHOCK is also offering a Park & Ride shuttle program this year, since parking at Discovery Park is extremely limited. Each Park & Ride ticket includes parking for your vehicle at Sleep Train Arena and a non-stop shuttle directly to the festival site. Festivalgoers are encouraged to carpool to Sleep Train Arena and save. For pricing and more details, visit www.AFTERSHOCKConcert.com.
Here's a preliminary lists of onsite experiences and nonprofit organizations with a presence at Monster Energy AFTERSHOCK:
Monster Energy Experience/Sampling:

Monster Energy will be keeping all fans fueled up and ready to rock by offering free sampling on their Monster Energy viewing deck. Enjoy Monster Energy drinks from one of the best seats in the house. Make sure to check back throughout the festival for a schedule of Monster Energy's interactive artist experiences.
Facebook: facebook.com/monsterenergy
#monsterenergy #monstermusic

Jack Daniel's Experience:

"Taste of Tennessee" invites visitors to come out and tour the nation's oldest registered distillery from outside the Jack Daniel's Hollow. Visitors get to see (and smell) whiskey dripping slowly through charcoal and the new oak barrels used in maturing Tennessee's finest whiskey. The Jack Daniel's Experience is open to all fans, 21 years old and up, for tours free of charge. Stop by the Jack Daniel's Experience for interactive engagements throughout the weekend.
Facebook: facebook.com/jackdaniels
Instagram: @jackdaniels_us
#jackdaniels #BornToMakeWhiskey

The Music Experience:

The Music Experience features all the elements that are involved in making music in a professional band setting. The interactive exhibit features guitars, basses, amps, drums, keyboards and electronic gear that are used by today's most popular bands. The Music Experience has autograph signings and artist interactions throughout the day. Check Facebook and Instagram for the latest info on who will be hanging out at The Music Experience.
Facebook: facebook.com/themusicexp
Instagram: @tmexp

Dyin 2 Live / Fxck Cancer:

The F C Cancer Foundation's mission is to fight cancer by raising awareness and to educate about early cancer detection, ultimately putting an end to late stage cancer diagnosis. The Dyin 2 Live wish granting program looks to enrich the lives of those fighting cancer by offering them an experience that will bring joy, hope, inspiration, and courage into their lives. In doing this, the program hopes it can help give the cancer fighter a chance to forget, even if it's only for a day, what they are battling. The hope is that it can be used as a source of inspiration to those needing a brighter day in their darkest hour.
www.FxckCancer.org
www.makingdreamshappen.org
www.Dyin2Live.org
Facebook: facebook.com/Dyin2LiveDREAMS or facebook.com/FxckCancerUSA
Instagram: @FxckCancer and @Dyin2LiveDreams

Coors Light Sports Bar:

Coors Light, World's Most Refreshing Beer, is proud to sponsor the Monster Energy AFTERSHOCK Festival. The Coors Light Sports Bar will be showing college football games on Saturday and NFL games on Sunday, courtesy of Coors Light and Sacramento's KHTK Sports 1140 AM. Coors Light goes to great lengths to bring you the coldest, most refreshing beer. Please remember to drink responsibly.

Keep Golf Metal:

Keep Golf Metal is a movement that encourages festival attendees to play a 9 hole putt putt course with PGA level golf clubs provided by Rife Putters and MasterFit Custom Golf Clubs. Keep Golf Metal also has apparel that features designs that fuse the rock and golf worlds together.

MAKE YOUR MARK Graffiti Zone:

This interactive graffiti art installation will showcase multiple live demonstrations and will allow AFTERSHOCK artists and fans the chance to add to the exhibit.

Take Me Home Animal Rescue:

Take Me Home is a not for profit, volunteer based foundation that has been saving the lives of homeless animals since 2001. Many families living in low-income areas cannot afford medical care, basic vaccinations, or spay/neuter surgeries for their companion animals. The donations raised help us to fund mobile veterinary hospitals to travel into these under-served areas to provide free spay and neuter, vaccinations, microchipping and administer medical care for animals in desperate need. Take Me Home also supports local animal charities. Come by the booth to help out our furry friends by buying a shirt, signed merchandise, and entering a raffle. Danny Wimmer, Founder, DWP, said, "DWP is proud to support various charities, giving them a national platform to promote their messages. We are particularly fond of Take Me Home, which advocates for animal adoption. I hope everyone stops by their booth and supports their fundraising efforts to help animals in need." For more information, please visit: www.takemehome.tv.
Facebook: facebook.com/TakeMeHomeRescue
Instagram: @TakeMeHomeRescue
Twitter: @TMHRescue

Life Looks Good On You:

Monster Energy AFTERSHOCK Festival has partnered with Sacramento County Department of Regional Parks for the Life Looks Good On You life jacket water safety campaign. Danny Wimmer Presents is pledging support with Monster Energy AFTERSHOCK alumni and DWP friends to create awareness for the Life Looks Good On You campaign. So far, music artists that have joined the efforts include Sacramento's own Deftones, Rob Zombie, Disturbed, Five Finger Death Punch, Papa Roach, Pop Evil, and Avatar. Photos of band members wearing life jackets will be part of a social media campaign designed to encourage people to safely participate in water activities by sharing photos of themselves and friends wearing life jackets.
www.lifelooksgoodonyou.org
#sacrivers

LTD (Living The Dream) Foundation:

A portion of all Monster Energy AFTERSHOCK ticket fees will be donated to Living the Dream. LTD Foundation bridges the music industry together with fans who are fighting terminal illnesses by giving them All Access VIP experiences backstage with their favorite bands and artists.
www.ltdfoundation.org
Monster Energy AFTERSHOCK is produced by Danny Wimmer Presents, a producer of some of the biggest rock festivals in America, including Rock On The Range, Monster Energy Welcome To Rockville, Monster Energy Fort Rock, Monster Energy Carolina Rebellion, LOUDER THAN LIFE, Northern Invasion, Monster Energy Rock Allegiance, Chicago Open Air, Houston Open Air, and more.
Sponsors for Monster Energy AFTERSHOCK include: Monster Energy, Jack Daniel's, Coors Light, The Music Experience, Keep Golf Metal, Sound Exchange, Thunder Valley Casino Resort, Fxck Cancer, Take Me Home, KHTK, 98Rock, and SoHo Concessions.
---
About Danny Wimmer Presents
Since 1993, music industry veteran Danny Wimmer has been producing concerts and festivals, both large and small. In 2011, he formed Danny Wimmer Presents, which now produces several of the largest rock and alternative festivals in the U.S. By combining A-list talent with local cuisine and culture, DWP has become recognized within the industry for delivering the highest-quality entertainment experiences to fans, artists, sponsors, partners and host cities. DWP creates memorable and all-encompassing festival experiences, leaving both consumers and partners with lasting and meaningful impressions. With 580,000 fans attending all DWP festivals in 2015, and 10 billion media impressions, DWP will continue to add new music festivals to its already stellar portfolio, which includes Rock On The Range, Monster Energy AFTERSHOCK Festival, Monster Energy Welcome To Rockville, Monster Energy Carolina Rebellion, Louder Than Life, and Monster Energy Rock Allegiance, among others.
www.DannyWimmerPresents.com
About Monster Energy
Most companies spend their money on ad agencies, TV commercials, radio spots, and billboards to tell you how good their products are. At Monster Energy, we chose none of the above. Instead we support the scene, our bands, our athletes and our fans. We back athletes so they can make a career out of their passion. We promote concert tours, so our favorite bands can visit your hometown. We celebrate with our fans and riders by throwing parties and making the coolest events we can think of a reality.
www.monsterenergy.com | www.facebook.com/monsterenergy
About Discovery Park
Discovery Park is a 160-acre park conveniently located near downtown Sacramento, where the American and Sacramento Rivers meet. The Discovery Park boat launch allows boaters access to both the American and Sacramento Rivers, and the park features bike trails, picnic areas, and a playground. Discovery Park is located beside I-5 near downtown Sacramento.
Monster Energy AFTERSHOCK Festival Publicity Contact
Kristine Ashton-Magnuson/Ashton-Magnuson Media
kristine@am-media.net; (818) 996-2496
Monster Energy AFTERSHOCK Festival Marketing & Sponsorship Contact
Clay Busch/Danny Wimmer Presents
clay@dwpresents.com