Date: June 9, 2016
From: Kristine Ashton-Magnuson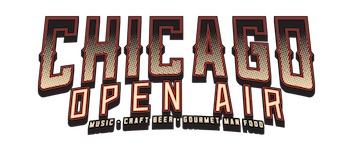 Onsite Experiences, Gourmet Man Food, Craft Beer,
Inaugural Kickoff Dinner At Chicago's Goose & Fox,
Pre-Party and After-Show Events Announced For
Chicago Open Air
July 15, 16 And 17 Festival At Toyota Park In Bridgeview, IL
Headliners Rammstein, Disturbed And Slipknot
Will Be Joined By Chevelle, Korn, Five Finger Death Punch,
Ministry, Breaking Benjamin, Marilyn Manson, Of Mice & Men And Many More
Additional onsite experiences, as well the official pre-party, an Inaugural Kickoff Dinner at Chicago's Goose & Fox, and after-show events have been announced for the first annual Chicago Open Air. The three-day music, craft beer and Gourmet Man Food festival held July 15, 16 and 17 at Toyota Park in Bridgeview, IL, just outside Chicago will feature a spectacular music lineup.
Overall, Chicago Open Air will feature performances by more than 40 bands, including Rammstein (the group's only 2016 U.S. performance and first Chicago show since 2012), Chicago's own Disturbed (who recently returned from a 4-year hiatus with their #1 album Immortalized), global rock juggernauts Slipknot, Chevelle, Korn, Five Finger Death Punch, Ministry, Breaking Benjamin, Marilyn Manson, Of Mice & Men, and many more. The festival will also include Gourmet Man Food featuring local and regional cuisine, a craft beer village highlighting top brews from the region, other entertainment and fan experiences, and will be hosted by Jose Mangin from SiriusXM.
A limited number of single day tickets will be released for purchase on Friday, June 10 to celebrate Father's Day weekend. Single day tickets will only be available while supplies last. Weekend General Admission and VIP tickets are on sale now at www.ChicagoOpenAir.com.
Here's a preliminary list of Chicago Open Air special events, Gourmet Man Food and craft beer partners, as well as onsite experiences and nonprofit organizations with a presence at Chicago Open Air:
Chicago Open Air Pre-Party

The official Chicago Open Air Pre-Party presented by 95 WIIL Rock and 100.7 QRock will be held at Concord Music Hall on Thursday, July 14. Otep headlines the show with Shaman's Harvest, Islander and Through Fire supporting. Chicago Open Air ticket holders will have the opportunity to purchase discounted tickets in advance for $10. Regular tickets are $17.
www.clubtix.com/concordmusichall/chicago-open-air-pre-party-concord-tickets-459406?p=22368

Chicago Open Air Inaugural Kickoff Dinner

In celebration of the inaugural Chicago Open Air festival and the great culinary city of Chicago, Danny Wimmer Presents will be throwing a special Chicago Open Air kickoff dinner presented by Chicago's Goose & Fox and hosted by Jose Mangin of SiriusXM on Thursday, July 14 at 6:00 PM CDT. The BYOB dinner will feature five courses with seasonal and local ingredients from Midwestern farmers for $75.00. Limited tickets are on sale now at http://www.brownpapertickets.com/event/2560621.

Gourmet Man Food

Chicago Open Air will feature selections from Chicago-area favorites such as: Bruges Brothers (Braised Oxtail Poutine, Currywurst, Comeback Fish and Chips) • Chicago Doghouse (Rattlesnake and Rabbit Sausage, Smoked Alligator Sausage, The Midway Monster Hot Dog) • Crème Of The Crop Food Truck (Grown Up Mac & Cheese, Strawberry Chicken Wrap, Tater Skins) • Dia De Los Tamales (Cuban Tamale, Spicy Black Bean and Corn Tamale, The Chicago Beef) • Dinky's Donuts • International Spud Station (The Spudnik, Apollo-Mash, Nebula Chips) • Kuma's Corner (Led Zeppelin Burger, Iron Maiden Burger) • Pizano's (Chicago deep dish) • The Happy Lobster (Happy Lobster Roll, The Angry Lobster Roll, Fried Lobster Mac And Cheese Bites) • Yum Dum (Kimcheesy Fries, Braised Pork Belly Baos). Additional Gourmet Man Food vendors from around the country will include: Cheeze Louise (Salmon Grilled Cheese Melt or Bowl, Meat Lover's Grilled Cheese, Fried Chicken Mac N Cheese Bowl) • Cravin' Cajun (Spicy Shrimp Po-Boy, Gator Critter Fritters, The Soft Shell Crab Sandwich) • Master of Patties (The Brekky Burger, The Muffaletta Burger, The Beef Wellington) • Pie Baby Wood-Fired Pizza

Headbangers Beer Hall

This unique METAL themed bar is a 100x80 dive bar experience complete with Marshall amplifiers lining the back wall, a unique jukebox playing heavy metal music, rocker pinball machines, Chicago favorite Kuma's Corner serving their signature metal themed burgers just next door, and more that will give fans a dark, heavy metal, craft beer and cocktail experience all on site at Chicago Open Air. The Headbangers Beer Hall will feature national and regional craft beers and artist inspired beverages including: Goose Island (Chicago — 312 Urban Wheat Ale, Four Star Pils), Half Acre Beer Company (Chicago — Daisy Cutter Pale Ale, Vallejo IPA, Pony Pilsner), Iron Maiden's TROOPER Beer, Lagunitas (Petaluma, CA — IPA, A Little Sumpin' Sumpin'), Motörhead Wine, Surly (Minneapolis — Surly Hell Lager, Surly Furious IPA), Two Brothers Brewing (Chicago — seasonals TBA), and more to be announced. Look for unique experiences throughout the weekend with members of bands at the bar, as well as former MTV Headbangers Ball host and Cathouse founder Riki Rachtman playing some of his favorite songs and guest bartending during the weekend.

Kuma's Corner

Offering the best burgers in Chicago, Kuma's started in 2005 with its flagship location at the corner of Belmont and Francisco avenues in Chicago's Avondale. From their origins as a corner bar with solid American bistro fare, they've grown to two locations that offer the finest burgers available on this planet or any other. Kuma's ethos is simple: Support your community. Eat beef. Bang your head. Look for the official Chicago Open Air #GourmetManFood burger at Kuma's, and for their full menu to be announced soon.

Monster Energy Experience/Sampling

Monster Energy will be keeping all fans fueled up and ready to rock by offering free sampling on their Monster Energy viewing deck. Enjoy Monster Energy drinks from one of the best seats in the house. Make sure to check back throughout the festival for a schedule of Monster Energy's interactive artist experiences.
Facebook: facebook.com/monsterenergy
#monsterenergy #monstermusic

Jack Daniel's Experience

"Taste of Tennessee" invites visitors to come out and tour the nation's oldest registered distillery from outside the Jack Daniel's Hollow. Visitors get to see (and smell) whiskey dripping slowly through charcoal and the new oak barrels used in maturing Tennessee's finest whiskey. The Jack Daniel's Experience is open to all fans, 21 years old and up, for tours free of charge. Stop by the Jack Daniel's Experience for interactive engagements throughout the weekend.
Facebook: facebook.com/jackdaniels
Instagram: @jackdaniels_us
#jackdaniels #BornToMakeWhiskey

The Music Experience

The Music Experience features all the elements that are involved in making music in a professional band setting. The interactive exhibit features guitars, basses, amps, drums, keyboards and electronic gear that are used by today's most popular bands. The Music Experience has autograph signings and artist interactions throughout the day. Check Facebook and Instagram for the latest info on who will be hanging out at The Music Experience.
Facebook: facebook.com/themusicexp
Instagram: @tmexp

Keep Golf Metal

Keep Golf Metal is a movement that encourages festival attendees to play a 9 hole putt putt course with PGA level golf clubs provided by Rife Putters and MasterFit Custom Golf Clubs. Keep Golf Metal also has apparel that features designs that fuse the rock and golf worlds together.

f.y.e. Fan Experience

f.y.e. will be hosting the ultimate fan and artist interactive experiences throughout the festival. f.y.e. is the only place at the festival to get all your favorite band's music — and maybe even get to meet your favorite Chicago Open Air performers. Check back for updates on artist meet and greet and autograph signing sessions.
Facebook: facebook.com/FYE
Instagram: @officalFYEmusic
#unitedstatesofFYE

Dyin 2 Live / Fxck Cancer

The F C Cancer Foundation's mission is to fight cancer by raising awareness and to educate about early cancer detection, ultimately putting an end to late stage cancer diagnosis. The Dyin 2 Live wish granting program looks to enrich the lives of those fighting cancer by offering them an experience that will bring joy, hope, inspiration, and courage into their lives. In doing this, the program hopes it can help give the cancer fighter a chance to forget, even if it's only for a day, what they are battling. The hope is that it can be used as a source of inspiration to those needing a brighter day in their darkest hour.
www.FxckCancer.org
www.makingdreamshappen.org
www.Dyin2Live.org
Facebook: facebook.com/Dyin2LiveDREAMS or facebook.com/FxckCancerUSA
Instagram: @FxckCancer and @Dyin2LiveDreams

Take Me Home Animal Rescue

Take Me Home is a not for profit, volunteer based foundation that has been saving the lives of homeless animals since 2001. Many families living in low-income areas cannot afford medical care, basic vaccinations, or spay/neuter surgeries for their companion animals. The donations raised help us to fund mobile veterinary hospitals to travel into these under-served areas to provide free spay and neuter, vaccinations, microchipping and administer medical care for animals in desperate need. Take Me Home also supports local animal charities. Come by the booth to help out our furry friends by buying a shirt, signed merchandise, and entering a raffle. Danny Wimmer, Founder, DWP, said, "DWP is proud to support various charities, giving them a national platform to promote their messages. We are particularly fond of Take Me Home, which advocates for animal adoption. I hope everyone stops by their booth and supports their fundraising efforts to help animals in need." For more information, please visit: www.takemehome.tv.
Facebook: facebook.com/TakeMeHomeRescue
Instagram: @TakeMeHomeRescue
Twitter: @TMHRescue
Official Chicago Open Air After-Show Events:
The daily music lineup for Chicago Open Air is as follows:
Friday, July 15

Rammstein, Chevelle, Ministry, Of Mice & Men, Meshuggah, The Devil Wears Prada, In This Moment, Hollywood Undead, Trivium, Hatebreed, Periphery, Drowning Pool, Butcher Babies, Through Fire

Saturday, July 16

Disturbed, Korn, Breaking Benjamin, Alter Bridge, Gojira, Helmet, Deafheaven, Carcass, Pop Evil, Nothing More, Saint Asonia, Miss May I, Beartooth, Silver Snakes, City Of The Weak

Sunday, July 17

Slipknot, Five Finger Death Punch, Marilyn Manson, Bullet For My Valentine, Killswitch Engage, BABYMETAL, Asking Alexandria, Corrosion Of Conformity, All That Remains, letlive., We Came As Romans, Jim Breuer and the Loud & Rowdy, Upon A Burning Body, Gemini Syndrome
Chicago Open Air is produced by Danny Wimmer Presents, Live Nation and Toyota Park, with the support of the Village of Bridgeview and Bridgeview Mayor Steven Landek.
Festival doors open at 11:00 AM each day and the show ends at 11:30 PM on Friday, 11:00 PM on Saturday, and 10:00 PM on Sunday.
For more information on Chicago Open Air, visit www.ChicagoOpenAir.com.
Chicago Open Air sponsors include: Monster Energy, Jack Daniel's, f.y.e., Dyin 2 Live / Fxck Cancer, Take Me Home Animal Rescue, El Jimador Tequila, The Music Experience, Roadrunner Records, Century Media Records and more to be announced.
---
About Danny Wimmer Presents
Since 1993, music industry veteran Danny Wimmer has been producing concerts and festivals, both large and small. In 2011, he formed Danny Wimmer Presents, which now produces several of the largest rock and alternative festivals in the U.S. By combining A-list talent with local cuisine and culture, DWP has become recognized within the industry for delivering the highest-quality entertainment experiences to fans, artists, sponsors, partners and host cities. DWP creates memorable and all-encompassing festival experiences, leaving both consumers and partners with lasting and meaningful impressions. With 580,000 fans attending all DWP festivals in 2015, and 10 billion media impressions, DWP will continue to add new music festivals to its already stellar portfolio, which includes Rock On The Range, Monster Energy Aftershock Festival, Monster Energy Welcome To Rockville, Monster Energy Carolina Rebellion, Louder Than Life, and Monster Energy Rock Allegiance, among others.
www.DannyWimmerPresents.com
About Live Nation Entertainment
Live Nation Entertainment (NYSE: LYV) is the world's leading live entertainment company comprised of global market leaders: Ticketmaster, Live Nation Concerts, Live Nation Media & Sponsorship and Artist Nation Management. For additional information, visit www.livenationentertainment.com.
About Toyota Park
Toyota Park is located at 7000 South Harlem Avenue in Bridgeview, IL. It's the heart of soccer for much of the Midwest and a must-see destination for world-class concerts and other sporting events. Toyota Park is conveniently located in Bridgeview near I-294 and-I-55, within an easy drive from every corner of the Chicago area. Just 15 miles from Chicago's Loop, Toyota Park offers ample parking and is served by PACE buses and shuttle links with the nearby CTA Midway Orange Line station.
www.toyotapark.com
Chicago Open Air Publicity Contact
Kristine Ashton-Magnuson/Ashton-Magnuson Media
kristine@am-media.net; (818) 996-2496
Chicago Open Air Marketing & Sponsorship Contact
Clay Busch/Danny Wimmer Presents
clay@dwpresents.com
Live Nation Publicity Contact
Taylor Heydlauff/Live Nation — Midwest
TaylorHeydlauff@livenation.com; (312) 260-9176
Village Of Bridgeview Publicity Contact
Ray Hanania
RGHanania@gmail.com; (312) 933-9855